10 Best Parks in Singapore For Sightseeing
---
What do you think of when you think of Singapore?
The endless rows of skyscrapers? The hustle and bustle of one of the most populous areas on the planet? The efficiency of the public transport system? The immaculate cleanliness?
To be honest, you could think of any of those things, Singapore certainly ticks all of these boxes and then some! Singapore tourism is geared up towards city breaks. Due to it's diverse population it has many languages and traditions so it most certainly isn't short on culture either.
It has a strong representation in the arts and music and has a thriving food and drink scene, from top class restaurants and hawker centres to high end clubs and local bars. It also has some world class sporting facilities.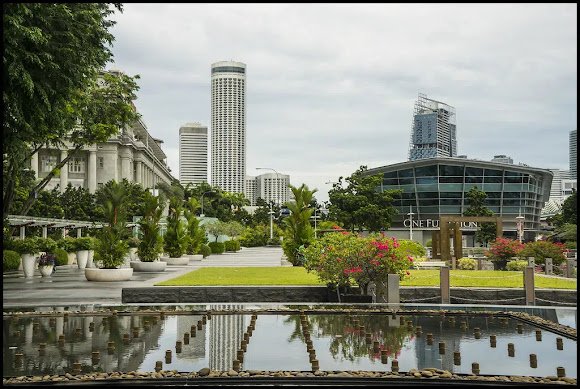 Best Parks in Singapore
One thing that most people don't associate with Singapore is wide open green spaces. It's true that most of the island country is covered by the city, but due to protection orders and extensive land reclamation, Singapore does have some beautiful parks to visit and have a break from the constant crowds.
Here is the List of Ten in Best Parks in Singapore to Explore Natural Beauty
1. Pasir Ris Park
True peace and tranquility can often be found in this park because, unusually for somewhere in Singapore, it is off the beaten track. It still boasts facilities for cycling and barbecues, so it's ideal for a picnic. You can even enjoy canoeing and pony rides here.
Also Read: Fun & Free Things to Do in Singapore
2. Gardens of the Bay
From the obscure to the most famous, this is a busy favourite for tourists and locals alike. The main feature of the park is a 'forest' of metal trees, covered in plants and lit up. Two of the SuperTrees are connected by the Skywalk which gives visitors an incomparable view of the whole park.
3. Sentosa Island
Less of a park, more of a leisure resort, this destination welcomes over twenty million people every year. There's a fantastic beach and two golf courses to enjoy as well as a casino and Universal Studios Singapore.
If you're wondering where to stay in Singapore to fully enjoy Sentosa Island then don't worry, there's 14 hotels on the island itself. If you're looking for a bit of luxury and would prefer serviced apartments in Singapore for short stay, then thesqua.re has apartments available on Sentosa Island itself too.
4. The Chinese & Japanese Gardens
Another park to visit if you truly want to leave the city behind. These literally are separate gardens on two islands which are joined together by a beautiful white bridge.
It's not only the peace and tranquility that can be enjoyed here. The Turtle and Tortoise Museum lets you see and feed these beautiful animals.
Also Read: Explore the List of 29 Top Museums in Singapore
5. East Coast Park
The largest park in Singapore which covers almost two square kilometres of reclaimed land.
There's a 15km path around the outside but you won't see too many people walking it. Most prefer to whizz round on bikes and skates. If you don't feel like being that energetic there's also barbecue pits for hire.
6. Lower Seletar Reservoir Park
Definitely the one to visit if you're planning a bit of romance. The calm waters of the reservoir are traversed by boardwalks to stroll on which are wonderfully lit up at night. If you want a more energetic date then there're boats to rent too.
7. Macritchie Reservoir
This is the largest reservoir in Singapore and is not only a great place for water based activities, it is also a great place to see the local nature. The park is inhabited by monkeys, lemurs and lizards, as well as plenty of insects (take some spray!)
There's also a 250 metre high suspension bridge so you can enjoy everything from above too.
8. Fort Canning Park
If you can't leave the city and just want a quick 'hit' of nature, this is literally just a green hill in the middle of the city. It's nice to stroll through but often has events like concerts and festivals too.
9. Singapore Botanic Gardens
This is one of Singapore's oldest purpose built parks. It is in the heart of the city and huge.
As well as being home to thousands of species of plant, it is also a great place to see some local wildlife too. Watch out for the monitor lizards, they're huge!
Also Read: All You Need To Know About Singapore Night Safari
10. Bukit Timah Nature Reserve
This park contains over 40% of Singapore's plants and animals. As you would expect, it's a little way out of the city but well worth the trip. The hiking, mountain biking and rock climbing activities found in this forest reserve will make you forget completely about the crowds.
---
---
Leave a Reply
Your email address will not be published. Required fields are marked *