10 Best Vegetarian Restaurants in Copenhagen
The Denmark capital honors classic Danish cuisine but vegetarianism is a crucial component. This explains the popularity of vegetarian restaurants in Copenhagen. You can expect a wide array of dishes, from quick bites to fine-dining delicacies. This helps visitors with dietary constraints partake in delicious food just like others.
Let's walk you through 10 vegetarian restaurants in Copenhagen you can visit while on your tour. The best part is most of them are situated at prime sites. So, locating them or finding furnished apartments in Copenhagen nearby won't be a concern.
1. ARK
ARK in Nørre Farimagsgade is all you need to make your vegan food wishes a reality. And that's not only because of mouthwatering food. ARK, owned by Aussie Chefs Jason Renwick and Matt Niall, has eco-friendly energy. That's because the furnishings are sustainably-made. Also, most ingredients are locally grown like their own mushroom farms.
As for the quality of dishes, they expertly mingle authenticity with modern twists. The seaweed jelly and smoked cheese deserve special mention. Not to forget the amazing drinks like Mikkeller beer and House Cocktails with a Nordic flair.
Visit between 6-11 PM from Tuesday-Thursday and 5.30 PM-12 AM on Friday-Saturday.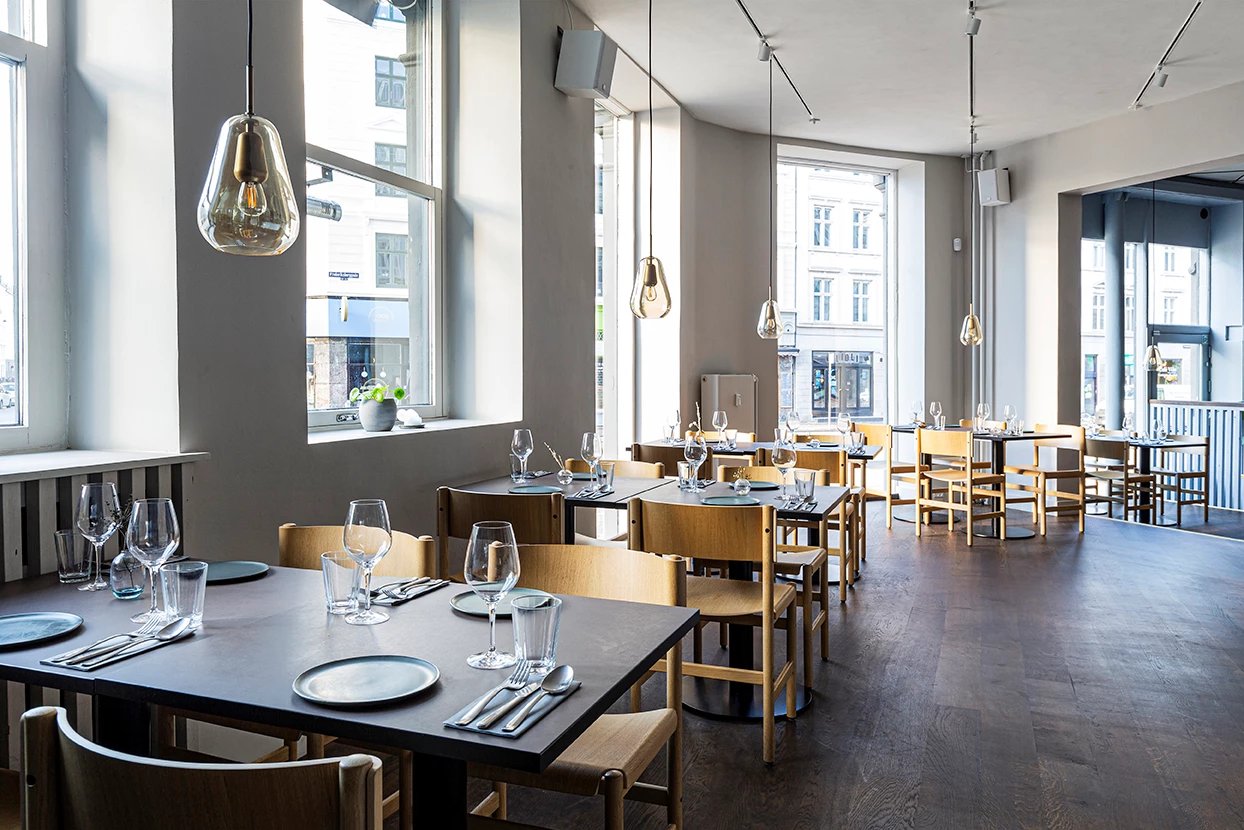 (Image Courtesy: restaurantark.dk)
2. Veve
Want a perfect cozy vegetarian dinner date with friends and family? Time to check out Veve then. Located in Dampfærgevej, the setting is that of a pretty warehouse with genial yet elegant decor. There's a cushy lounge area alongside luxurious seating for 30 guests.
However, the food is what makes Veve one of the best vegetarian restaurants in Copenhagen. The 6-course menu is influenced by seasonal flavors. Delectable snacks like Cassava chips and Karim Dip. Desserts like Pear "Dachi", and "Dulce de leche". Fresh juice and wine pairings and many more. They also make modifications for vegan, gluten-free, and nut allergies.
Veve is open Wednesday-Saturday from 5-11.30 PM.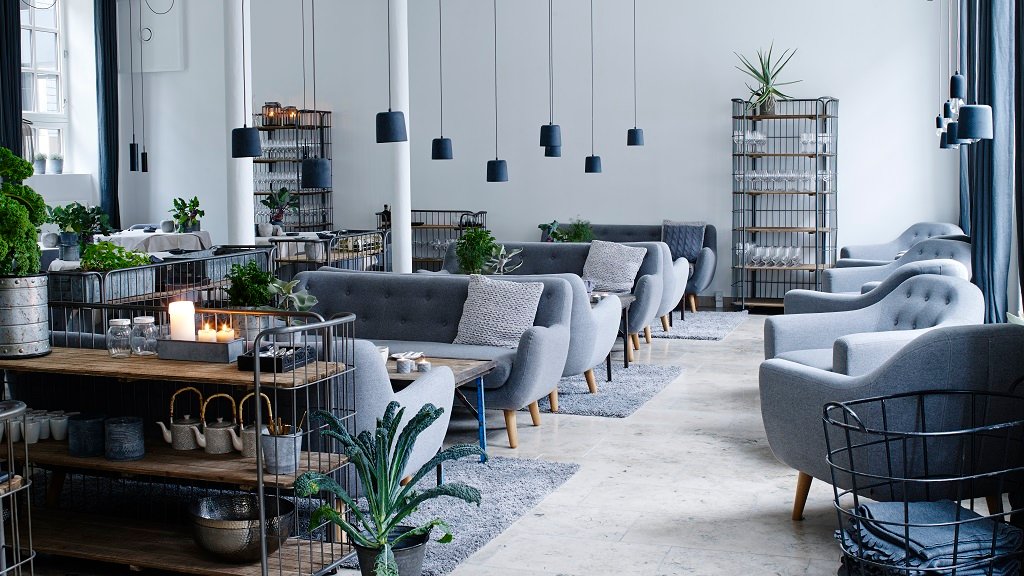 (Image Courtesy: visitcopenhagen.com )
3. Urten
If you are a fan of vegan burgers, Urten is your true match. They come perfectly seasoned with a great crunch on the patty. Pickled cucumbers are a highlight while the salad dressing complements the entire dish. Urten has amazing desserts too. The smooth, silky panna cotta will melt the heart of any sweet lover. To add to that, the presentation of every dish is colorful and inviting. The rates are slightly pricey though. 2 dishes and 3 dishes cost 305 kr and 345 kr respectively with max 1 main course option per menu.
Urten is active Tuesday-Saturday between 5.30-10 PM. Advance reservations are advisable if visiting during peak hours.
(Image Courtesy: tripadvisor.co.uk )
4. 42Raw
42Raw, Pilestræde is hard to miss when talking about the top vegetarian dishes in Copenhagen. While deliciousness runs in the DNA, they also make food healthy. Meaning, you can enjoy tasty mouthfuls devoid of unnecessary sugar and preservatives. The recommended names of 42Raw dishes are long. Grilled Cheese Sandwich, Acai Bowl, Salmon Poke Bowl, Sweet Potato Fries, and loads more. You should also try the refreshing smoothies. They keep different varieties like mango, banana, and chilli.
The interior decor is quite minimalist but vibrant with plenty of natural light at play.
Timings are 8 AM - 8 PM on Monday-Friday and 9 AM - 6 PM on weekends.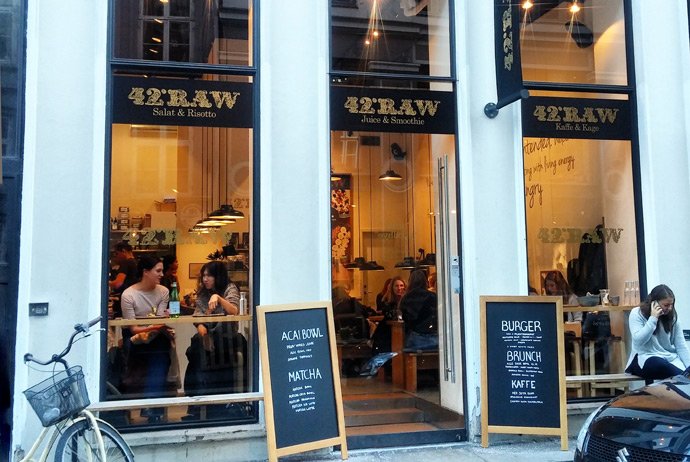 (Image Courtesy: routesnorth.com )
5. Bistro Lupa
Bistro Lupa is a plant-based Michelin-star restaurant in Marstalsgade. Jason Renwick is the mastermind, who also owns Ark and Beyla Bar & Eatery. Be it the friendly staff or the appetizing treats, every aspect of Bistro Lupa is top-notch. Southern Fried Style Blue Oyster Mushroom and Coconut Cappuccino are worth trying. While homemade Kombucha and faux wine make for a great combo.
From the price standpoint, it is reasonable. Especially given the high quality and fame. You can expect the bill to go 1,000+ kr per person.
They are open Tuesday-Thursday from 5-10 PM and till 11 PM on Fridays and Saturdays.
(Image Courtesy: happycow.net )
6. Govinda
Govinda is one of the best vegetarian restaurants in Copenhagen for those craving Indian flavors when in the Danish city. It is owned by an ISKCON monk and they don't even use onion and garlic in their dishes. But despite that, the food is wholesome thanks to fresh veggies and spice punches. Samosas and Pakoras are amazing starters. While the main dish varieties come with Rice, Soup, Bread, and Papadum. If you are visiting on a hot day, the cool Mango Lassi is an absolute must.
The rates are humble with almost everything below 80 dkk.
This Åboulevard restaurant works Monday-Friday from 5-9.30 PM.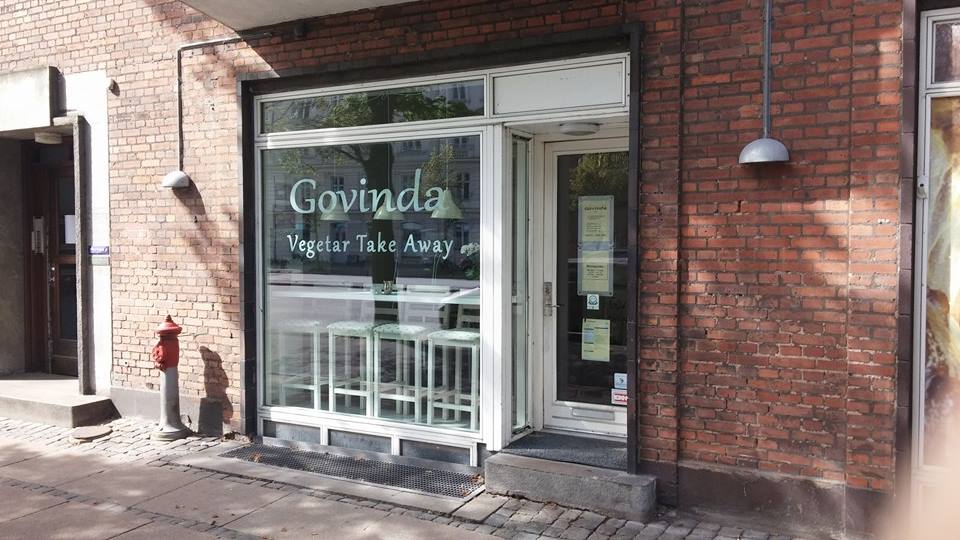 (Image Courtesy: centres.iskcon.org )
7. Souls Torvehallerne
More good news for loyal vegan burger lovers. Souls Torvehallerne's finger-licking burger is a fun take on the classic cheeseburger. They marinate the patty well and enhance it with a great sauce to create a flavor bomb. And if you are planning a breakfast trip, do consider Soul's hot sip of coffee with creamy avocado toast. The restaurant is also cozy and stylish with ample good vibes. The rates are expensive but the portions come satisfactory. For eg. a large hamburger with fries costs 110-130Kr.
The usual hours are 11 AM - 7 PM with Fridays and Saturdays till 8 PM.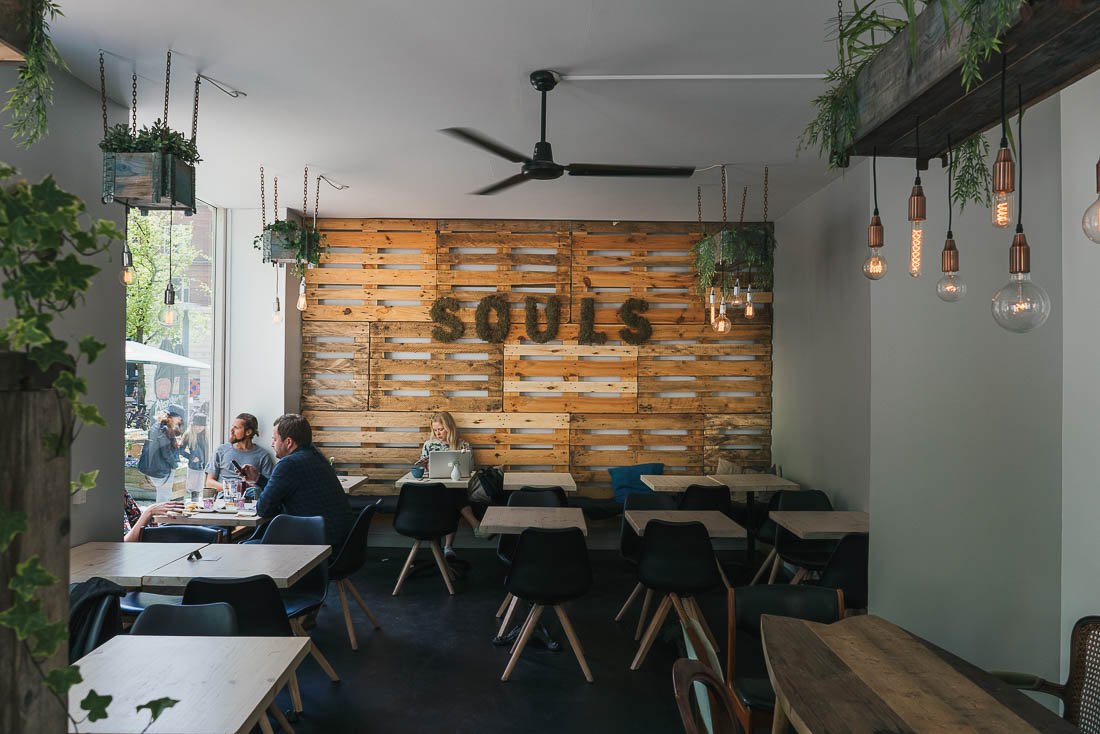 8. Morgenstedet
Canteen-style Morgenstedet counts among the best vegetarian restaurants in Copenhagen. And there are several reasons to substantiate that. The eatery stays true to the vegan mood and is bound by healthy sustainable ideals. It is run by volunteers. So you can try new interesting combos often and not just rely on a fixed set of dishes. Baked Potatoes Au Gratin with Salads is a must-have though. Morgenstedet also has dual-seating arrangements. Cozy set of indoor chairs as well as outdoor garden space. Last but not least, the prices are modest. You can have a belly-satisfying meal at just 200–300 kr.
Morgenstedet is open 12-9 PM all days except Mondays.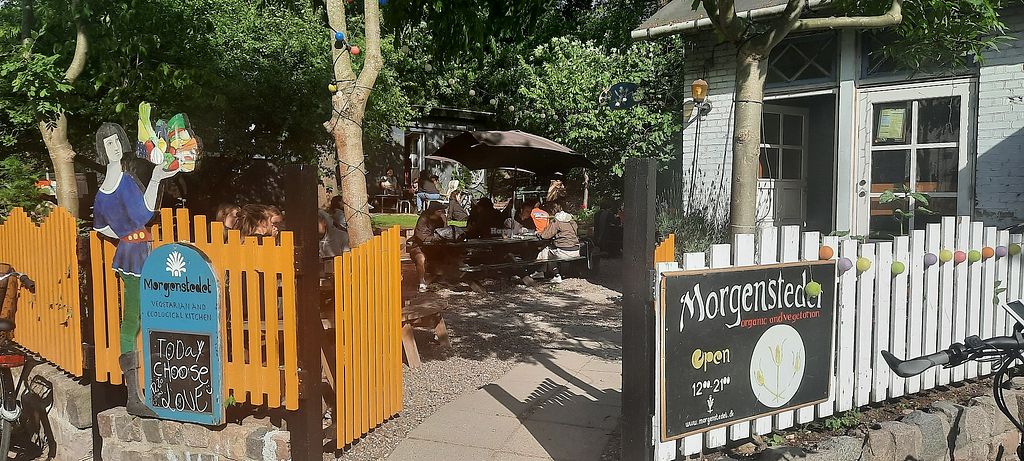 (Image Courtesy: happycow.net )
9. Pow Vegan Pizza
Wanting to grab a bite of heavenly vegan pizza? Well, look no further than Pow Pizza Restaurant. They have diverse options for varying preferences. For spicy taste buds, the Katla Pizza with creamy cheese and sauce is best. While the El Professor imparts a realistic tuna essence. There are combo offerings too. Any Pizza + Homemade Lemonade + Hand Cut Potato Chips with Dip. As per expenses, pizzas cost 95 dkk and come in decent sizes.
Pow Vegan Pizza, Kapelvej also has no-contact delivery. So, you can dine on any day between 4-9 PM or go for a curbside pickup.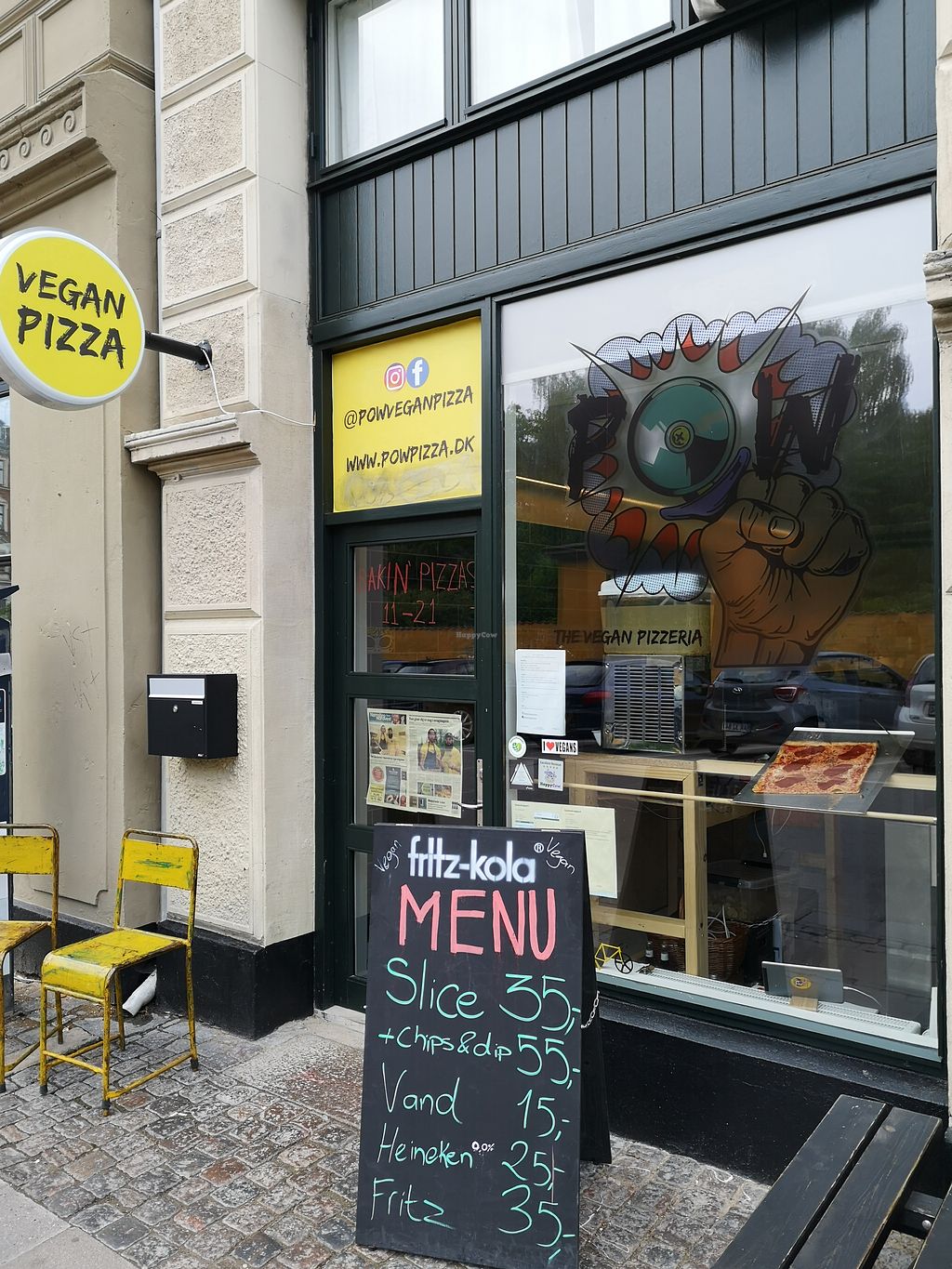 (Image Courtesy: tipster.dk )
10. Kate's Joint
For divine fusion dishes, Kate's Joint in Blågårdsgade is your best bet. This is not among the out-an-out vegetarian restaurants in Copenhagen. But from Indian and Arabian to Malay-infused, they offer many veg/ vegan choices. Rich curries, quick munches, stir-fries, colorful salads, and the list goes on. If it is your first time here try the Veg Korma, Palak Paneer, Hummus, Aubergine sambal, or the Goan Coconut Veg Curry. Besides that, they also have organic sodas, juices, and wines.
The ambiance here is quirky and jovial. They also have affordable rates with main courses of less than 150 dkk.
Happy Hours are 4-6 PM.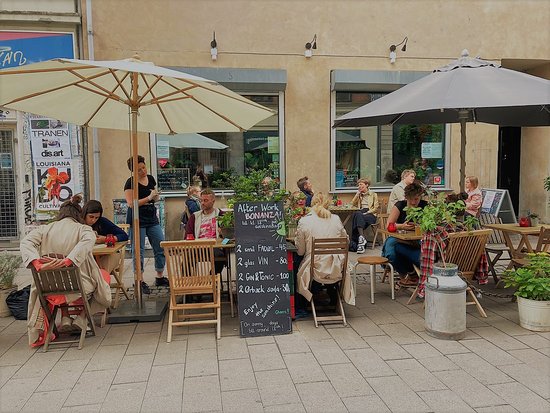 (Image Courtesy: tripadvisor.co.nz )
Final Thoughts
The vegetarian restaurants in Copenhagen magnify the appeal of the city. But to explore them, you need a perfect base. TheSqua.re's serviced apartments in Copenhagen with their convenient locales are ideal for that. We also have food delivery facilities in case you want to enjoy your meals in the warmth of your abode.
---
---