15 Famous Beaches in New York
---
New York is one of the world's top destinations for a city break, with over 60 million people a year coming to marvel at its iconic skyscrapers, chic nightspots and bustling neighbourhoods. However, many may be surprised to learn that New York also offers some stunning beaches - many of which, whilst hugely popular with New Yorkers, remain almost unknown to the wider world.
While the winter months may see temperatures plunge a little too low to enjoy a beach holiday, the coastal areas offer a wonderful opportunity to escape the city throughout spring and summertime. In fact, during a typical New York summer, a cooling trip to the beach is all but essential.
Whether on a weekend getaway or an extended stay in New York, the abundance of sandy beaches offers a different dimension to the usual city break. For those staying in Manhattan, many of the most popular beaches in New York are a short subway, ferry or bus trip away. Whilst the more off-the-beaten-track locations might require a little more organising, visitors will find they are more than worth the effort.
What follows is a list of the 15 Best Beaches in New York which you might like to visit:
1. Coney Island, Brooklyn
Probably the most famous beach on the list is Brooklyn's Coney Island - which in summertime opens the doors of its notorious urban funfair. Since 1895, New Yorkers have enjoyed the traditional attractions, including the iconic Ferris Wheel, as well as the roller coasters and dodgems. The promenade is also lined with food stalls, offering everything from the classic American hotdog to more adventurous world foods. Whilst it may lack the more pristine sands of Montauk or Long Island, Coney Island's exciting atmosphere makes it one of the best places to enjoy summer in New York City.
Coney Island Beach, New York
2. Manhattan Beach, Brooklyn
Despite the name, Manhattan Beach is actually another Brooklyn favourite, which is often seen as a more relaxing and quieter alternative to nearby Coney Island and Brighton Beach. Manhattan Beach has a wide sandy coastline and the waters are calm during the summer, making it an ideal place for those who like to do a little paddling to cool off. It is particularly popular as a location for beachfront barbeques - with plenty of space plus shops and amenities nearby.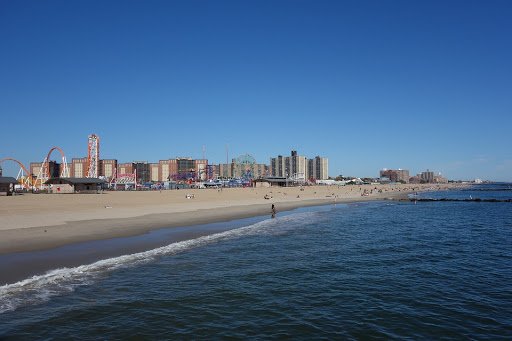 Manhattan Beach, Brooklyn
3. Brighton Beach, Brooklyn
Coney Island's neighbour, Brighton Beach is distinguishable by its lack of fairground rides and a slightly quieter atmosphere. Whilst it's still a popular place during the summer, many people head to Brighton Beach to enjoy a slightly slower pace of life, with its quiet cafes and eateries dotted along the beachfront. The beach itself boasts little by way of entertainments, but there are more swimmers and sunbathers than Coney Island. The beach is nicknamed ''Little Odessa" by locals, thanks to the abundance of Russian shops in the neighbourhood and many visitors enjoy exploring its parade of shops selling traditional Russian foods and restaurants with menus boasting rare vodkas.
Read More: New York Covid-19 Travel Restrictions in 2021
4. Midland Beach, Staten Island
Staten Island offers a different beach experience to other New York locations. Midland Beach is comparatively less accessible than many of Brooklyn's offerings, which makes it the ideal place for those looking to enjoy a little peace and quiet. The only way to get to Midland is to go by car or use local transport, which means taking two buses, so there is a much more local atmosphere when compared to many more popular locations. Part of the Franklin Delano Roosevelt Boardwalk and Beach, Midland Beach is known for its popular fishing pier and wide bike path and boardwalk. Visitors will find there are also plenty of games and events going on - mostly catering to the locals.
5. Long Beach, Nassau County
Not to be confused with the more famous Calfornia city of the same name, Long Beach in Nassau County is known for its boardwalk and the quality of the surf to be had there. Visitors are required to pay for a pass to get on to the beach for the day, but this helps to avoid overcrowding. That being said, one of the best things about Long Beach is how easy it is to get there - just an hour from Manhattan. After $42m renovation work carried out following Storm Sandy, Long Beach now boasts two miles of picturesque boardwalk as well as plenty of street food vendors and cafes. and biking bliss that's better than it was back in the day. There are also several festivals and concerts held throughout the summer months. The beachfront itself is also one of the best in the area, with the National Resources Defense Council having ranked Long Beach among the cleanest beaches in the US.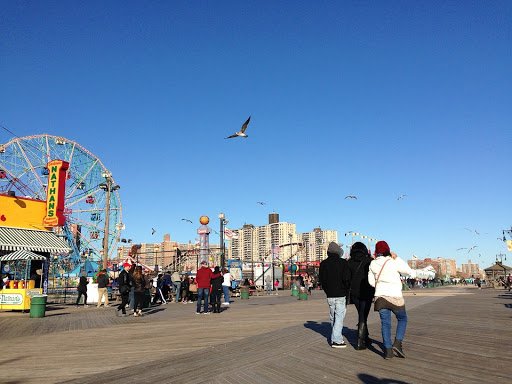 Long Beach, Nassau County
6. Sandy Hook, Gateway National Recreation Area, Jersey
Whilst technically not in New York, Jersey's Sandy Hook offers an excellent escape from the hustle and bustle of the Big Apple. Often overlooked for more fashionable beachside haunts, Sandy Hook nonetheless has lifeguards patrolling for swimmers, plenty of endearing nature trails as well as a spate of cafes, bars and bistros. It also has the advantage of being just a 45-minute ferry ride from Manhattan - a cruise that's something of an attraction in itself, sailing past some of the city's most iconic sights. For the more adventurous, Sandy Hook also neighbours the infamous Gunnison nudist beach!
Read More: The Top Pizza Places in New York
7. Fort Tilden Beach, Queens
The New York district of Queens also harbours a surprising amount of pleasure beaches. Fort Tilden is a superb location for both those looking to relax and those looking to enjoy a more vibrant atmosphere. Throughout the week, Fort Tilden offers a quiet retreat from city life, whilst over the weekends visitors descend on the neighbourhood to enjoy some summer fun. There is little in the way of infrastructure and no lifeguards, so swimming is not advised, but the beach's appeal is its seclusion - with plenty of private beach parties and barbeques going on.
8. Jacob Riis Park Beach, Queens
Jacob Riis beach offers something a little different. Whilst there is a picturesque sandy beach, the area has become known for its market where people come to be entertained, eat, and shop. Nicknamed ''the People's Beach'' due to its easy public access, Jacob Riis offers plenty of activities, including yoga and waterfront sports. There are also plenty of great places to pick up a bite to eat, ranging from classic US snackfoods to Middle Eastern and Latin cuisine. Riis also boasts a golf course and a markedly wider beach than nearby Fort Tilden and Rockaway.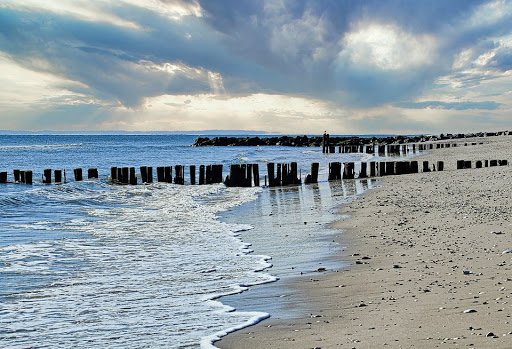 Jacob Riis Park Beach, Queens
9. Rockaway Beach, Queens
The aptly titled Rockaway Beach - famous for its connection to go Patti Smith and the Ramones - offers great swimming and surfing, as well as plenty of onshore sports such as volleyball and soccer. Despite being a hugely popular spot in summertime, Rockaway beach is very clean and, being over six miles long, it's easy to find a nice private spot. There are also plenty of great places to eat nearby, with everything from pizzas to tacos on offer. Rockaway is also easily reachable from NYC, with trains ferries and buses all being viable options.
Read More: Top 10 Tourist Attractions in New York to Visit at Night
10. Main Beach, East Hampton, Long Island
The Hamptons are among New York state's most exclusive locations, so it is perhaps unsurprising that Main Beach is considered to be the best the US has to offer.
Here visitors will find a more upmarket experience compared to the more rough-and-ready party beaches of Coney Island or Rockaway Beach, with pristine white sand beaches and luxurious beach houses. Visitors should be aware that Main Beach is best reached by private vehicle and parking fees are high at $30 per day.
11. Montauk, Long Island
Another favourite among Long Islanders, Montauk is actually an island itself and reachable from the very tip of South Fork on Long Island. Inevitably, this makes Montauk a more secluded location, with plenty of nature walks and unspoilt beachfront, not to mention its picture-postcard lighthouse. However, whilst Montauk is a great place to relax, it is still a lively hamlet offering plenty of activities including surfing, golfing, and hiking. There are also plenty of fantastic restaurants in the vicinity serving some incredible local catch - fresh lobster, tuna, clams, and scallops. Visitors can even catch their own dinner with a half-day deep-sea-fishing excursion.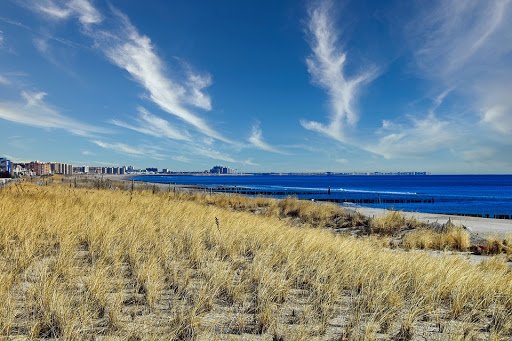 Montauk, Long Island
12. Shelter Island, Suffolk County
Following recent renovation works, Suffolk County's Shelter Island has become increasingly popular. Despite being an island of just 27 square miles, Shelter Island offers plenty of activities, including hiking along the trails, kayaking, and cycling, as well as being a popular destination for bird watchers. Above all though, Shelter Islands beautiful tree-lined beaches are the perfect place to relax, enjoy a dip in the ocean and soak up some sunshine. Shelter Island is reachable from Manhattan by a combination of trains and ferries.
Read More: New York Travel Tips - What to Do See, Costs & Ways to Save
13. Robert Moses State Park, Fire Island
Fire Island is a bit of an arduous journey from Manhattan - a combination of train, shuttle buses, and ferries - but travellers are then rewarded with the beautiful Robert Moses State Park, with its wide sandy beaches and picturesque lighthouse. With some five miles of beachfront, it's easy to find plenty of space in which to relax or enjoy a barbeque. Robert Moses Beach is also very family-friendly; there's plenty of opportunities to explore or hire a bike and take in the scenery. The beaches of Fire Island also boast excellent facilities— including private outdoor showers, first aid, grills and picnic tables. Quieter than many of the beaches on this list, Fire Island is definitely the go-to destination for those seeking some peace and tranquillity.
14. Orchard Beach, Bronx
Even the Bronx offers a fantastic beach - Orchard Beach on Pelham Bay is a vibrant and lively manmade beach. Being the only public beach in the district, weekends are busy - but that is part of the fun. The picturesque area comes alive with music, street carnivals and various food trucks. The waters are generally calm and shallow which makes paddling popular and the sandy beaches are lined by beautiful lush greenery - making it perfect for walks.
Orchard Beach, Bronx
15. Asbury Park, Jersey Shore
The final location on this list is outside of New York but located on one of the most notorious waterfront cities of the US East Coast: Jersey Shore. Whilst the region has gained a reputation as a party town, thanks to a reality TV show of the same name, Asbury Park is actually a beautiful family-friendly area offering plenty of sandy beaches and a vibrant boardwalk with a fantastic selection of shops, restaurants and entertainment. What's more, on the first Saturday of each month, everything stays open late, making the area ideal for a night out. The Oyster Festival and Jazz Festival have become special annual events attracting large crowds. Jersey Shore is easily reachable from New York via train or bus.
---
---
Leave a Reply
Your email address will not be published. Required fields are marked *