7 Best Street Foods in London
---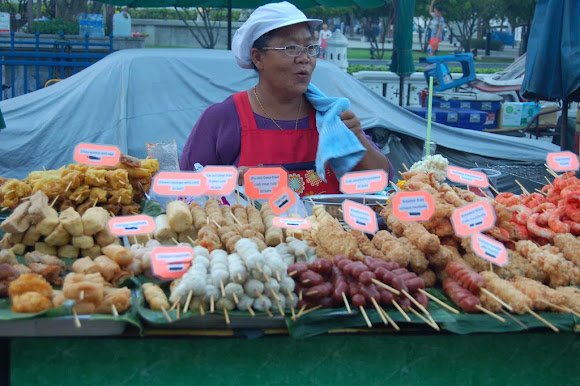 Despite British food having gotten a bad press in the past, London has now become one of the good food capitals of the world. Not least because of the sheer variety available.
London is most famed food-wise for having some of the best chefs in the world, many of which have one or several high end restaurants open in the capital. Some of these even have the sought-after Michelin Star, or maybe several.
However, what these places have in common, apart from a stunningly high quality of food, is that they are very expensive. Dinners and lunches at £100 a head are great for an occasion, but not practical for most travellers for every day of their visit.
Fortunately, London has also developed quite a nice line in street food over the last few years. In fact, some areas are renowned for it. Street food, for those not in the know, is working food, in other words affordable food available within the budgets of the average working man or woman.
Street food is usually sold by hawkers on the street, without permanent premises. Decent street food uses top notch ingredients found in the local area where they are at their most affordable. Here are some of the very best places in London in which to pick-up high-quality street food.
Borough Market
Probably the absolute 'daddy of street food' in the UK, possibly Europe. This is the place which should be the template for fabulous food and drink centres. Once anybody visits Borough Market it is unlikely to be forgotten, hopefully for the high quality food on offer and not because of the volume of people large enough to sweep people of their feet!
The market is spectacularly set under the archways and bridges of London Bridge station and has been in existence since 1014. There's not many places on this list which have been markets for more than a thousand years.
The layout of the market can only accurately be described as 'sprawling' although whilst walking round it is possible to see some kind of thinking and reason behind the locations of stalls. Although, maybe not!
The choice here is fantastic, all types of food seem to be covered from spices to cheeses and fruits & vegetables to chocolate. There's also wine and beer for sale and sample too.
Talking of samples, it's always best to visit Borough Market hungry as there's plenty of free samples to be had before purchase.
None of the above is actually including the street food either. Among the grocery sellers there are a huge number of street vendors selling hot, ready to eat food of every kind. Fancy a chorizo sandwich? Done. An Ethiopian stew? No problem.
As mentioned, the market is right next to London Bridge station and is open every day apart from Sunday, although the market is quite a scaled back version on Mondays and Tuesdays.
Bang Bang Oriental
The world's current demand for street food seems to have stemmed from Asia, where hawker food stalls are legendary and necessary given the cost of living day to day when travelling to countries like Singapore and Hong Kong. Bang Bang Oriental is one of those traditional Asian food-courts, in London! Colindale to be precise. It is, in fact, the largest Asian food hall in Europe.
As food courts go in general, it's pretty big anyway with 27 different companies offering their wares and with seating for 450 people. There's all the expected Asian fare here including all of the old classics and favourites. There's also more traditional and slightly more adventurous things to try too, at least from a Western perspective. Fried up intestines anyone?
For anyone who doesn't fancy the street food market the complex is also home to the Golden Dragon restaurant. A three hundred seater eatery that serves up in the more traditional way.
This is an Asian culturual centre and it's not all about the food. There're also Chinese beauty parlours and an Asian dance rehearsal studio.
Camden Market
A favourite of artistic types for many years, Camden Town is an especially lively part of London. Right at the heart of Camden Town is Camden Market.
Camden Market isn't all about food, parts of it sell clothes and accessories, as well as knick-knacks people didn't know they needed but will want as soon as they see them.
The part of the market associated with street food is mostly pleasantly located along the canal side, the cobbled street behind Lock 17.
The food available here is some of the most creative and imaginative to be found in all the places on this list. Each and every global stall seems to be trying to outdo the last. There are more permanent cafes with terraces but on the whole, it is mainly temporary stands. The names do change on occasion but there are plenty of favourites to be made, some of which have been plying their trade here for a number of years.
Most cuisines are catered for, including a selection of vegetarian and vegan options. Check out Young Vegans Pie Shop for a proper treat.
Berwick Street Market
One that slips under most people's radar but one that has been around for the best part of 300 years.
People would be forgiven for thinking that this was a traditional market with fruit & veg, flower sellers and fabric traders shouting at the top of their lungs to encourage trade. "Two for a 'paand'…," and the like.
However, nestled amongst all the lively 'Del Boys' are a wide range of street food vendors. They can be identified from the queues of hungry office workers that stem from them every weekday lunchtime.
The market is open every day and the food on offer comes from around the world including cuisines from countries such as Afghanistan, Greece, Italy, India and China. This is street food selling at its most basic, there's no seating available here. Whilst most of the workers can enjoy their paellas back at their desks, the average visitor will have to walk round with it!
Fortunately, Soho's an interesting place to walk around in and the tastes of the food are far from basic. Leicester Square and Piccadilly Circus are the stations to look out for when visiting.
Maltby Street Market
There is nothing like getting in on the beginning of a trend. Although Maltby Street Market has been open since 2010 it is still considered a bit of a hidden gem when it comes to street food hubs.
What started off as a coffee shop in the railway arches of Bermondsey has now become something of a competitor to Borough Market itself. There's produce on offer, booze too, but it's the street food that really catches the eye.
It is a lot smaller than Borough Market but that only goes to show how much more exclusive it is. Only the very best street food traders get to keep their places here week in week out meaning visitors can always expect the very best.
For people that want to compare the offerings of Brough and Maltby Street Markets it's a very easy task. Both markets are walkable from London Bridge stations as well as Bermondsey.
Broadway Market
Whilst some food markets can be a little rough around the tasty edges, looking at you Camden, others are positively trendy, upmarket hangouts of the wannabe seen out and abouters. Broadway Market is one of those places, any hipster who loves their food will want to be seen here.
As with most hipster ridden places in London, it's somewhere that was previously known as the rough East End which now has an achingly cool vibe which, begrudgingly, also boasts fantastic quality. Here the fantastic quality is all about the food on offer.
There's no KFC here, but there is a Lord of the Wings. The same kind of thing except, more pricey, more trendy and admittedly much higher in quality. There's also Scottish fare, lots of Asian offerings and vegetarian, vegan and alternative diet options. There's also cakes and other sweet stuff as well as artwork and trinkets to browse and perhaps buy whilst munching.
The market first appeared in 1900 with a bloke called Fred Cooke selling jellied eels. Most will be happy that the variety of food on offer has increased since then.
Brockley Market
Where do real Londoners go for their street food in everyday life? Which is the best place to get street food which isn't heaving with tourists?
For people who are brave enough to venture south of the river, there's Brockley Market. Found in the London Borough of Lewisham there's not many better places in which to get a feel of the real south London.
It's a proper hub of ethnic cuisine provided by the ethnic population who live in the area to the people that live in the same area.
Don't be put off by the things heard about south London. Any south Londoner will tell you that's just stories made up by jealous north Londoners! Brockley Market has a fantastic friendly vibe and in terms of street food is actually quite a trend setter. Some famous street food brands started off here. Some, like the burger specialist Mother Flipper', can still be found plying their trade here.
---
---
Leave a Reply
Your email address will not be published. Required fields are marked *