A First Timer's Guide to Wimbledon
---
Possibly one of the biggest and the most respected Grand Slam Tennis Tournaments in the world- The Wimbledon Championships is a huge deal for any tennis enthusiast. This year holds the 131st edition of the Wimbledon Championship and is a part of this year's WTA Tour. The Tournament generally consists of a variety of matches- namely, Men's Doubles and Singles, Women's Doubles and Singles, The under-18 categories of Boys' and Girls' matches, and also the exciting Mixed Doubles.
The famous tennis champions- Serena Williams and Andy Murray, won the Wimbledon's Women's and Men's Championships last year. Since we have entered the Wimbledon Championship Week, which has taken the world by its frenzy, from the 23rd of June to 15th of July, 2017; thesqua.re thought of designing a first-timer's guide for our guests attending the Wimbledon Championship. With more than 219 apartments in London alone, thesqua.re offers suave, 4-star Serviced Apartments in London- in numerous prime neighbourhoods which are renowned for having the highest accessibility to all modes of Public Transport. Since you and us, we both believe in filling our lives with more experiences- Freeze a weekend to go and witness Wimbledon the way it is supposed to be seen- LIVE!
Getting There:-
The Wimbledon Championships have taken place in the 'All London Lawn Tennis and Croquet Club' since the year 1877, and it's no surprise that the venue falls within the Wimbledon neighbourhood. The closest underground tube station which falls near the Wimbledon grounds is 'Southfields' station. The Southfields station, in comparison to the Wimbledon station, is relatively much closer to the venue despite being a few stops before Wimbledon. One can walk from the Southfields station which would roughly be a 15-minute walk or take the shuttles to the ground or the London Buses. Even if you deboard at the Wimbledon station, there are buses which will help you commute with ease to the grounds
Ticketing and Ground Selection:-
Getting tickets for Wimbledon matches can be a grueling task in itself, with people trying to book them worldwide. There are various portals through which one can buy the tickets to the matches. Of course, queueing up at the Wimbledon stadium is one way of getting the tickets, but be prepared for long lines which will take up a lot of time. Hence, we suggest you to look into the various online portals where you can easily book your tickets. Some of these websites are:- Ticketmaster, Viagogo, and also the Wimbledon official website - where you can not only book tickets, but also check out prices, the game schedule, and other information. There is also a Ballot system for getting tickets, separate for overseas citizens and for the residents of UK. All the information about this can be found on the official Wimbledon website. Out of the all the websites, Ticketmaster is the easiest to book tickets from as it usually has the highest availability.
Once you get your hands on available tickets, you can then decide to choose which ticket you would want which basically decides where you will be sitting. There are 4 sections which decide your ticket type. They are: - Centre Court, Court number One, Court number Two and Standard Ground Pass. If you are extremely lucky to land tickets from the first three sections either online or by reaching to queue up very early- Then be assured of the best views of the game and the players, as you are basically in the best courts. Otherwise, the Standard Ground Pass is also not that bad. The Standard Ground Pass gives access to the 'outside courts', where the tennis can be seen on massive screens, which is better if you are purely into the game and not the players. A lot of public can be seen sitting here, more relaxed in the sun and having a joyous time sitting here quite relaxed, than the ones inside the courts. We have taken the liberty to include a detailed map here for your convenience.
Also, make sure to download and print a copy of the match schedule as it will help you plan your trip to Wimbledon accordingly, and you can also decide which matches you can afford to miss, or the ones you wouldn't want to.
Things to take along, Refreshments and what else to do:-
Pack a bag to take along with you, knowing that you will be spending an entire day there. We would suggest you to pack in an extra fresh pair of clothes, just in case if you sit outside on the outer courts and get drenched in the occasional spells of rain that London is famous for. Or, you could also take an umbrella or a waterproof jacket with a hood to save yourself from the rain. Bringing a sun-hat is the best thing to do, because sitting out in the sun for long hours can get tiring. We would also advise you to take ample water with yourself, your camera (use without flash amidst a game). Also, in terms of food and refreshments, the food inside Wimbledon is a bit expensive and can be disappointing. A majority of people carry their own food and drinks.
For the matches, you don't wish to see or when you are done for the day, we would advise you to visit the 'The Wimbledon Museum' to catch some timeless trophies, collectibles from the game, pictures and much more. There is also the gift shop within the premises, where you should religiously stop and get yourself one of those large tennis balls to take back home! It's honestly a prized souvenir. Also, take a general tour around the All England Club, and you will be amazed to see a lot more, than what one can see on the television.
Accommodation :-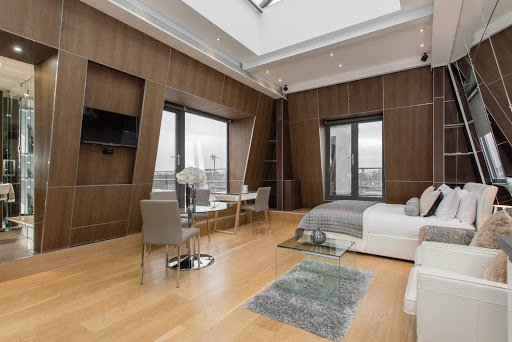 We understand your accommodation needs perfectly and hence get you handpicked apartments in the city's best locations. We bring to you 4-star, high-end Serviced accommodation in London, with over 200 apartments in the most prime and central neighbourhoods, in the beautiful city of London. All our apartments come with state-of-the-art amenities, designed to make your stay as comfortable as possible. Besides this, we have also have a dedicated team of reservation experts, a proficient and round-the-clock service staff who promptly service your apartment and take care of all concierge services and maintenance. If you wish to include the Wimbledon Championship in your itinerary of work or leisure visit, we have some incredible Serviced apartments handpicked for you. Book a 2-bedroom, Contemporary and Open-style Serviced apartment at the St. George's Wharf; Or a Studio apartment in South Kensington which is just two minutes from the Gloucester Tube station! All of these serviced apartments come with secure entry systems, modern and contemporary furnishing, with all the modern home appliances required for everyday comfort and whole bunch of benefits in terms of locality, proximity to sights, monuments, and transport. The service staff take it upon themselves to make your stay a memorable experience.
---
---
Leave a Reply
Your email address will not be published. Required fields are marked *