Top Beautiful Parks in Hong Kong with Natural Attraction
---
As a city associated with progress, prosperity and business, it's sometimes easy to forget that Hong Kong has plenty of greenery too. Long before colonisation, Hong Kong was a vibrant and thriving area of rainforest, the parks that can now be found there are a link to that very different past.
Have a Look at Top 3 Beautiful Parks & Gardens in Hong Kong:
1. Victoria Park
Named after Queen Victoria, the regent of the UK in the late nineteenth-century, this park is located in the northern area of Hong Kong Island. A statue of the Queen can be found at the entrance.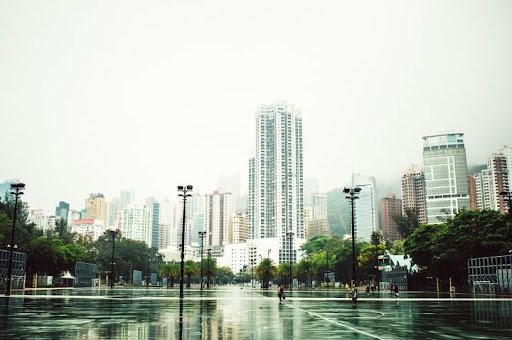 Victoria Park in Hong Kong
The park started out in life as a typhoon shelter which was part of Victoria Harbour. It was a place to moor fishing boats and luxury yachts during seasons of poor weather. In the fifties the land was reclaimed from the sea and the park was built there.
In the early part of this century the park underwent a complete revamp, with basketball courts and a tennis stadium being introduced.
Address: 1 Hing Fat St, Causeway Bay, Hong Kong
Opening Hours: Open 24 hours
Phone: +852 2890 5824
Read More: 10 Top-Rated Tourist Attractions in Hong Kong
2. Hong Kong Park
This park is typical of Hong Kong, built in the centre of the city at a cost of nearly HK$ 400 million, this modern day haven covers around twenty acres. It is a fantastic example of how Hong Kong blends its modern present with its natural past.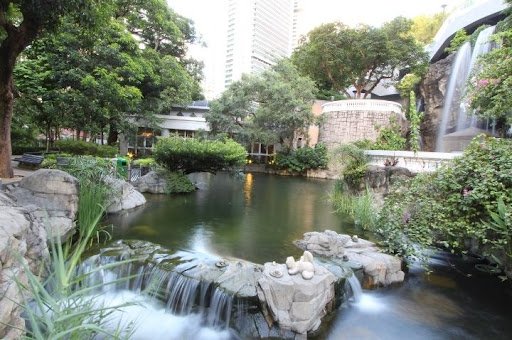 Hong Kong Park
This park has preserved a number of historic buildings, including army barracks which were used by the British in the early part of last century.
It is also the home to the largest aviary in Hong Kong, a greenhouse for exotic plants and a modern sports centre.
Address: 19 Cotton Tree Drive, Central, Hong Kong Island
Opening Hours: 6am - 11pm
Public Transit Access: Hong Kong Tramways (25 m), The Peak Tram (30 m), Admiralty Station (200 m)
Phone: +852 2521 5041
3. Kowloon Park
This 33 acre park is locate on the site of another former British army barracks in Kowloon. The buildings were destroyed and the park developed in the early 1970s.
As well as having nature aplenty, with a tree walk, Rose Garden and a purpose built aviary pond, some of the buildings which were saved have now been turned into museums. These include the Hong Kong Museum of History.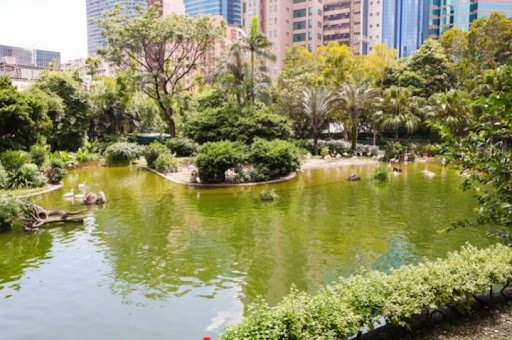 Kowloon Park in Hong Kong
An unusual feature of the park is the Avenue of Comic Stars. Here you can find twenty-four statues of comic characters which have been designed locally, as well as the hand prints of the artists.
Address: Nathan Road, Tsim Sha Tsui, Kowloon
Opening Hours: 5:00am - 12:00am
Public transit access: Tsim Sha Tsui station (10 m); Jordan station (180 m); Austin station (275 m); Star Ferry Pier (0.6 km)
Phone: +852 2724 3344
Read More: Best Place to Stay in Hong Kong
As with many Hong Kong parks, Kowloon Park enjoys state of the art sporting facilities too. These include multiple swimming pools, comprising an Olympic sized pool, two 25 metre pools and a diving pool. In addition there is also a complex of leisure pools linked together by waterfalls.
There are many more parks to explore in Hong Kong, the number in your proximity depends on where you choose to stay. If you are looking for corporate housing in the form of a serviced apartments in Hong Kong, then thesqua.re has a wide range to choose from.
---
---
Leave a Reply
Your email address will not be published. Required fields are marked *