11 Best Tourist Places to Visit in Dhaka City
Dhaka is one of the most vibrant and culturally enriched cities worldwide. The city has close to 17 million people with a plethora of attractions and unlimited possibilities for travelers. Finding places to visit in Dhaka is not a difficult task at all, considering the bustling street markets, lovely gardens and parks, charming river cruises and lip-smacking cuisines.
In fact, even the rickshaw-rides through impossibly narrow lanes are exciting in themselves. Dhaka City is also one of the best places to witness scintillating dance and music performances. There are beautiful mosques and temples dotting the city along with other architectural marvels too.
Have a Close Look at 10 Best Places to Visit in Dhaka that You Must Try
1. Bangladesh National Parliament
One of the top tourist places in Dhaka, the National Parliament Building or
Jatiya Sangsad Bhaban was designed by noted American planner and Professor at Yale University, Louis I. Kahn. One of the world's most noteworthy architectural landmarks, it was originally intended as the second seat of the Bangladesh Parliament.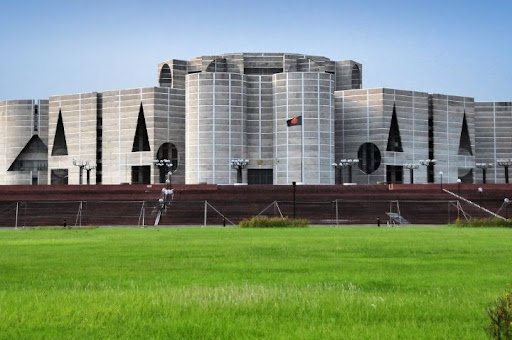 Bangladesh National Parliament in Dhaka
Although work commenced before 1964 on this landmark, there was a delay owing to the Bangladeshi War of Independence. The structure was finally completed in the year 1982. It is a great place to visit for tourists who love their history and architecture alike.
Address: Dhaka 1207, Bangladesh
Opening Hours: Mon - Sun (9am - 5:30pm) / Fri & Sat is closed
Seating Capacity: 350
2. Armenian Church
One of the most fascinating Dhaka tourist spots, the Armenian Church is named after the Armenian community that started living at Armanitola from the 17th century onwards.
The church offers a serene ambience along with architectural splendor and a nostalgic vibe to say the least.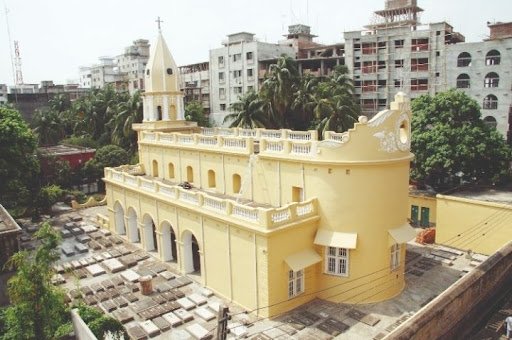 Armenian Church Dhaka (Image Courtesy: dhakatribune.com)
Address: 4 Armenian Street, Armanitola Rd, Dhaka 1100, Bangladesh
Opening Hours: Mon - Sun (9am - 5pm)
Phone: +880 1730-738151
3. Lalbag Fort (Fort Aurangabad)
Looking for interesting tourist attraction near Dhaka? The Lalbag Fort (Fort Aurangabad) is an ancient landmark dating back to the 17th century Mughal rulers. It was started by Prince Mohammed Azam and ultimately given to Shaista Khan, the legislative authority of Dhaka for completion.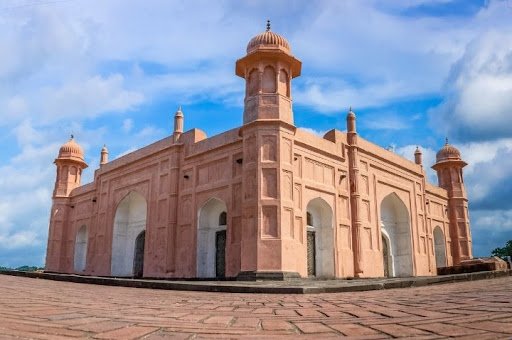 Lalbag Fort in Dhaka, Bangladesh
However, she did not complete this task owing to the demise of Pari Bibi, her little girl, whose tomb still remains within this landmark. There is a charming gallery inside, displaying artwork and calligraphy dating back to the Mughal era along with guns and swords that were used by the kings at that time.
Address: Lalbagh Rd, Dhaka 1211, Bangladesh
Opening Hours:
- Tues - Sat (9am - 5pm)
- Fri (9am - 12:30pm, 2 - 5pm)
- Mon (1:30 - 5pm)
- Sunday is Closed
4. Ahsan Manzil
One of the unanimously popular places to visit in Dhaka is Ahsan Manzil near the Sadharghat Boat Terminal. One of the wealthiest men of the city, Nawab Abdul Gani, constructed this main residence called Ahsan Manzil.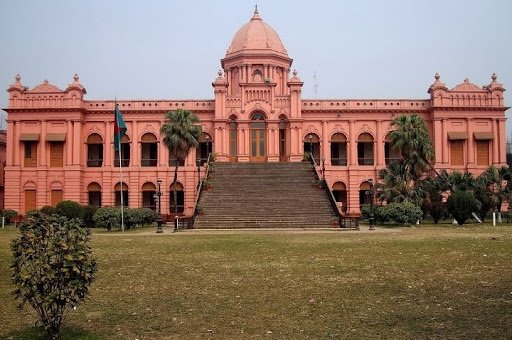 Ahsan Manzil in Dhaka (Image Courtesy: wikipedia.org)
It was built in 1872 on the site of a previous French factory and some portions were destroyed by a storm around 16 years after completion. It was subsequently rebuilt and major changes were made to expand the premises. This is one of the most photogenic attractions in Dhaka City.
Address: Latif Complex, Islampur Rd, Dhaka, Bangladesh
Opening Hours:
Mon, Tues, Wed, Sat, Sun (10:30am - 5:30pm)
Fri (3am - 8pm)
Thrusday is Closed
Phone: +88 017 386 96914, +88 017 419 69683
5. Dhakeshwari Temple
Tourist places in Dhaka do not get better than this one! This ancient and legendary temple shares its name with the city. Ballalsena or Mangat Ray, the renowned kin of Shri Sudhama (son of Arakanese King Raja Malhana), or Husen Shah, built this iconic temple. This is the hub for Hindu rituals and gatherings in Dhaka City.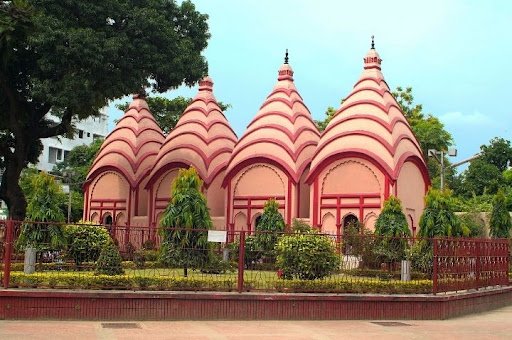 Dhakeshwari Temple in Dhaka
Address: Dhakeshwari Rd, Dhaka, Bangladesh
Opening Hours: Mon - Sun (8am - 12:30pm, 4:30 - 7:30pm)
Function: Hindu Temple
Deity: Dhakeshwari
6. Khan Mohammad Mridha Mosque
Another tourist attraction unlike any other, the Khan Mohammad Mridha Mosque was founded in 1706. This lies in proximity to Lalbag Fort, offering a raised area with 25 steps.
You will find three uniquely designed mosques along with impeccably pinpointed minarets at each corner and a rectangular rooftop. Architecture lovers will certainly fall in love with this stunning mosque.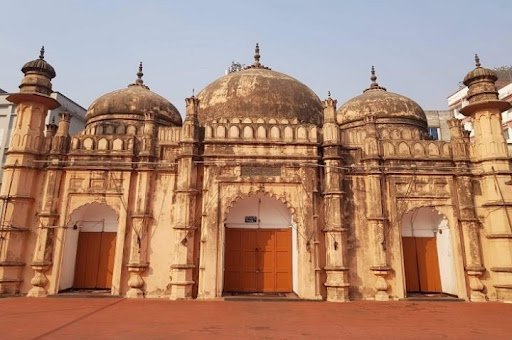 Khan Mohammad Mridha Mosque in Dhaka (Image Courtesy: offtrackjourneys.com)
Address: Lalbagh Rd, Dhaka, Bangladesh
Opening Hours: Open 24 hours
7. Star Mosque (Tara Masjid)
Another one of Dhaka's major attractions, this one lies in old Dhaka. The Star Mosque was built by the Mughal rulers in the mid-18th century, lending it a distinct architectural and cultural flavor. This is one of Dhaka's most visited tourist landmarks today.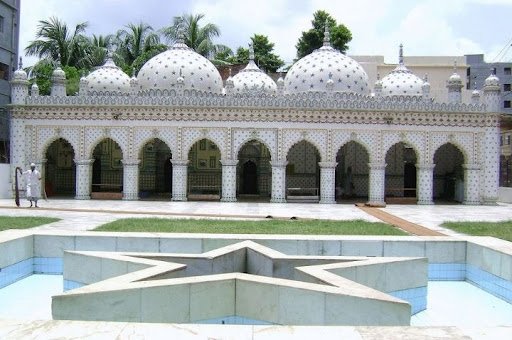 Star Mosque in Dhaka (Image Courtesy: Taabu Tour​_Pinterest)
The mosque has undergone changes and extensive customization in future years although Mughal architectural influences still remain in many ways. The mosaic decoration deserves special mention.
Address: Abul Khairat Rd, Old Dhaka 1100, Bangladesh
Opening Hours: Open 24 hours
8. Sadarghat River Port
Photography enthusiasts will definitely love a visit to this wonderful Port. This offers a real feel of Dhaka City. Sadharghat River Port is a dynamic zone, bustling and chaotic, with more than 30,000 travelers landing here on a daily basis.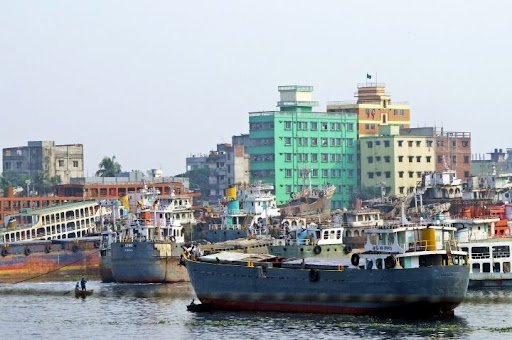 Sadarghat River Port in Dhaka
It is one of the world's biggest Riverine ports while lying at the central point of Southern Bangladesh. A trip to Dhaka City is incomplete without venturing to Sadharghat.
Address: Buriganga Riverfront, Dhaka City, Bangladesh
Opening Hours: Open 24 hours
9. Kawran Bazar
Another photographers' delight, Kawran Bazar is the biggest wholesale market in all of Dhaka City. It offers several attractions and activities for travelers.
Trading usually begins from 9 AM and there are shops selling almost everything under the sun! This is another place to embrace the real feel of Dhaka.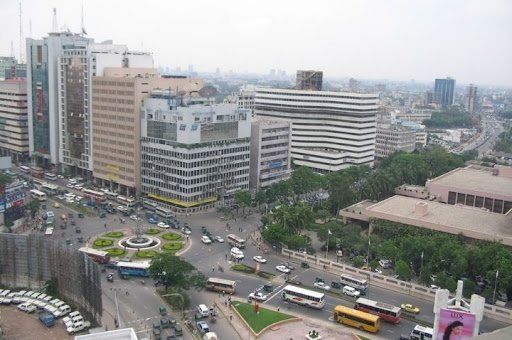 Kawran Bazar in Dhaka (Image Courtesy: Mapio.net)
Address: Karwan Bazar, Dhaka 1251, Bangladesh
10. Bait Ur Rouf Mosque
Architecture connoisseurs and history lovers will also appreciate a trip to the Bait Ur Rouf Mosque in the city. It has won the Aga Khan Award for Architecture and will dazzle visitors with its spectacular designs and architectural touches.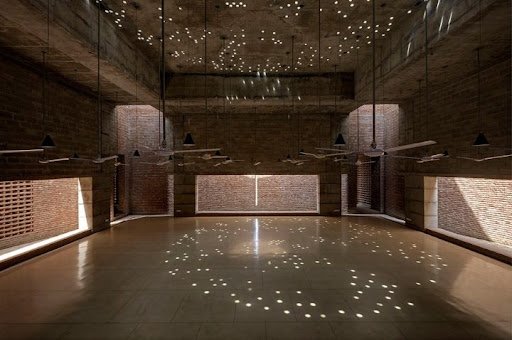 Bait Ur Rouf Mosque in Dhaka (Image Courtesy: Archnet.org)
Planned by the engineer Marina Tabassum, it lies to the far west of the city. The usual components of mosques like minarets and arches are not provided here, making it a really unique attraction. The brick walls glitter in sunlight while the Sultanate mosque architectural design styles peek out from every corner.
There is beautiful natural air circulation, ensuring that temperatures stay low in the prayer room as well. The overall effect is splendid without a doubt.
Address: Faidabad Transmitter Link Road, 1230, Bangladesh
Opening Hours: Mon - Sun (5am - 10pm)
11. Liberation War Museum
This is one of the museums that you should visit in Dhaka City without fail. This will give you a unique glimpse into the history of Bangladesh, its unique struggle for freedom and cultural legacies that arose out of the historic Liberation War.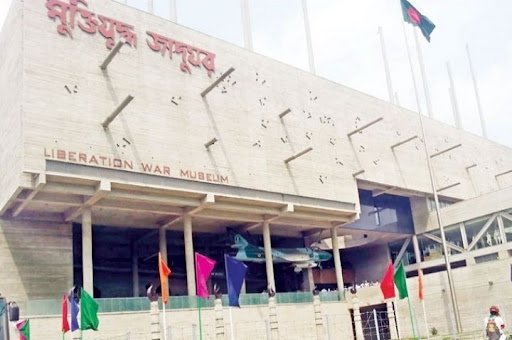 Liberation War Museum in Dhaka (Image Courtesy: Newagebd.net)
This museum highlights the Bangladesh Liberation War of the year 1971, which finally gave autonomy to Bangladesh from Pakistan. This is one of the most unique attractions worth visiting in Dhaka City. The 9-month war witnessed a devastating attack by the Pakistan Army and the eventual victory of Bangladesh has been illuminated through rare documents, artifacts and more.
Address: Plot : F11/A & F11/B Sher-e Bangla Nagar, Civic Centre, Agargaon, Dhaka
Opening Hours: Mon - Sat (10am - 5pm) / Sunday is Closed
Phone: 09611677223
While exploring Dhaka, you will come across this wonderful landmark that stands as a tribute to the history of the country and how it achieved its freedom.
These are the 11 must visit attractions in Dhaka City. While you are here, do not forget to try the famous culinary delights that abound on every street corner. Now that you know of the key landmarks in the city, plan your itinerary and book your serviced apartments in Dhaka right away. Find options located near major attractions and you will be set for a memorable trip ahead!
---
---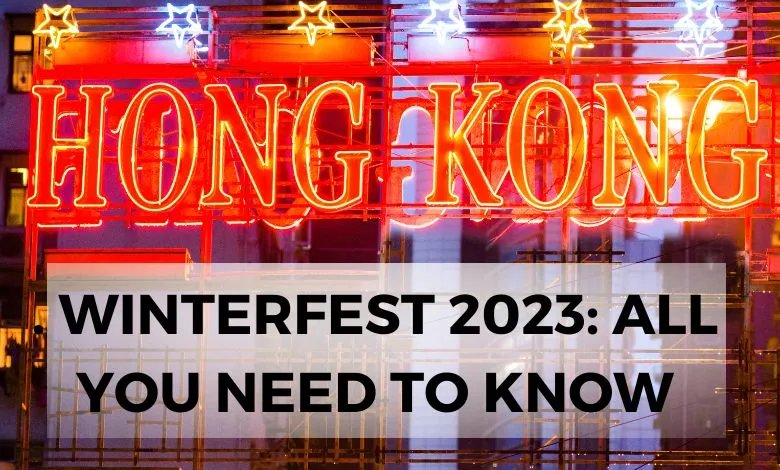 Hong Kong WinterFest 2023: All you need to know
Mugdha Kilnake
23 Aug 2023
Hong Kong WinterFest 2023 is one of the most anticipated celebrations in the country. A grand festival that transforms the city into a winter wonderland with dazzling lights. It usually takes place in the months leading up to Christmas and continues until the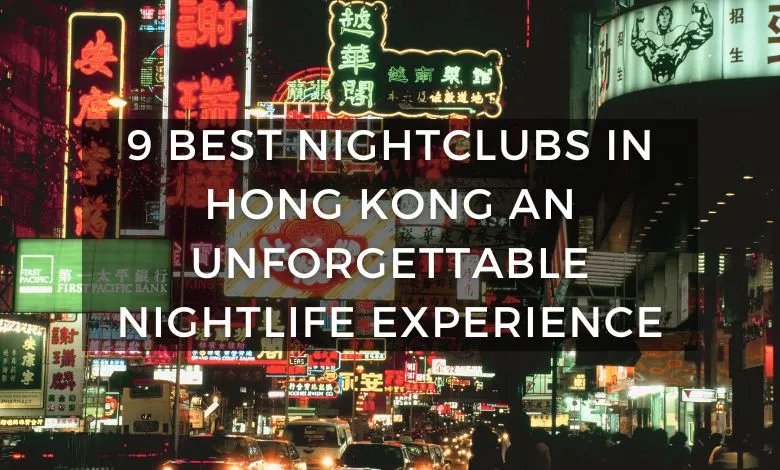 9 Best Nightclubs in Hong Kong an Unforgettable Nightlife Experience
Mugdha Kilnake
18 Aug 2023
Compared to most Asian cities, there is a wider selection of nightclubs in Hong Kong. No matter how fast-paced and dynamic Hong Kong is by the morning, everything is cranked up a level after the sun sets due to the city's international atmosphere, youthful att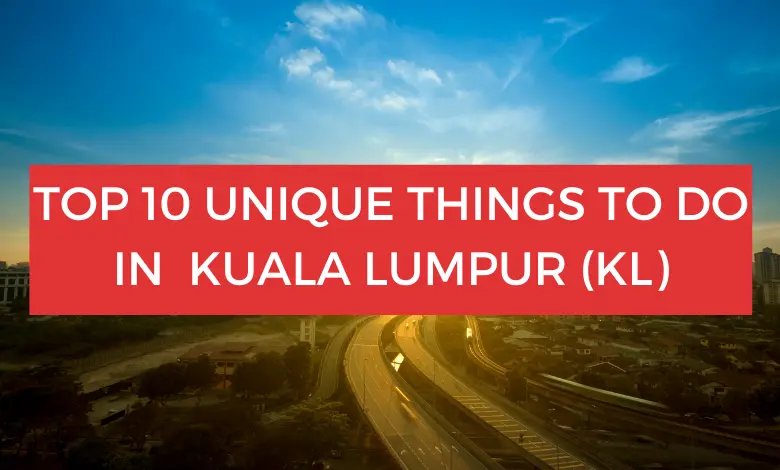 Top 10 Unique Things to Do in Kuala Lumpur (KL)
Mugdha Kilnake
05 Aug 2023
A visit to Kuala Lumpur is like a visit to the pulsating heart of Malaysia, a city that lives on variety, contrast, and a never-ending spirit of creativity. Kuala Lumpur, or KL as it is often called, is not your usual city. It is a lively tapestry of cultural
3 Comments
Al Mamun
I am very happy to visit your site. I especially liked the beauty of the city of Dhaka. Visiting your website reminds me of the old pillar, Such as Awasan Manjil, National Parliament building and many other things. I myself have a website about Jessore city, So many beautiful sites to visit! Nice photos. Thanks for sharing! I am putting the link of my website. thank you
---

Al Mamun
I am very happy to visit your site. I especially liked the beauty of the city of Dhaka. Visiting your website reminds me of the old pillar, Such as Awasan Manjil, National Parliament building and many other things. I myself have a website about Jessore city, So many beautiful sites to visit! Nice photos. Thanks for sharing I am putting the link of my website. thank you
---