Beyond The Movie: An Insider's Guide to Exploring Notting Hill
---
Most of us have watched Hugh Grant sweep Julia Roberts off her feet in the classic movie Notting Hill, and many people visit the neighbourhood with a desire to retrace the steps of the movie and visit some of the iconic on-screen destinations. Whilst there is nothing wrong with this – visitors should know that there is far more to Notting Hill than what is portrayed in the movie. In fact, Notting Hill is such a diverse destination that it could never be entirely captured in a movie.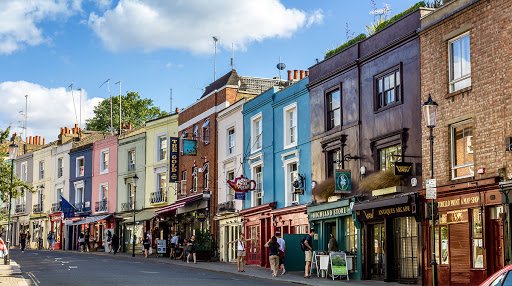 Staying in a serviced apartment in Notting Hill is one of the best ways to immerse yourself in this exciting area – and getting the insider's guide on the best places will ensure you get to know Notting Hill inside out. At thesqua.re, not only do we provide luxury accommodation in Notting Hill, but also our trusted online community will help you to make the most of your stay. For now, we have collected a few of our favourite things to do in Notting Hill:
Visit the Notting Hill Carnival
Without a doubt, the Notting Hill Carnival is one of London's most eagerly anticipated events. Taking place at the end of August every year, the carnival floods the streets with the vibrant sights, sounds and flavours of West Indian Culture – with extravagant costumes, live bands and food stalls all around. If you're staying in Notting Hill during the carnival it will be difficult to escape it – so why not get out and join the party?
Explore Beyond Portobello Road
The Portobello Road market is an iconic Notting Hill experience, but to truly immerse yourself in the neighbourhood's culture, visit the nearby side streets. These quieter streets will reveal treasured vinyl stores, bookshops and Banksy art retailers – and much more. If you're a fashion enthusiast, the blend of vintage stores and high-end boutiques in the area will certainly impress.
Indulge in Street Food
Elgin Crescent and Cambridge Gardens are two of Notting Hill's best spots to pick up a bite to eat, and for good reason. From fresher-than-fresh fruit and veg to hot street food and organic coffee, there is something for even the fussiest of foodies in Notting Hill. Start your day at Coffee Plant, which is dubbed as the best coffee on Portobello Road, and select from the huge range of street food vendors for lunch.
Catch a Movie – With a Twist:
Going to the cinema seems like an odd choice to make when there is so much to see and do in Notting Hill. However, the Electric Cinema offers an experience that you won't want to miss. Here, you can watch a movie in the plushest of armchairs, complete with mood lighting and a side table. Summon the waiter who will bring you anything you require during your meal, including delicious pizza, wine and beer.
If you're looking to truly get to know Notting Hill, then our top selections might help you to look beyond the tourist traps and enjoy an authentic experience. However, the only way to authentically immerse yourself in Notting Hill's culture and lifestyle is to be there – so find a serviced apartment in Notting Hill and let your adventure begin.
---
---
Leave a Reply
Your email address will not be published. Required fields are marked *