Christmas Celebrations in London
---
Long established as the picture perfect city for Christmas cards, a festive journey to London should always feature on anyone's bucket list of places to visit.
It's true that London rarely sees snow in December, and that most of the classic images were created based upon Dickens' idealistic image of Christmas in the city, but that doesn't stop London from transforming into a festive wonderland year after year.
Here are some of the wonderful things you can do in the capital over the Christmas period, they might even give you a good idea about where to stay in London during your visit.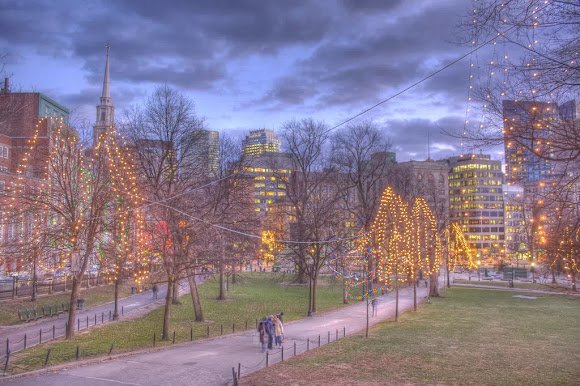 Christmas Lights in London
Most of London's Christmas light switch ons are done and dusted well before the end of November, but that doesn't stop you seeing them in all their finished glory.
Nothing says Christmas in London more than the illuminated streets and shops. The Oxford Street lights, arguably London's most famous, are usually lit at the beginning of November. The switch on includes pop up performances, gigs and plenty of special offers from the surrounding shops.
Just around the corner in Carnaby Street you can see an alternative Christmas light display. Other displays worth seeing are at the Brunswick Centre, Covent Garden, Marylebone Village and of course, Regent Street.
Christmas Shopping in London
We're all aware of where to go for shopping in London. Some of the best places are listed above, surrounded by Christmas lights. But where can you find the best seasonal markets?
Winter Wonderland in Hyde Park
Recently established as not only one of the best Christmas markets in London, but one of the best annual festive events to take place in the capital. The market contains the obligatory but effective wooden chalets which sell toys, ornaments, decorations and plenty of food and drink.
If you get bored of shopping there's also spectacular shows, parties, rides and all sorts of other Christmas stuff going on. Remember, entry is free but some events and rides may need booking well in advance.
Southbank Centre
Another immensely popular market, this can be found…you've guessed it…on the south bank of the Thames.
Expect Christmas gifts and goodies galore as well as food, drink and plenty more besides. Looking for a Christmas party venue, you can hire your own igloo here. No, really…
Novikov, Mayfair
You'll have to be on the ball to visit this one as it's only on over two days at the very beginning of December. This is a more artisan kind of market, as you would expect from the location, where you can pick up jewellery, clothing and fancy Christmas decorations.
It's free to enter and you might even get a glimpse of Santa and his reindeer.
If you're looking to stay in furnished apartments in London then thesqua.re has them available here.
Christmas Events in London
The biggest of these has already been mentioned. If you don't mind the crowds then Winter Wonderland in Hyde Park has to be seen. It's probably the largest festive event of its kind in the UK.
If you're looking for alternatives, here's a selection.
Christmas Movies
These can be found all over London.
Frozen Island
In a secret location in Covent Garden with frozen palm trees, an ice bar and VIP snow cabins. Showing family favourites as well as adult only films.
Festive Film & Fizz
Head over to One Aldwych to see classic Christmas movies in the hotel's screening room. Follow it up with a meal in the restaurant.
Poolside Cinema Club
Escape the winter chill completely and watch a film on an inflatable sofa, in a pool under a glass roof in the Sky Garden. Failing that you can have a bean bag on dry land. Regardless of your seating choice you can enjoy popcorn and a drink as part of the admission.
Christmas Ice Skating
A firm London favourite, the list of ice rinks gets larger every year, some of them can be enjoyed in front of some of the capital's most famous landmarks.
- Natural History Museum
- Canary Wharf
- Somerset House, Hampton Court Palace
- The Tower of London
A Natural Christmas
London is known for its greenery and wildlife too. The good news is that you can enjoy Christmas amongst it.
Christmas at Kew
During the lead up to Christmas, Kew Gardens can be enjoyed at night just as much as it is during the day. The garden trails are lit up by thousands of twinkling lights and there are Victorian food stalls and funfair rides to enjoy too.
Christmas at London Zoo
The animals may have gone to bed but that doesn't stop you enjoying a stunning trail of lights winding its way through the zoo at night. There's festive entertainment on offer, food to keep you going and mulled wine to keep you warm.
---
---
Leave a Reply
Your email address will not be published. Required fields are marked *