Easter Celebrations in London
---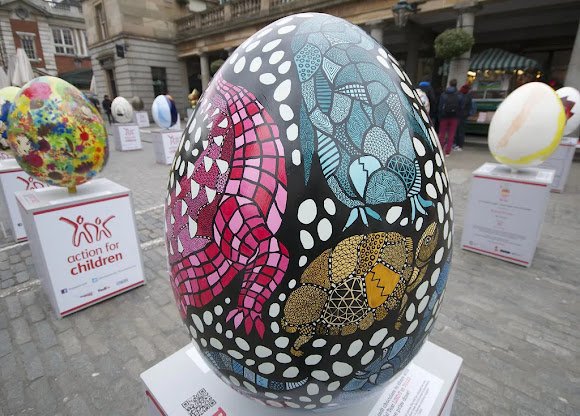 London and the UK enjoy a pretty good celebration at Easter. The reason being is that they enjoy two public holidays which handily sandwich a weekend, giving most people a fantastic four day weekend!
There are other reasons for Londoners to be cheerful at Easter too. It's the first public holiday since Boxing Day (in 2019 this will be nearly a four-month gap.) Also, it comes at a time of year when you can expect a bit of sun and warmth!
You can expect a bit of rain and cold too (let's face it, it's London) so wearing layers for the Easter weekend is always recommended.
Serviced apartments on Easter in London are available city-wide, in case you get caught in one of London's notorious 'April Showers' and you need a comfy local place to go back to and change.
Things to do in London at Easter
There's plenty going on in over the Easter break for visitors of all ages. Here's a selection.
Horniman Easter Fair
For those seasoned travellers amongst you who dare to venture south of the river when you visit London, here's an event that's particularly suitable if you're travelling with your family.
There's Easter egg trails for you to follow, face painting, workshops for making things and a bit of good old fashioned family theatre. All for free which is always a bonus!
Cadbury Easter Egg Hunts
The quintessential British chocolate company. Started in Birmingham, headquartered in London, owned by a much bigger company in the US.
Regardless, it is a confectionary company that has retained its small British charm. At Easter time they traditionally set up Easter egg hunts in National Trust properties, setting up clues which lead to delicious chocolate treats.
The Passion of Jesus
What with the Christians nicking the celebration off of the pagans and then the pagan traditions taking over again in the form of chocolate eggs and bunny rabbits, the main man in the Christian story is often overlooked nowadays.
The Wintershall Players strive to change that.
The company puts on a production at Easter in Trafalgar Square in what has become a popular new city tradition. It's a massive event involving volunteers from across London. There's live animals in the form of donkeys, doves and horses as well as a human cast numbering over 100.
It can get a bit crowded and difficult to see the live action but never fear, the whole thing is filmed and played live on big screens, so you can be assured you'll never miss a thing.
Magic Garden
Taking place against the magnificent backdrop of Hampton Court Palace, the Magic Garden opens its doors for the enjoyment of all its rides, including the huge helter skelter.
If you can't make it at Easter then don't worry, the garden's Easter Opening is the beginning of a whole summer of outdoor fun at Hampton Court Palace.
The Reduced Shakespeare Company present The Complete Works of William Shakespeare (abridged)
Shakespeare is a very famous Englishman indeed and if you have the time it's well worth catching one of his plays in the recreated Globe Theatre on the banks of the River Thames.
However, why see one of his plays when you can see all of them, in one performance? All expertly squeezed together and performed by three talented Americans.
This performance features the original cast, together for the first time in nearly 15 years. It's not only educational it's also very, very funny.
Sunday Roasts
For those of you who don't believe that Britain has a traditional dish, shame on you. There's nothing more British than a traditional Sunday Roast with all the trimmings. If you're in London at Easter then you'll find some of the best examples of it.
There's no trick to it. Simply pick an old pub, book a table and enjoy. If you want to go more upmarket then try Simpson's in the Strand or Roast in Borough Market.
Zippos Circus
Another one for you South London adventurers, Zippos Circus can be found on Blackheath at Easter time and contains a show to rival Cirque du Soleil.
There's clowns, horse shows and performing animals on a smaller scale, such as the Ringmaster's playful budgerigars.
The highlight, however, is the Brazilian trapeze artist who inexplicably performs without a safety net.
Go to the pub
The favourite tradition of many a Londoner over the long weekend. Find a pub with a cosy fire and good beer and stay there until Monday. In London at Easter, Thursday night is the new Friday night, Friday night is the new Saturday night, and Saturday night is a bonus second Saturday night with a two-day recovery buffer. Enjoy!
---
---
Leave a Reply
Your email address will not be published. Required fields are marked *