Events in London in July 2023
Greetings from a city that never sleeps- London. Here culture and festivity fill the air and history mingles with contemporary. The City is the pulsing center of the United Kingdom and urges you to get lost in the astonishing tapestry of activities throughout the Events in London in July 2023. As the summer sun beams brightly over this huge city, the streets of London come alive with electric energy, attracting travelers from near and far to participate in the excitement.
Picture yourself strolling around famous streets while listening to a cacophony of music and laughter. Feel the excitement rising as you delve into a frenzy of celebrations and participate in a range of activities that demonstrate the city's unlimited imagination and steadfast passion. July in London is a sensory overload, with everything from world-class athletic events to cultural celebrations of variety, from the revered halls of art galleries to the bright extravagance of parades through the streets.
From the hallowed grounds of Wimbledon, where tennis stars make history, to the magnificent pride parade that crosses the city with unabashed pleasure and acceptance, the July festivities embody the heart of this lively global capital. Whether you're a sports lover, a culture buff, or simply searching for remarkable experiences, the city has something for every individual.
A number of exciting events will take place in London in July 2023, a city that never ceases to amaze with its dynamic atmosphere and cultural richness. With everything from world-class festivals to engaging exhibitions, this buzzing town provides travelers from all over the world with an amazing summer experience. In this blog, we present the dates, times, and highlights of the must-attend Events in London in July 2023.
We invite you to take a thrilling journey through the myriad of activities that make up London's July extravaganza in this blog. As you watch historic landmarks serve as the backdrop for contemporary entertainment, you'll see how tradition and innovation coexist harmoniously. Lose yourself in the city's rhythm, where every turn reveals a new chapter of the London experience and every street corner holds a hidden surprise.
Here's a list of Events in London in July 2023
1. Wimbledon Championships
During- July 3rd - July 16th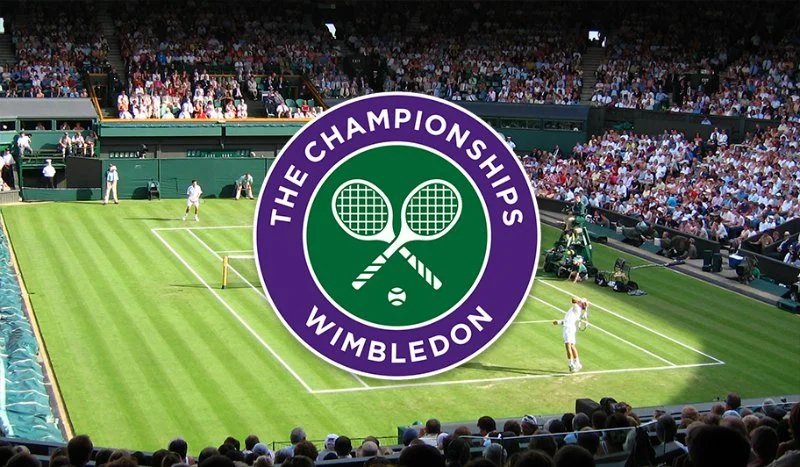 Wimbledon Championships (Image Courtesy: lovetennis.com)
Prepare for a fortnight of fierce tennis play at the famous Wimbledon Championships. Tennis players from all over the world fight for success on the legendary grass courts of the All England Lawn Tennis Club. Witness historic bouts and feats of athleticism. Visitors can expect strawberry ice cream, an electrifying environment, and the opportunity to see history being produced.
2. Pride in London
During- July 8th - July 9th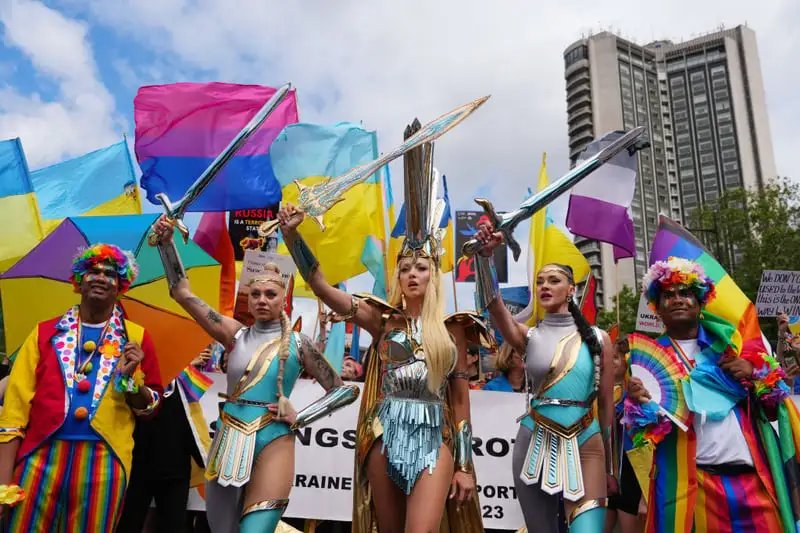 Pride in London (Image Courtesy: londonworld.com)
The London Pride Festival will be a colourful celebration of equality and diversity. On July 8th, the lively procession weaves its way through the center of the city, beginning at Portland Place and concluding at Whitehall. Expect a relaxing atmosphere, unheard music exhibitions, and a plethora of dazzling attire. On July 9, Trafalgar Square will host the Pride in London Festival, which will include community events, food booths, and entertainment.
3. Hampton Court Palace Festival
Dates throughout July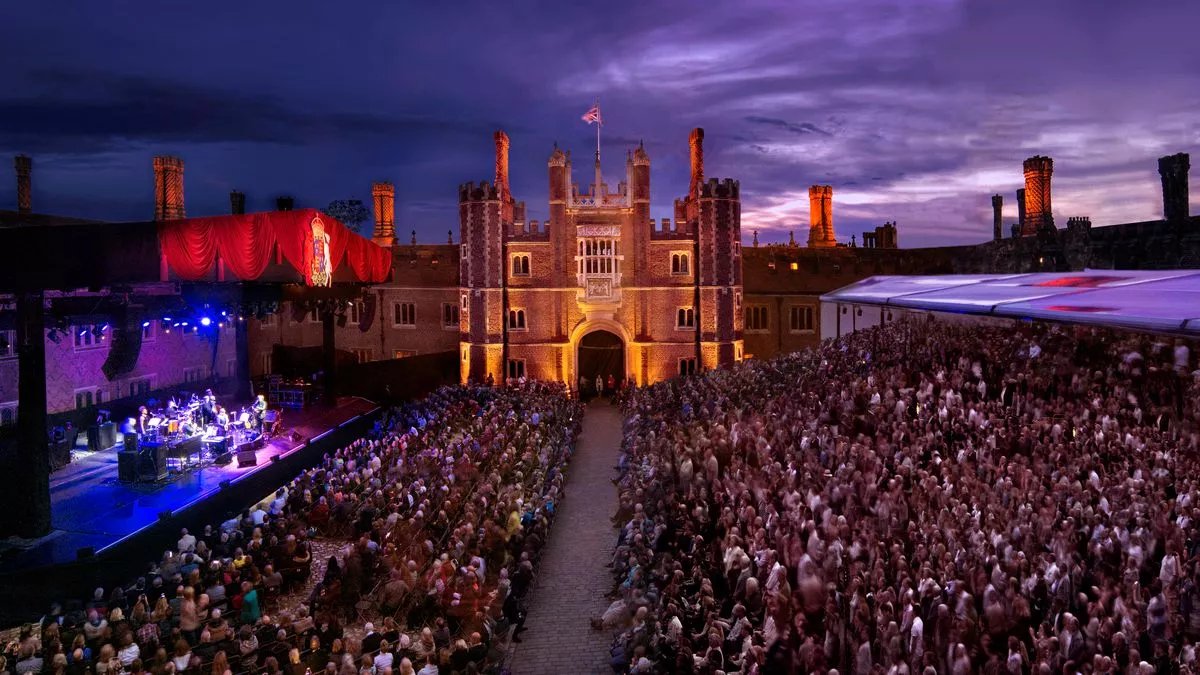 Hampton Court Palace Festival (Image Courtesy: getsurrey.co.uk)
The magnificent Hampton Court Palace Festival transports you back in time. This festival, set against the magnificence of Henry VIII's palace, features a variety of concerts by renowned musicians throughout July. Visitors may expect stunning performances, wonderful picnics on the palace grounds, and a once-in-a-lifetime chance to immerse themselves in history while listening to live music.
4. London Film and Comic Con
During- July 14th - July 16th
London Film and Comic Con (Image Courtesy: olympia.london)
The London Film and Comic Con take place in the "Olympia London". This event is a sanctuary for pop culture aficionados since it provides everything from seeing your favourite celebs to shopping for stuff. Attendees may expect cosplay displays, autograph signings, and the chance to learn more about cinema, television, comics, and gaming.
5. Regent's Park Open-Air Theatre
Dates throughout July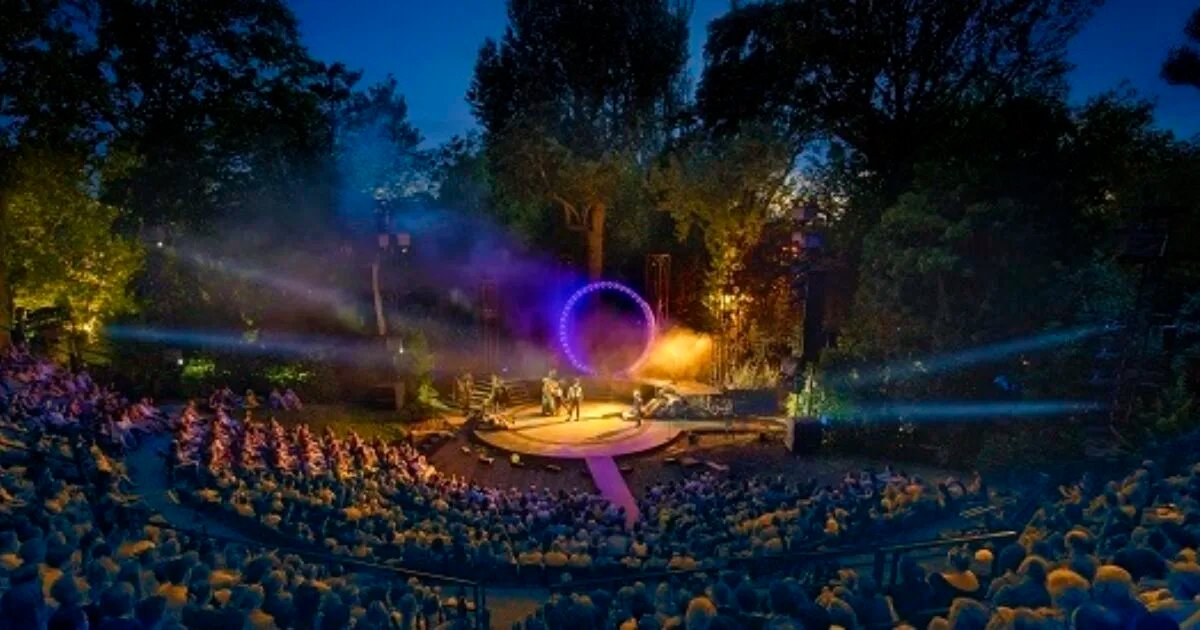 Regent's Park Open-Air Theatre (Image Courtesy: openairtheatre.com)
The magnificent Regent's Park Open Air Theatre lets you experience the wonder of theatre beneath the skies. This outdoor theatre hosts spectacular performances of classic plays and musicals throughout July. Audiences may expect to be transported to various realms as they experience outstanding shows in Regent's Park's lovely settings.
6. Notting Hill Carnival
During- July 30th - July 31st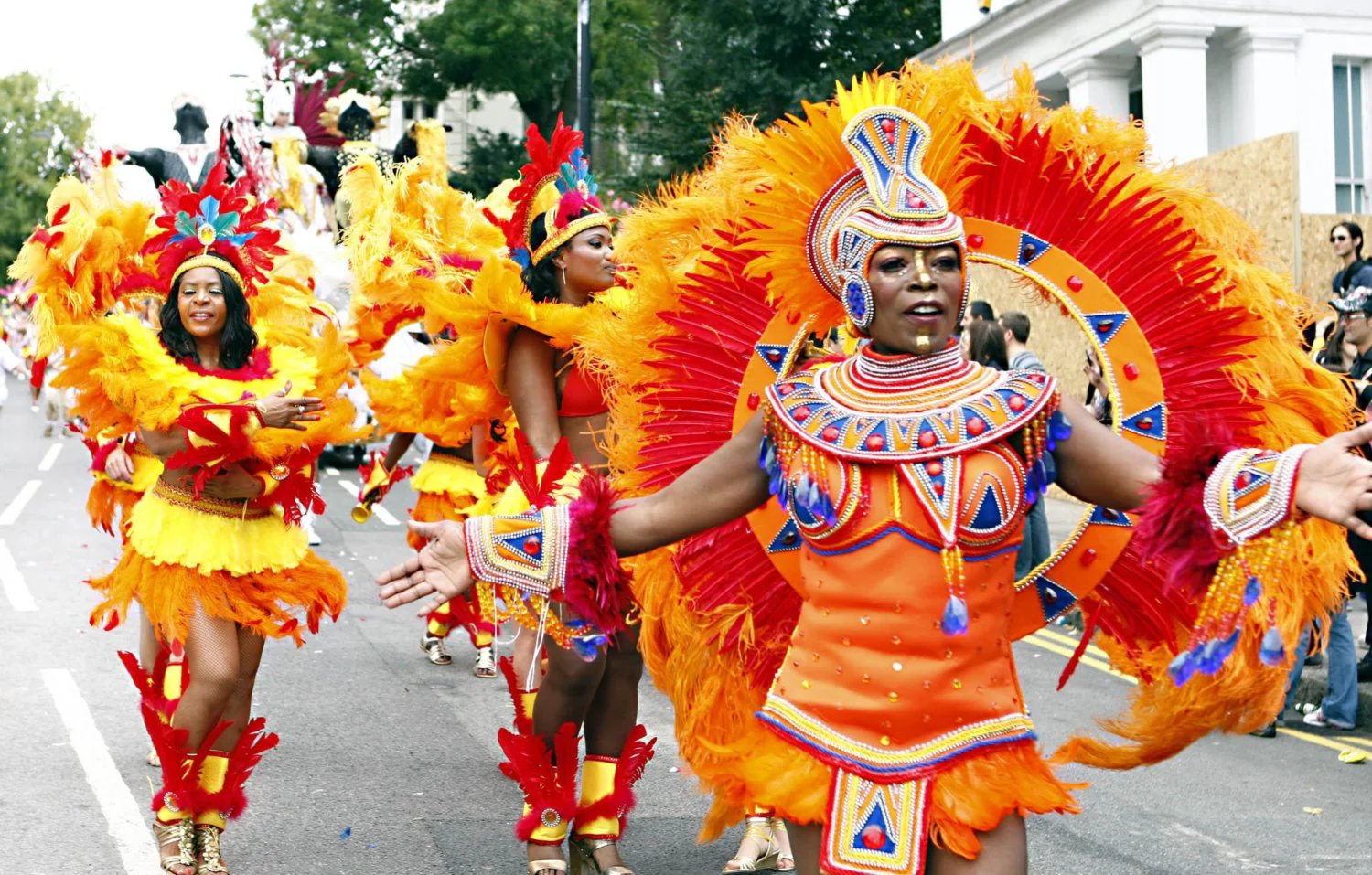 Notting Hill Carnival (Image Courtesy: sarova-rembrandthotel.com)
The lively and colourful Notting Hill Carnival is Europe's largest street celebration. On July 30 and 31, the streets of Notting Hill come alive with pounding music, gorgeous costumes, and scrumptious Caribbean food. Visitors may expect steel drum bands, exciting parades, renowned artists performing live, and a fantastic atmosphere of celebration and cultural variety.
7. Summer Exhibition at the Royal Academy of Arts
Dates throughout July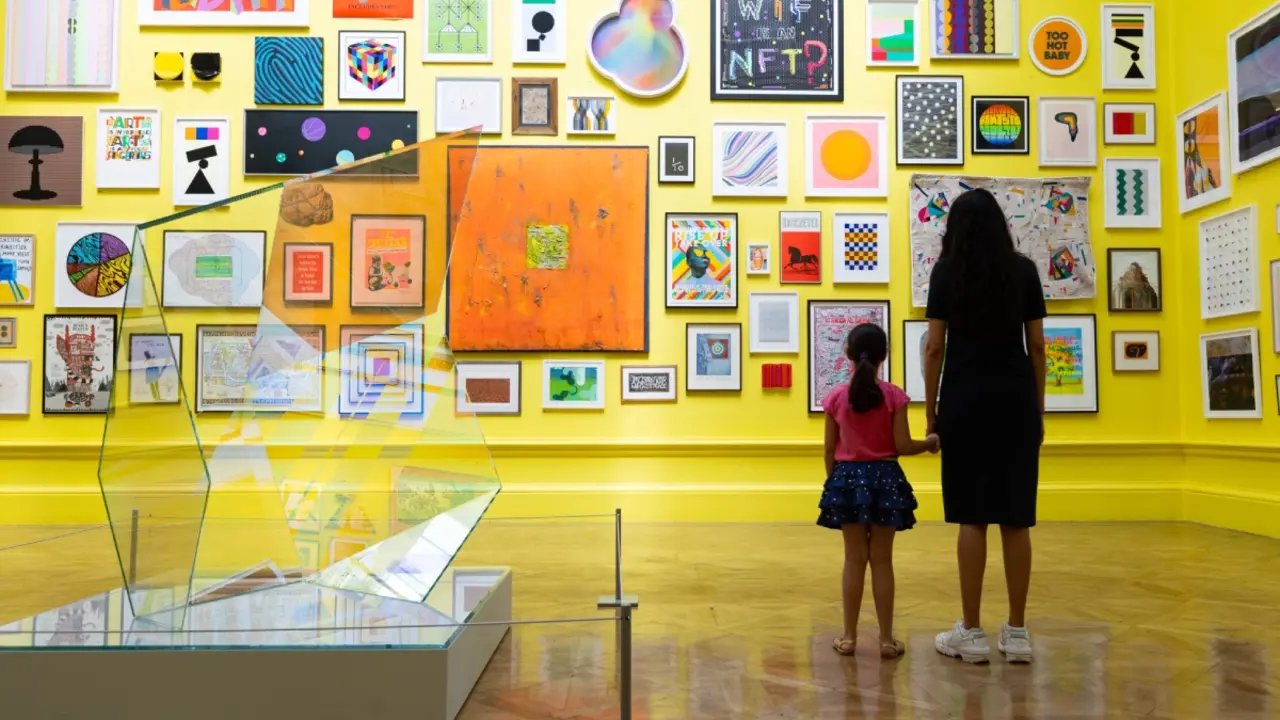 Summer Exhibition at the Royal Academy of Arts (Image Courtesy: royalacademy.org.uk)
At the prestigious Royal Academy of Arts' Summer Exhibition, indulge your creative side. A wide range of contemporary artwork in various media is on display in this show. Inspiring exhibits, cutting-edge installations, and the chance to examine the works of both established and upcoming artists are all on the agenda for visitors.
Know about the weather to plan your itinerary
In July, visitors to London may expect temperate to warm temperatures, extended daylight hours, and the risk of light rain. As a result, be prepared for a mix of sunshine and rain, and appreciate the majesty of the city as you embark on your July London adventures.
On average, daytime temperatures will range between 20 and 25 degrees Celsius (68 and 77 degrees Fahrenheit) this month. Temperatures can occasionally exceed 30 degrees, especially during heatwaves. Because of the typically excellent weather, July is a popular month for festivals, outdoor activities, and touring London's parks and gardens. During the extended daylight hours, visitors may enjoy the city's lively ambience, prominent sights, and alfresco eating at the various outdoor cafés and restaurants.
Conclusion
July in London provides an extraordinary mix of athletic greatness, cultural events, creative inspiration, and lively entertainment. Mark your calendars, get into the summer mood, and immerse yourself in the exciting activities that will make your July 2023 visit to London really unforgettable. Allow the contagious energy and cultural tapestry of the city to embrace you as you make unforgettable experiences in the heart of this wonderful metropolis.
So, open your mind, embrace the spirit of adventure, and come along with us as we discover the grandeur of Events in London in July 2023. Allow the spirit of the city to permeate your soul, and allow yourself to be swept away by the enchantment that lies around every turn.
---
---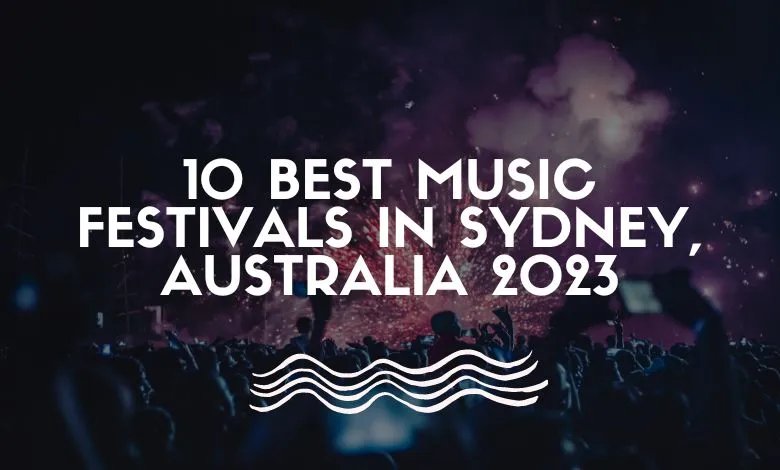 10 Best Music Festivals in Sydney, Australia 2023
Mugdha Kilnake
04 Sep 2023
Get set ready to explore Sydney, a city of pulsating rhythm. Sydney is a city where music weaves through its very core. It offers many music festivals every year. Sydney's festival scene promises an unforgettable celebration of sound. It has everything from el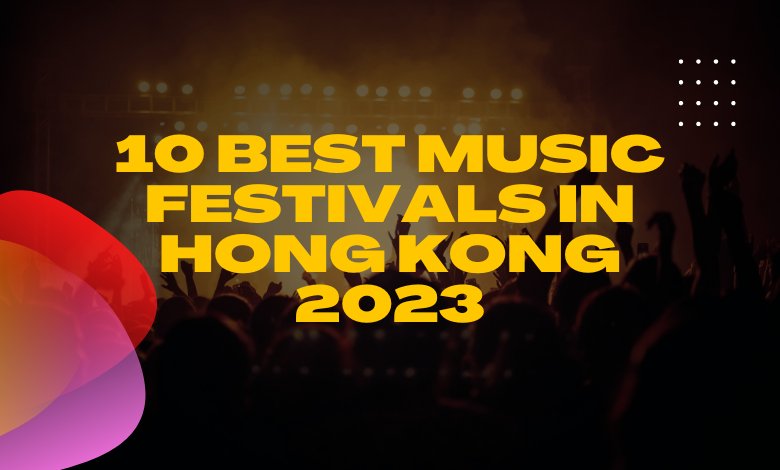 10 Best Music Festivals in Hong Kong 2023
Mugdha Kilnake
31 Aug 2023
Are you ready for an electrifying journey of music festivals in Hong Kong? Get ready to unleash your inner music lover. We will dive into the breathtaking beats, performances, and experiences that await you in this dazzling city. From the iconic skyline to the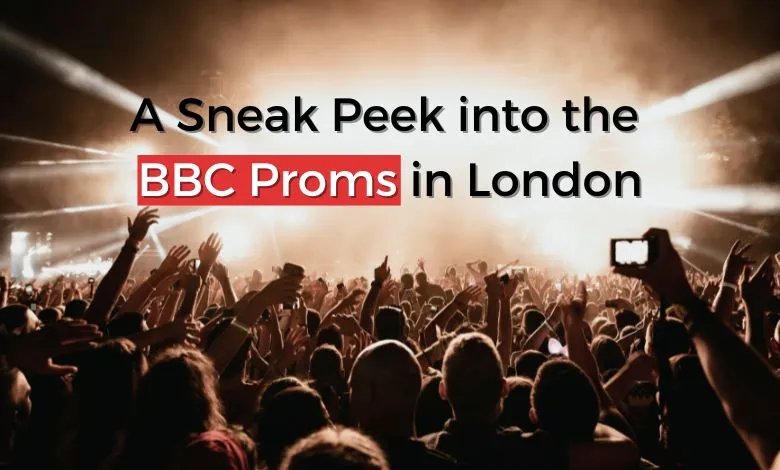 A Sneak Peek into the BBC Proms in London
Mugdha Kilnake
30 Aug 2023
In the course of its history, the BBC Proms in London have continually produced remarkable musical experiences that have enthralled audiences globally. Featuring great concerts by notable musicians and the Last Night festivities, the festival maintains its st