Halloween - Celebrations Around the World
---
Halloween was originally an old Celtic festival where people would dress up in costumes and light fires in an attempt to ward off ghosts and evil spirits. The name is derived from the original, All Hallows Eve.
In modern times our definition of Halloween was traditionally governed by the US version of the holiday. Nowhere is it celebrated more wholeheartedly than in North America. But other places around the world are starting to observe and celebrate the day. Here are how some cities choose to celebrate this spooky night!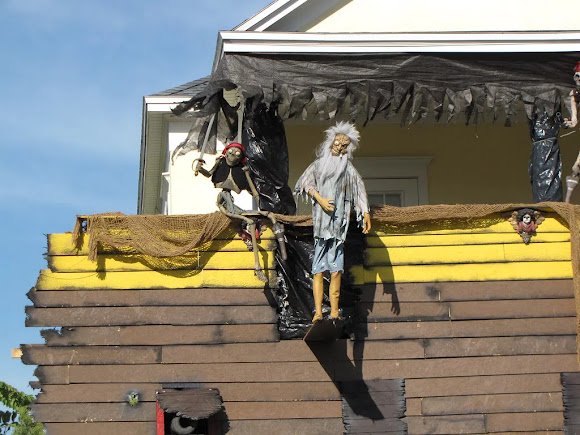 London
There are plenty of scary things to see and do in London at any time of the year. A city with a history as long, rich and violent as the English capital will always have something of the macabre to offer, that's before we even consider the world renowned London Dungeons.
There're ghost tours to take part in, haunted pubs and houses to visit and some of the most magnificent and eerie cemeteries to be found anywhere.
London is also the home of Harry Potter, a trip to the Warner Bros Studio will see you rewarded with a Halloween feast in the dining room of Hogwarts itself!
Paris
If you find London celebrations a little low key compared to the US, then Paris will be an even bigger shock. It's not really celebrated here by locals at all, so if you're looking for a big Halloween parade you may be disappointed.
If you desperately crave your ghostly fix then your best bet is Disneyland Paris, which will be decked out in full Halloween regalia for the whole of the month of October.
Amsterdam
Halloween in Amsterdam is definitely an adult thing. Dutch children go knocking on doors for sweets on November 11 in the name of St Martin, so to do it twice in succession would be taking liberties!
Halloween Amsterdam style is about partying hard. Elaborate costumes and banging club nights are the order of the day, as are showings of creepy movies around the city.
If you want to really look the part on the night itself, check out some of the monster make up workshops that can be found in the lead up to the celebration.
Singapore
Halloween is slowly making its way to Singapore due to the influence of ex-pats living in the country, but it is by no means a traditional celebration.
With that said though, it is considered to be closely linked to the actual local custom of the Hungry Ghost Festival. Both celebrations are considered to be when the line between the living world and the dead world is at its thinnest, allowing spirits to travel back to the land of the living for a limited period.
New York
As we travel back to the adopted home country of Halloween the celebrations get a little more rambunctious.
As you would expect, there are far too many events taking place for us to mention them all here! But rest assured, however you usually like to celebrate Halloween you will find something available to suit.
There are parades, spooky houses to visit, ghost and ghoul themed shops and stalls, concerts, parties, Halloween themed bars and clubs, ghost tours, as well as a huge range of unique events such as the Great Jack O'Lantern Blaze.
San Francisco
So how do they celebrate Halloween on the West Coast? Pretty much in the same hardcore way they do on the East Coast and again there's something to suit every taste.
You can even get historical as the San Francisco Dungeon reveals some of the more spooky and weird aspects of San Francisco's past.
San Francisco has a more old world feel to it than most places in the US, which is why the downtown area is such a great place to take part in a Ghost Tour and learn all about the haunted happenings that take place there.
Tokyo
In much the same way as the US, the scary and gloomy aspect of the festival's origins have been almost completely removed in favour of the fun aspect of the holiday.
Modern Halloween in Japan can trace its recent roots back to the festival's debut at Tokyo Disneyland, but it is now a party which has certainly spread far beyond the reach of the Magic Kingdom.
You'll now find parades, concerts, festivals and events in every corner of the city, all running along a very American theme.
If you're looking for a serviced apartment in these cities from which you can enjoy these celebrations, check out thesqua.re. They are a furnished apartment provider who have accommodation available in some prime locations in the biggest cities across the world.
---
---
Leave a Reply
Your email address will not be published. Required fields are marked *