HOUSE OF MODERN LIVING RECEIVES ASAP ACCREDITATION
---
The House of Modern Living (MoLi) is pleased to announce their successful completion of the Association of Serviced Apartment Providers (ASAP) Quality Assessment programme and have been awarded the ASAP Quality Accredited Serviced Apartment Operator Award.
MoLi Managing Director, Sid Narang, comments: "This is great news for MoLi. Being recognised by the sector's professional body not only strengthens our brand but clearly positions us as a leading professional operator of serviced apartments. Our guests can book with MoLi confident in the knowledge that they will receive a quality service alongside quality accommodation."
As part of the award MoLi can use the ASAP Quality Assessment Programme's new logo, which will now become an integral and important part of the MoLi corporate identity. The logo was launched at ASAP's annual Conference and Exhibition, which was exceedingly well attended and MoLi was there in force, supporting the sector and sharing best practice. The Quality Assessment Programme received an enthusiastic reception from industry professionals at the event where the key theme was 'The Guest's Experience', a principle that is encompassed by everything the ASAP QA Programme stands for.
Speaking at the ASAP annual conference, ASAP Managing Director, James Foice said: "The new logo is a milestone for the QA project. We have assessed 90% of our members during the last 12 months and are now planning to roll out the programme abroad, including the USA and Europe. The new logo will be a springboard for ASAP to actively promote our members and the valued proposition they bring to the market and we are very excited by the opportunity to establish a standard accreditation model throughout the industry, both in the UK and, potentially, around the world."
Together with the 'Certificate of Excellence' awarded to MoLi by Trip Adviser, this much coveted award from ASAP can only increase the confidence in the marketplace that by booking through MoLi you can be assured of quality accommodation that attains the high standards of quality demanded by ASAP.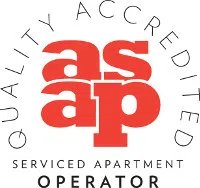 ---
---
Leave a Reply
Your email address will not be published. Required fields are marked *