HOUSE OF MOLI RECEIVES AWARD OF EXCELLENCE BY BOOKING.COM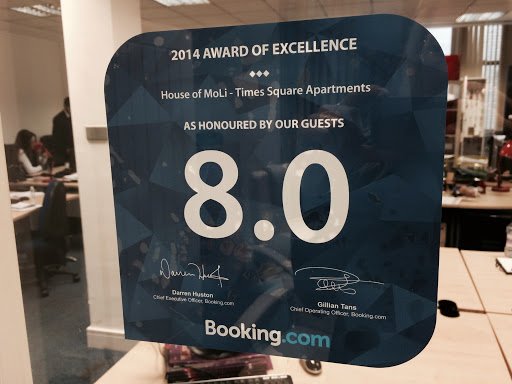 We at House of Modern Living are proud to announce that we've received the Booking.com Award of Excellence for our Times Square serviced apartments located in central London/City right around the corner from the popular Shoreditch area.
After a record 2014, House of MoLi has had a busy Q1 with Q2 looking even more exciting, and the announcement of the award truly shows how dedicated the team is to push the company to new heights. This year has already brought many new opportunities for us, like the acquisition of the new Shoreditch Square serviced apartments near Hoxton and the Lexicon serviced apartments near Old Street and Angel and we can't wait to announce what we have got up our sleeves for the rest of the year.
Booking.com comments that this award is "a symbol of our gratitude and appreciation for providing the best possible accommodation experience for your guests" and we strive to receive this Award of Excellence for all our properties.
Sales Director Mike Stapley is very pleased with the award and says "This award is accomplished through great teamwork and I am proud that everyone's hard work is being acknowledged within the serviced apartments sector."
Together with TripAdvisor's Certificate of Excellence and our ASAP Accreditation, this is yet another milestone in our ongoing efforts to satisfy our clients.
---
---