London Shopping Arcades at Christmas
---
If you've never experienced a traditional London Shopping Arcade then you're missing out on an authentic part of London. These aren't massive shopping malls and retail outlets, these are elegant, historic arcades which shaped the face of London and indeed worldwide shopping. These are the first shopping centres.
These Piccadilly shopping arcades are wonderful places to wander through during the festive season, decorated in a style that most of us associate with a traditional British Christmas. They offer some of the best places to shop in London at this time of year too.
Burlington Arcade
First opened in 1819 it was the concept of Lord Cavendish, who named the arcade after where he lived, Burlington House.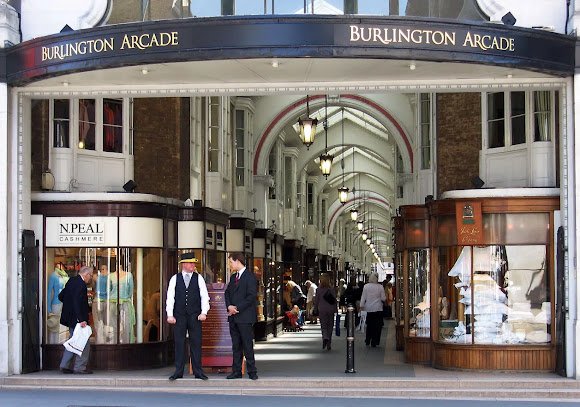 There were a couple of reasons why he commissioned an architect to build a covered arcade. The first one was to give decent employment to women, the second was to stop people throwing rubbish from the shops onto his property, namely oyster shells. Hence the building of a straight walkway with seventy-two outlets came into being.
The type of retailers remain as they have been for the last two centuries, mainly jewellery and fancy items. The arcade is still patrolled by traditional beadles, who also stand at either end. These are a traditional version of a modern security guard but ones who wear top hats and frock coats.
At Christmas time it is filled with trees which are adorned with fairy lights.
Royal Arcade
This covered arcade is Grade II listed and runs from Albemarle Street through to Old Bond Street.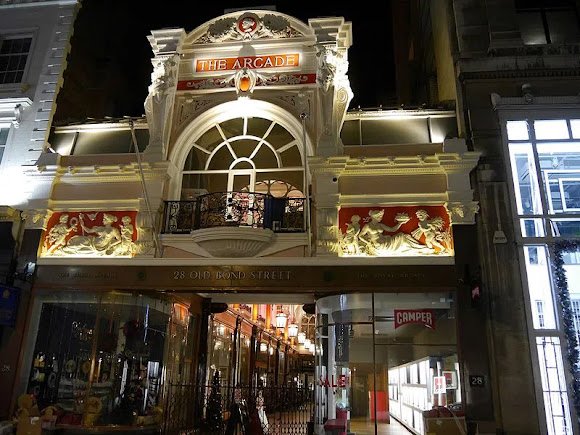 Opened in 1879, it has changed very little over the years and still displays the same iconic columns and curved window bays that it did in the nineteenth-century. However, the name has changed.
It was originally simply called The Arcade, but this name changed when H.W. Bretell, a renowned shirtmaker, was patronised by Queen Victoria in 1880. The name of the whole arcade subsequently changed to the Royal Arcade.
This is a fantastic place to experience the London festive season. The scarlet upper story of the arcade already looks festive in itself, but the addition of garlands and Christmas trees transform it even further.
Piccadilly Arcade
As with the previous arcade, this is also a Grade II listed building. Opening in 1909 it is the youngest of these three arcades but still retains a marvellously traditional feel. It is also just over the road from the Burlington Arcade so you don't have to walk far to experience it!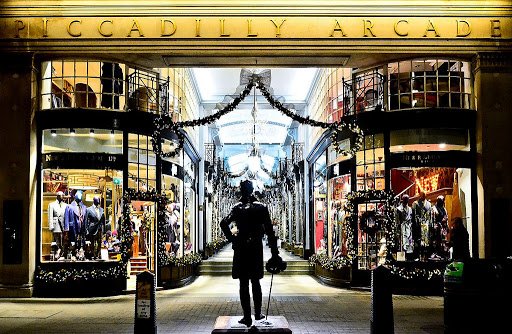 At Christmas the lantern lights that hang from the ceiling are utilised for the hanging of bowed garlands and baubles, and the spaces between the shops have hanging Christmas wreaths.
If you're still deciding where to stay in London during your winter trip, thesqua.re has fantastic self catering apartments all over the city.
---
---
Leave a Reply
Your email address will not be published. Required fields are marked *