Recommended London Pubs
---
There are few things as quintessentially British than a proper, cozy pub – and if you are staying in London during the winter months, then a visit to a proper English pub might be just what you need to beat the winter chill. With real wood-burning fireplaces, comfortable armchairs and all of the British comfort food classics – think Yorkshire puddings and steak and ale pies – these London pubs are the ones to keep an eye out for during your trip.
Whilst the British pub has become somewhat of an institution, there are plenty of 'tourist trap' pubs in central London that lack the authenticity of the real British pubs. For the best insider tips on where to visit and where to avoid, visit thesqua.re's knowledge centre and trusted online community. For now, check out these options for your first London pub visit.
The Anglesea Arms (Hammersmith)
Hammersmith is known for its excellent selection of riverside pubs, and whilst we would certainly recommend those during the summer months, there is nothing cozier than The Anglesea Arms during winter. The classic pub is hidden away near Ravenscourt Park, and serves up luxury classics in a traditional pub atmosphere. If it's cold outside, get yourself a seat near the fireplace.
The Prince Albert (Battersea Park)
This upscale pub is perfect for a long lunch with friends or family, before or after a chilly walk around Battersea Park. The Prince Albert's Bridge Room is a particularly popular place to sit, with floor-to-ceiling bookshelves to explore and a traditional fireplace to warm your hands over. The pub offers a great variety of craft beers, so get sipping.
The Southampton Arms (Kentish Town)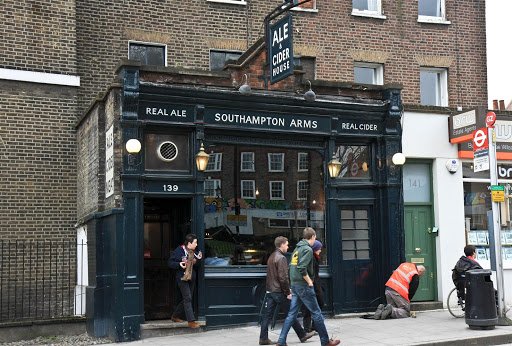 If you're looking for a traditional British pub, then this is it. The unassuming front of The Southampton Arms in Kentish Town reads "Ale, Cider, Meat" – and that's exactly what you'll get. Step inside and you'll find a wood burning fire, age-old décor and a few pub pets wandering around! Grab yourself a pint – wish cash only – and settle in for a cozy evening in a London classic.
The White Horse (Chelsea and Fulham)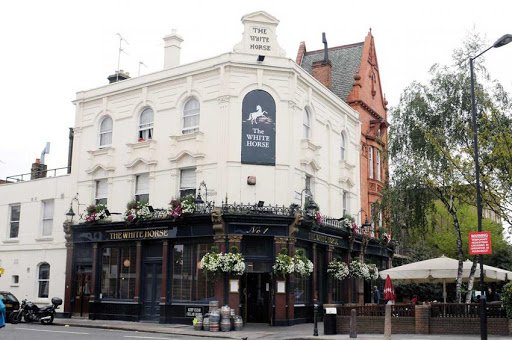 Keen for something a little more upmarket? Fortunately, Chelsea and Fulham know how to create a classic pub atmosphere with a little more of a sophisticated style. Expect luxurious leather armchairs, a marble fireplace and huge flower arrangements. Nicknamed "The Sloaney Pony" for its undeniably posh crowd, you can expect the best beers and wines here, along with top quality pub dishes.
The Antelope (Tooting)
The Antelope in South London has done a brilliant job of integrating a European twist to its menus, without losing its British feel. Enjoy a proper Sunday Roast in this pub, decorated with stained glass windows and church-style seating pews. This place gets busy around meal times, so be prepared and arrive early for the best seats in the house (hint: they're the ones right by the fireplace).
There are so many places in London to find the perfect, atmospheric pub meal – as long as you keep an open mind and avoid the obvious tourist traps. Pub life is all about peeling off your winter layers, settling in and feeling right at home, so don't be surprised when the afternoon disappears before your eyes after a few pints!
---
---
Leave a Reply
Your email address will not be published. Required fields are marked *