Miami Travel Guide - Discover Top Things to Do in Miami
---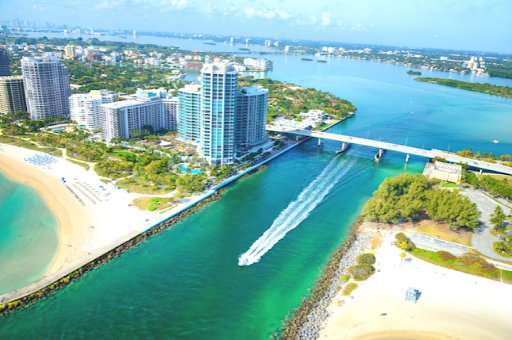 Miami, Florida
Miami is one of the foremost holiday destinations in South Florida, offering a variety of fun things and attractions for travelers. Miami offers everything from beautiful beaches and fabulous weather to sports, cultural hubs and unique entertainment galore!
Downtown Miami is demarcated by the Biscayne Bay from the Atlantic Ocean and is a buzzing metropolis with its own characteristic vibe, right from the lovely museums to Little Havana and the Art Deco District, Miami Beach and more. Before visiting, make sure you plan your itinerary and book your furnished apartments Miami for a comfortable stay in the city.
Here are the top things that you should certainly do in Miami:
1. Art Deco Walking Tours
Miami is a beautiful city with its own Art Deco District. Explore this charming zone in South Beach and take a walking tour along Ocean Drive, checking out the fantastic Art Deco Museum and Welcome Center. This is where you'll learn more about the famously colorful buildings that lend a dynamic personality to the entire neighborhood. There are daily walking tours available from the Miami Design Preservation League. Being with a knowledgeable tour guide will help you get a crash course in the history of the district. This is a top activity for history and culture buffs.
2. Wynwood Walls
How about hopping over to the most Instagrammed spot in Miami? Wynwood Walls is one of the most unique outdoor art galleries that you'll discover, dotted with graffiti and artwork along with stunning murals. This serves as a wonderful backdrop for the museums and cultural centers that Miami is known for. It will require just 15-20 minutes to check out the Wynwood Walls artwork including murals created by the iconic Shepard Fairey, the one who designed the Hope poster for President Obama.
3. Fairchild Tropical Botanic Garden
Get some fresh air and relaxation at the beautiful Fairchild Tropical Botanic Garden. Covering close to 84 acres, this green paradise has scores of trees, flowers and tropical plants inclusive of rare species such as the petticoat palm. Navigation is easy while you can get on a tram tour which covers the length and breadth of the facility. Check out the Wings of the Tropics exhibition where you can marvel at 40 butterfly species engaging in a vibrant acrobatics display throughout the year. Sheer bliss isn't it?
4. Dade Heritage Trust Brickell Walking Tours
Want to explore Miami in its true colors? Visit the Dade Heritage Trust which is an organization dedicated towards preserving the city. It has two Brickell Avenue tours, i.e. South and North. Both start from the organization's offices, the previous home of the first physician in Miami. The tour covers the first subdivision of the city, namely Point View and several elegant mansions along what used to be Millionaire's Row. Miami's vintage appeal and glamour come alive with these enchanting walking tours.
5. Deep Sea Fishing
What's Miami without some good old deep sea fishing? Get onboard the 58-foot sportfish boat helmed by Captain Stan Saffan or any other boat offering a deep sea fishing tour! You can enjoy a day or a half-day deep sea fishing experience unlike anything you've seen before! Hammerhead sharks, sailfish or marlin, the entire experience will be thrilling, particularly when you're coasting along the ocean in style.
6. Coral Gables Museum Tour
Opting for a Coral Gables Museum Downtown walking tour is a smart move. It will give you an exciting insight into the historic landmarks of the famously affluent locality. You will start at the museum in downtown Coral Gables before moving onto the historic courthouse and police station. You will also view the Hotel Colonnade and other famous buildings in the vicinity.
7. Miami Design District
The Miami Design District will have you going berserk in excitement, courtesy of the innumerable showrooms, shops, galleries and boutiques everywhere. This is a shopper's paradise and you will find the best accessories and handbags from the likes of Hermes or Louis Vuitton or even watches and jewellery from biggies like Tiffany & Co or Rolex. Home furnishings giants like Versace Home and Jonathan Adler aside, you'll find everything with an exclusive designer label onto the same. 8.
8. Onyx Bar
Onyx Bar will not just awe you with its aesthetically appealing exterior façade and Mediterranean Revivalist architecture. There's plenty of history encased in this mansion since it was the previous home of fashion designer and legend Gianni Versace. It was also the site where he was shot and killed in the year 1997. It has transformed into a highly exclusive hotel today with a small 6-seater bar that remains open to visitors. Getting a seat is hard but once in, you will have a fabulous experience. The wine list has 25 sparkling vintages with rare picks and the ambiance is the icing on the cake.
9. Cape Florida Light
Although it is positioned over a peaceful sandy beachfront stretch, this delightfully restored lighthouse offers insights into South Florida's fascinating history over the years. The lighthouse has stories lurking in every corner, from Native American tribes and their exploits to infamous Caribbean slave smuggling and even several sea adventures. There are guided tours available at this monument which is also the oldest structure within Dade County, being built in the year 1812, almost 20 years prior to Florida becoming a State. Of course, you can expect a great workout by climbing 109 steps till the top for a rousing view.
10. Phillip and Patricia Frost Museum of Science
The Phillip and Patricia Frost Museum of Science is worth visiting for those who love learning. Nestled within Bayfront Park in Downtown Miami, this offers a planetarium, aquarium and two science galleries while being spacious enough to draw and accommodate big crowds. A hit with families, it has several interesting exhibitions that delight both kids and adults.
11. Lincoln Road Mall
Lincoln Road Mall now covers almost the whole width of the famous South Beach. This one mile pedestrian mall is one of the top zones in Miami for indulging in various outdoor recreations along with the beach which is only a few blocks round the corner. The noted architect behind the famous Fontainebleau hotel, Morris Lapidus, designed this iconic strip and it retains its MiMo (Miami Modern) past style, comprising of 100+ restaurants, shops, cafes and bars. Retail choices include everything from shopping mall favorites like American Eagle and Gap to top brands like John Varvatos and All Saints. The bars and restaurants keep Lincoln Road vibrant well into the night.
12. Spanish Monastery
Did you know that there was a fascinating Spanish monastery in the heart of Miami? Probably not! This monastery was called The Monastery of Our Lady, Queen of the Angels originally and started in 1133 in northern Spain. William Randolph Hearst, the newspaper tycoon, bought the monastery and had every structure carefully dismantled (stone to stone) and packed into 11,000+ crates before being transported to New York. Post being in a Brooklyn warehouse for a quarter-century and counting, the crates were then bought by newer owners who realized the potential value of these ancient stones with regard to attracting tourists. They relocated and rebuilt this iconic structure in North Miami over two years thereafter.
13. South Beach
South Beach is the quintessential attraction in Miami. It is a free public beach and stays open for all travelers. It can be accessed easily on foot although the most beautiful and picturesque stretch in the southernmost portion may be accessed only through Lummus Park. This goes along the 5th to 15th Streets on Ocean Drive. It is a backdrop for almost every television and movie show in Miami and everything that you find on South Beach will seem familiar and comforting, including kiosks that can be rented, umbrellas and chairs. You can take a refreshing stroll along the beachfront for enjoying the exclusive setting. Late afternoons see crowds steadily reducing too.
14. Venetian Pool
Yes, Miami has its own Venetian Pool for taking a dip! Images are insufficient for capturing the sheer grace and beauty of the Venetian Pool in Miami, one of the world's most pristine public pools. You will find it worth making a journey to Coral Gables for admiring and experiencing the entire pool complex. There are heavy crowds on hotter days, especially when kids are on their summer breaks and you may call in advance to find out whether there is sufficient room left. Getting to the pool early is also a great option.
15. Deering Estate
Deering Estate is a massive 444 acre archaeological and environmental nature preserve on Biscayne Bay. It is a beautiful location with famous homes, innumerable outdoor activities such as biking, hiking and paddling and also various interesting arts programs like movies, concerts and theater too. Both visitors and locals frequent Deering Estate regularly for its stunning location and cultural attractions.
Now that you have a list of top things to do, simply book your furnished apartments in Miami and plan your itinerary without further ado.
---
---
Leave a Reply
Your email address will not be published. Required fields are marked *