MoLi at ASAP
---
This years's Annual Conferenence of the Association of Serviced Apartment Providers (ASAP) was held on the 4th of December in London and Karen Poulter Apartment Manager and Mike Stapley Sales Director were there from MoLi to learn from and contribute to the day's programme.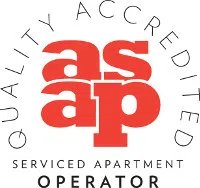 Over 200 leaders of the sector here in the UK attended and the theme of the conference was 'Shaping our Future'. This focused on key areas where this burgeoning sector needs to be focussing to better serve our customers and maximise business opportunities.
Simon Calder the leading travel journalist and broadcaster opened the day with a very entertaining overview of the world of travel and explained his use of serviced apartments when filming, particularly good if you have to charge big film camera batteries!
Subjects covered during the day included the Programme of Quality being introduced to define ASAP as a quality marque, the role of agencies in the serviced apartment sector, how guest feedback is a vital element of an operators Quality Control and product improvement programme, and the challenges and opportunities for the serviced apartment sector.
As more and more travellers see the benefit of serviced apartments and more travel managers are building them into their accommodation programmes the conference was a fantastic opportunity for those shaping this exciting sector in the UK to discuss debate and formulate best practice.
The event was supported by a wide range of exhibitors and one even ran a competition for the fastest person getting a duvet in a cover – try it yourself!
Finishing with a drinks reception sponsored by the leading UK travel publication The Business Travel Magazine the event was recognised by all to have been a fantastic success.
---
---
Leave a Reply
Your email address will not be published. Required fields are marked *