New York - See in the New Year in the Big Apple
---
Seeing in the New Year in one of the great cities in the world is indeed a treat. There's something about celebrating with thousands of other cheering people amongst lights, noise and firework displays. If this is the kind of thing that you look for in a New Year's Eve party, then New York has it all going on for you.
The Times Square Ball Drop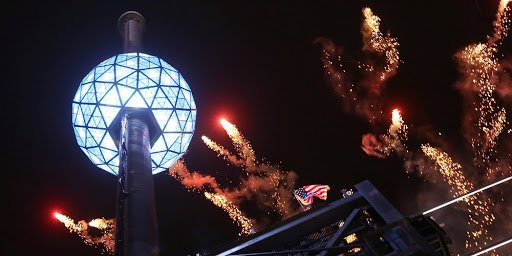 The most famous New York, New Year's Eve event. So famous it's even appeared on an episode of 'Friends', this will certainly be an event you'll never forget.
The ball has been dropping in Times Square every New Year's Eve since 1907 (with two years off in 1942 and 1943 due to wartime), but it hasn't always been the same ball. The ball you see today has only been around since 2008 (so not the same one you saw in 'Friends') and it is almost double the size of previous balls.
The ball starts dropping at 23:59 and is watched by over a million people gathered below it. On top of that there are millions watching nationwide and around the world as the ball hits the bottom at midnight and one ton of confetti is dumped over the watching crowd.
What do you do after midnight? You're in Times Square, there's plenty of bars and restaurants from which you can watch the event and carry on the party afterwards. Remember though, the ball drop may be free, events in restaurants and bars are usually ticket only affairs so book in advance.
Take in a show
There are concerts taking place across the city including a gala event at the Lincoln Center featuring the talents of the New York Philharmonic. Similarly the Cathedral of St John the Divine is having its annual Concert for Peace.
If you're looking for a family friendly event that you can take the kids along to then the Big Apple Circus is also taking place at the Lincoln Center.
Go for a Run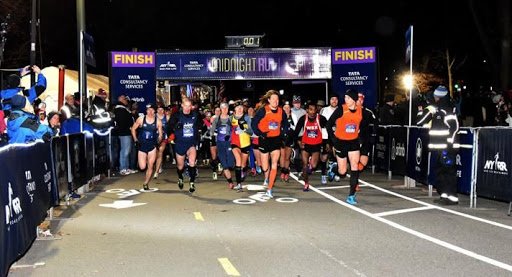 Yes, you read that right. Only in New York would you get the option of going for a run at the stroke of midnight on New Year's Eve.
The run is in Central Park and literally starts at the stroke of midnight. It's fairly casual and only four miles in length, with DJs situated around the route and cider being served at the halfway point. There's also a fifteen minute firework display to take in whilst you jog.
Enjoy a Cruise
Seeing in the New Year whilst gliding along on a ship in New York Harbour is certainly going to be a memorable event. The city firework displays seen against a backdrop of the Manhattan skyline is a visual not to be missed. Cruise companies will also offer dinner, bars, live music and many other things to help you celebrate in the best possible way in the Big Apple.
---
---
Leave a Reply
Your email address will not be published. Required fields are marked *