Serviced Apartments: The Hotel Alternative You (Probably) Haven't Heard Of
---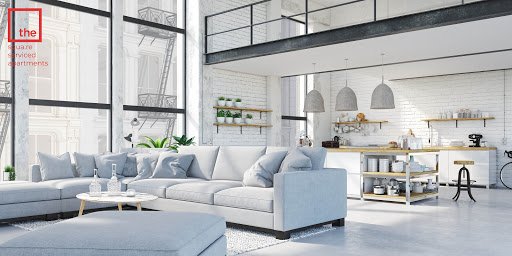 You've all heard about it, but you can't quite put your finger on it. Someone has brought it up, and you're not sure how to picture it. We're talking about serviced apartments, the hotel alternatives that you (probably) haven't heard of.
They're taking the travel and hospitality industry by storm, outpacing hotels as the fastest-growing segment of the UK's hospitality accommodation market, according to Lambert Smith Hampton, with 13% of active pipeline in 2019. The market can only increase this year.
But there's more to serviced apartments than their success and growth. They represent a pinnacle of change within the travel market that travellers are looking for when they experience new destinations or enter the unknown. The hotel experience is no longer top of the charts. Travellers and guests want a unique experience and a place that feel like their own home and are a suitable alternative to prior travel accommodation experiences.
What's inside a serviced apartment?
All travellers want an interior that exudes the very best of their own home but provides an individualistic place for them to unwind that is as far from their own home as can be. In short, a serviced apartment has to act like a second home, another place that you can kick back in as and when you need to. But what goes into a serviced apartment to make them appeal as another home, and do they have any hidden extras? Well, no matter where in the world you book your serviced apartment, from London to Paris, Singapore, Riyadh or New York, it will come with the following amenities: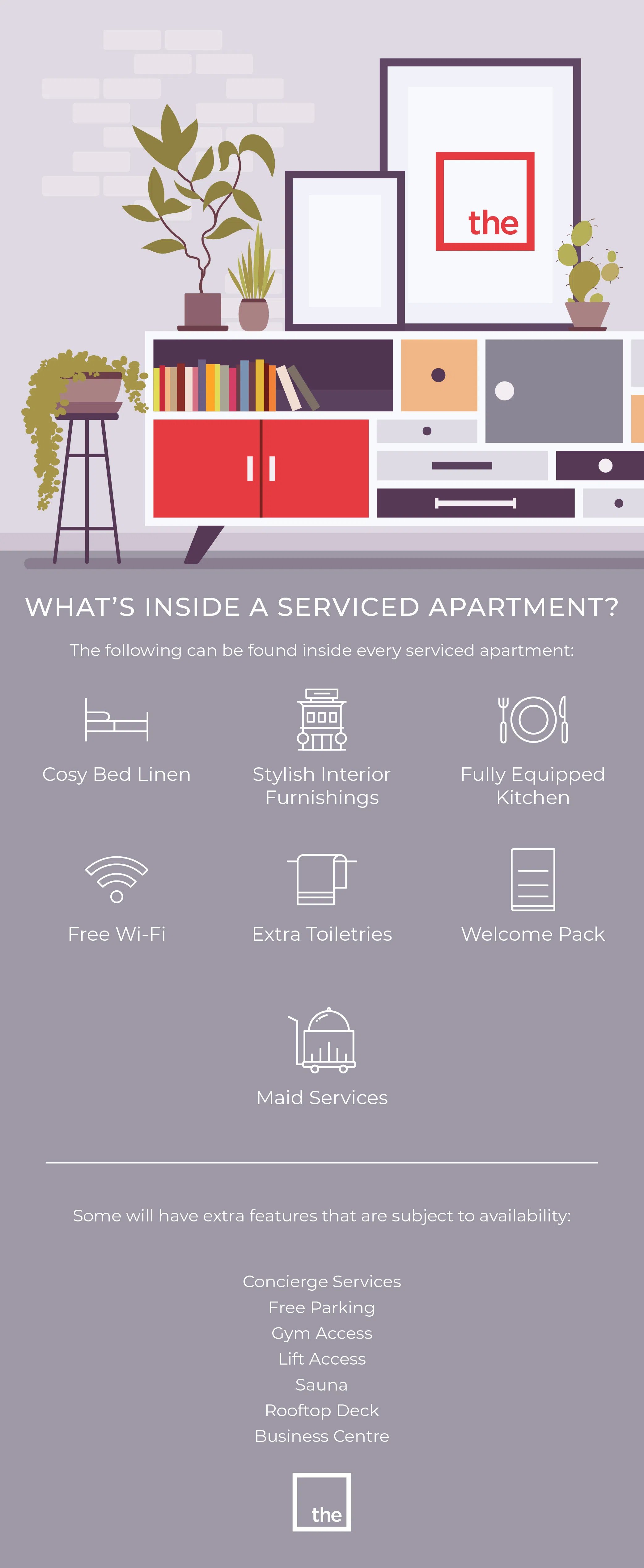 10 reasons you should book a serviced apartment
For some travellers, they feel that the hotel experience is the one and only way to enjoy the most renown destinations across the world. However, both you and they are missing out on the range of extras that are challenging the hegemony of hotels as the dominate force in travel accommodation. 10 reasons why you should change your mind include:
Exceptional service
24/7 concierge and staff ensure that your stay is one of ease, comfort and relaxation. Their megadrives of local knowledge come in handy when you want to know more about your location, where to visit and where to eat.
Top security
Secure entry systems, 24-hour CCTV and professional staff keep your apartment private and secure. Security is always a priority.
Cost-effective
Hotels can cost a mini fortune when you stay for more than 30 days. With serviced apartments, exclusive rates are usually offered for long stay periods. Either way, you get more for your money.
More space
You can really spread yourself out in a serviced apartment. Forget the squashed spaces of hotel rooms, you'll have the freedom to move and have more space for yourself (or your group).
Total privacy
No distractions, no intrusions - you use it however you wish. The space is all yours.
No chores and cleaning necessary
Never lift a finger - the professional housekeeping service will do all the cleaning and changing of linen for you.
Dine how you like
You're not restricted to a hotel menu when you go with serviced apartments. You can cook in your own fully equipped kitchen, order in takeaways or maybe get a private chef to cook your favourite meal just the way you like it.
Greater productivity
Take business trips often? Then you know how unproductive and depressing hotel rooms can be. Serviced apartments give you a homely feel that increases output and happiness.
Central location
You're always where you need to be - right in the centre. No travelling in from outside the city. Also, you'll be right where all the fantastic attractions, restaurants and other incredible amenities are.
A place you can call home
You wouldn't live in a hotel, but will happily live in serviced accommodation. Serviced apartments come emblazoned with homely features and furnishings that will make you want to stay for eternity.
Where can you book a serviced apartment?
These hotel alternatives can be found all over the world in all the top destinations that business and leisure travellers visit throughout the year. Some of the cities include the likes of: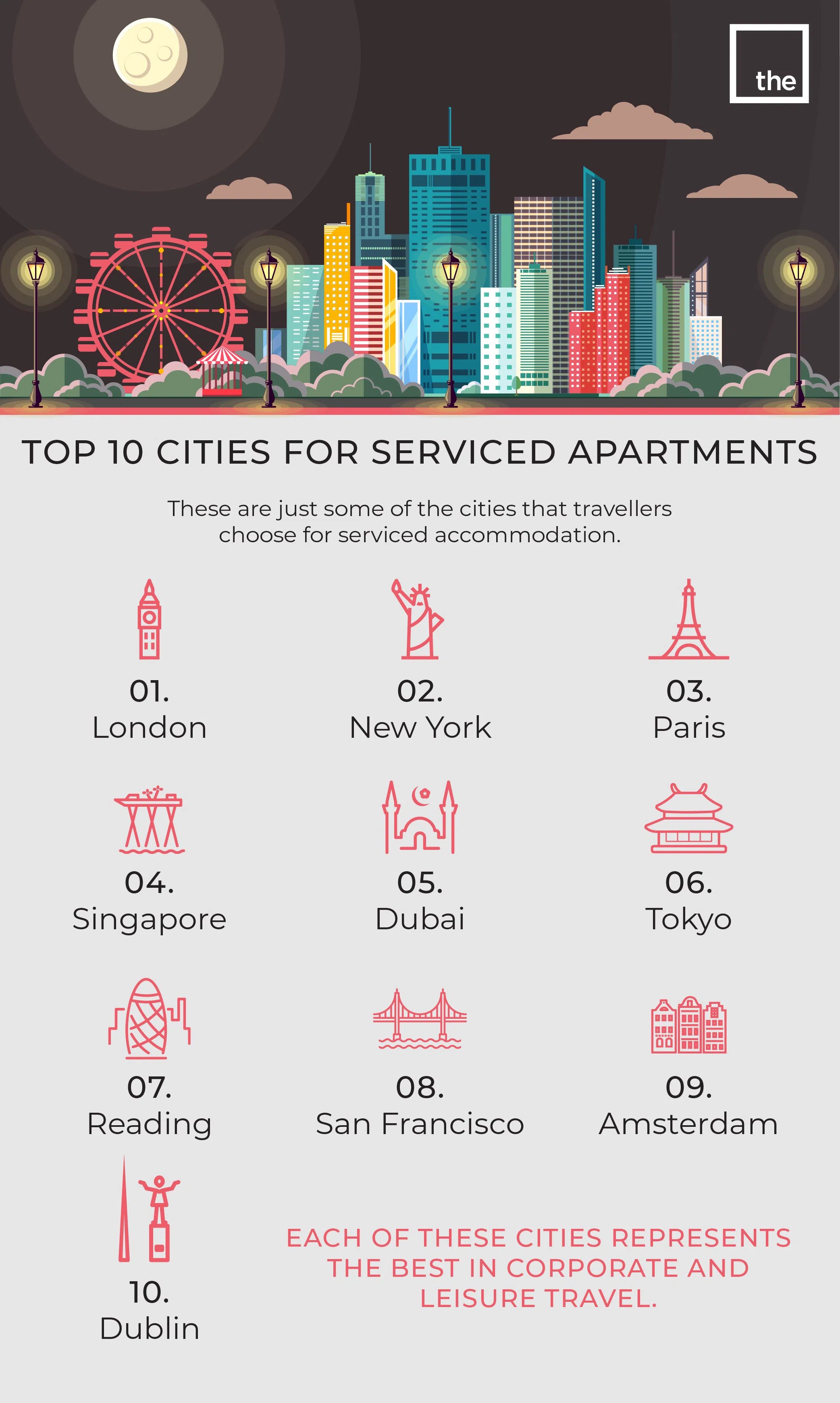 These are truly the hotel alternative that travellers need for their time away from home. With the marketplace growing year on year, it's safe to say that this is going to be a pivotal chapter in travel accommodation and that serviced apartments are going to continue surpassing hotels as the chosen form of accommodation for corporate and leisure travellers.
Given the ever-increasing rise of serviced apartments and their overtaking of the hotel industry and experience, it is clear that these hotel alternatives are going to stay and be an ever-popular choice of all travellers.
---
---
Leave a Reply
Your email address will not be published. Required fields are marked *