Take a Sip! - The Best Afternoon Teas in West London
---
'A cup of tea is an excuse to share great thoughts with great minds', writes designer and artist Cristina Re and we couldn't agree more. A practice started by the 7th Duchess of Bedford to cure her case of hunger pangs, Afternoon tea has turned into a loved tradition.
Thesqua.re has compiled a list of West London tea experiences to get you a sumptuous cup of this tradition. If you are staying in the serviced apartments in West London, visit any nearby tea room. Most of the Afternoon tea experiences are booked in advance, make sure you sort out your bookings in advance for a seamless afternoon of cherished moments.
1. Sweet Things- Notting Hill
Tucked away just off the Portobello Road, Sweet things is an experience ideal for either casual or business meetings over a cup of tea. The afternoon tea in the beautiful, open and airy place is served from 11 am to 3:30 pm every day. Aided with an array of delicacies that range from scones with clotted cream and jam to mini sandwiches served with smoked salmon and cream cheese, the place offers an ambiance perfect for serious talks or sweet little nothings.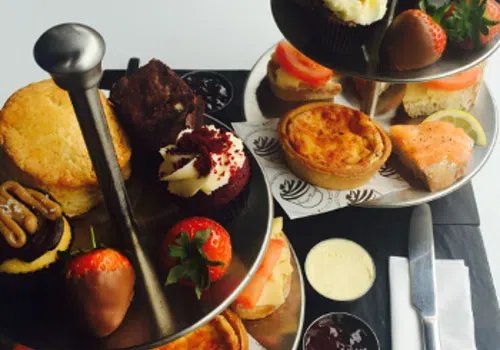 2. Hilton London Syon Park - Kew & Richmond
An escape from the hustle and bustle of the city, this contemporary marvel is designed with a pastoral English setting. Airy, bright and elegant, the place is perfect to spend some time in peace, with a cup of tea served with an assorted tray of treats. The tea affair runs from 3-5 pm every day with both non-vegetarian and vegetarian selections.

3. Nova Restaurant- Chiswick High Road
An indulgent sip of the Afternoon tea experience, this stylish restaurant is a short walk away from Stamford Brook tube station. Unwind in the posh seating of the place with your afternoon tea from anytime between 2-6 pm. The afternoon tea is served with the quintessential items of the British tea tradition, and the experience can be upgraded with a glass of champagne.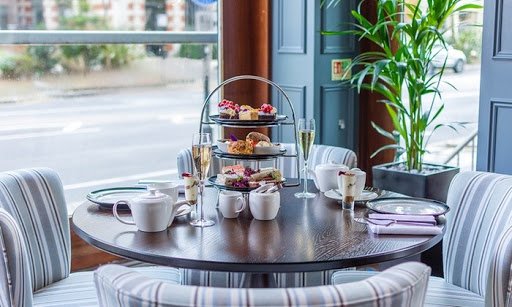 4. Searcys Champagne Bar Westfield, Shepherds Bush, London
Enjoy your Afternoon tea with a glass of champagne at Searcys Champagne Bar, situated in Westfield Shopping Centre. The luxurious haven is an indulgence served with the classic three tier assortment of sandwiches, scones, jam, clotted cream and sweet treats. The Afternoon Tea is served at Searcys from 2:30 pm to 4:30 pm every day.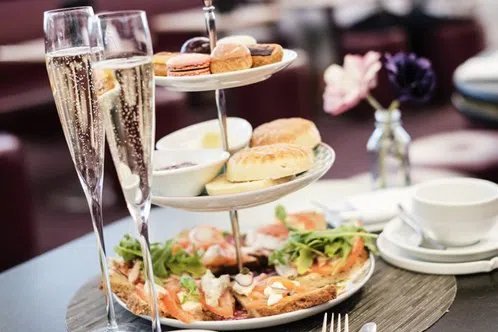 5. Patisserie Valerie - Holland Park Avenue
A delightful experience for tea-takers, Patisserie Valerie is a treat for the eyes and the palette. Famous for their pastries, the luxury of the traditional bistro experience lives up to its name and reputation. Located near the luxury apartments, the upmarket chain is ideal for your Afternoon tea experience. Their menu features a variety of classics, along with scones and an assortment of sumptuous patisseries. Afternoon Tea in the chain is served from 2-5pm Sunday to Friday and 3-5pm on Saturdays.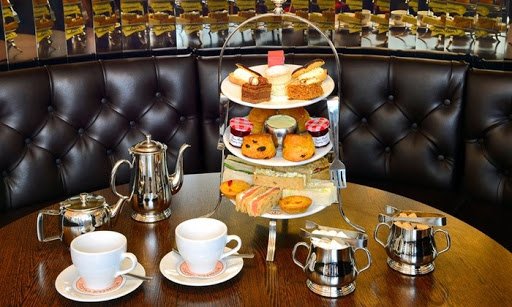 Keeping things English, the Afternoon tea is a must do British experience.
LOOKING FOR MORE GREAT IDEAS AND TIPS LIKE THESE? REGISTER YOUR INTEREST AND GET THEM SENT STRAIGHT TO YOUR INBOX!
---
---
Leave a Reply
Your email address will not be published. Required fields are marked *