The Best Indian Street Food in London
---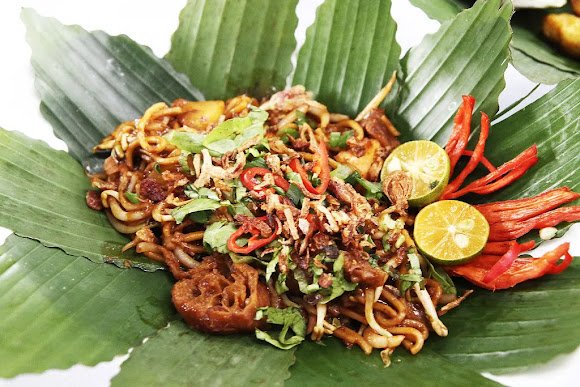 Finding the best Indian street food in London is a breeze! There are umpteen options throughout the city if you've been looking to gorge on the most delicious Indian street food in London! The city loves its Indian delicacies and you will love discovering some pretty eclectic places in the Capital that serve up a treat for connoisseurs.
Best Indian Street Food in London- Top Draws
Baba G's – Baba G's was known for selling sumptuous Bhangra burgers at street food markets in London for more than a decade! It ultimately bagged an investment of £300,000 on the acclaimed My Million Pound Menu aired on the BBC! It now offers a swanky new restaurant where Bollywood-themed graffiti pops out at you everywhere while the location in the Camden Market North Yard is a major plus point. You should not go without trying the Crazy Lamb Jalfrezi Burger which is an irresistible and tantalizing lamb patty within a naan bun crafted with buttermilk! It doesn't get as delicious as this! Throw in a few pachos or the ubiquitous pappadams that are served like nachos and you will have a complete mix! You should also feast on the Rum Baba Chocolate Chai with a generous hint of rum.
Dishoom – Mumbai is known as a potpourri of various cultures and cuisines. Dishoom seeks to maintain Mumbai's unique culture of Irani cafes that opened in several South Asian cities, courtesy the efforts of Zoroastrian Irani immigrants who fled prosecution throughout Central and West Asian countries. Dishoom pays a tribute to this classic palate, serving up the delicious and authentic chicken berry and kheema pau.
Gymkhana and Chettinad – The dosa gets a special touch at Gymkhana and Chettinad. You will love savouring the crispy and lip-smacking rice flour crepe which is mostly filled up with a lovely potato mix. The dosa has tempting flavours, emphasizing more on tamarind, grains and spices. The dosa here is a must, especially if you are looking for authentic Indian street food.
Wembley Area – This one is a generic tip and an apt one if it can be stated thus! Wembley is one of the best zones for feasting on the best Indian street food that you have ever had! Just walk into the bustling area which is only a few minutes away from the Alperton Station. You will find a whole new vibe in the neighbourhood, with several Gujarati migrants shifting here over the years. Ealing Road is where you will find several authentic restaurants and delicious flavours. There is a special African flavour to these dishes, since many of these migrants originally shifted to East Africa. You will go crazy, feasting on garlic chilli mogo at Sakoni's along with the cassava that is boiled and subsequently sautéed in the chilli and sauce. You should also try the Maru's Bhajia House for the ultimate treat. A cup of piping hot masala tea rounds off the experience to perfection!
Bombay Bustle – Bombay Bustle is inspired by the famous Jamavar, its sibling and of course, the iconic lunchbox deliveries done by dabbawalas. The menu has scintillating chaat and street food items with the vibrant décor theme being another big draw. Enjoy the sundae bar and tasty cocktails along with the friendly and hospitable vibes that are key attractions of this hub in Mayfair. It is also comparatively affordable than many other high-end Indian food joints near Regent Street.
Chutney Mary, St James' – Chutney Mary is a lavishly designed restaurant cum cocktail bar that whips up amazing Indian delights. The interiors are simply gorgeous while you will enjoy feasting on the small and spicy plates of Indian street food on offer. You can then follow up with the wonderful Tandoor-grilled seafood and several charming desserts. The wine list is also extensive and the prices are not too steep.
Trisha, Marylebone – You will love the costal culinary delights on offer at this magnificent joint. Do not miss the Aloo Tokri Chaat and the impeccable Makai Saag. The former is a popular street food treat throughout India where potatoes are first deep-fried before being topped up with yogurt, spices, mint, tamarind sauce and even pomegranate. It offers a spicy, sweet, tangy and sour feeling simultaneously which is hard to beat! Run by the Sethi family which owns the restaurant in the centre of Marylebone, Trisha is all about this fabulous snack to start off before moving to delights from the coastline, all the way to Tamil Nadu and even Mumbai. The emphasis lies firmly on seafood and vegetables which are quite refreshing and different from heavier north Indian dishes that pervade most of London. Creativity comes to the fore of course, with the overall dining space being modern and simple enough. The brick walls are neatly whitewashed while there are quaint wooden chairs and the staff are friendly without being overly nosy. Get them to recommend their top picks and cocktails while you will be guided through the vast wine list that crosses several emerging regions in the Czech Republic, England and many other countries. You should not miss Gujarat Cosmo with its home-brewed and exclusive rose-petal tea while the gin and tonic comes with the perfect garnishing. You can then take a fun culinary ride, tasting Koliwada with amazingly done up smaller plates offering stuffed soft-shell crab, Makai Saag (creamed sweet corn and spinach served with truffled mushroom pilau and lentils) and of course, the famous Iyengar Aubergine Varuval which is made of dry red chilli, coconut, curry leaves and shallots.
Gunpowder, Spitalfields/Tower Bridge – Gunpowder is a homely yet charming restaurant that is operated by Devina and Harneet Baweja from 2015 onwards at Spitalfields, whipping up the most delicious small plates. They have now opened a second location at Tower Bridge with sweeping views for company and more space for larger groups of diners. The differences end there as both restaurants have near-similar designs with polished surfaces, terracotta touches and zinc surfaces. Both joints serve the immensely popular spice-filled Kashmiri lamb chops and also the venison with vermicelli doughnut. You will fall in love with the Chettinad pulled duck as well. The icing on the cake is the temping aloo chaat which is tempting potatoes topped off with tamarind and date chutney and yogurt for company. This will complement all your small plates perfectly. You may not even require any rice and naan is clearly not on the menu. This is one of the best Indian restaurants that you will have come across during your time in London!
Soho Wala – Looking for something really exotic to warm the taste buds? Soho Wala lays claim to serving the best Indian street food in London, namely its Bhelpuri with Sev and pomegranate. Even before getting the customary gin and tonic here at Soho Wala, check out the miniature and freshly crafted pappadams with accompanying parmesan while the bus-themed napkin holder offers the neat message- For use in any kind of crisis! Such is the quirk that will immediately catch your attention at this culinary marvel! Rajesh Parmar is the Head Chef at Soho Wala, churning out some of the most comforting items which are free from any hassles. You will appreciate the immaculately created kali daal which has a nostalgic feeling along with ample heat. This will come with tempting dollops of buttery and light choor choor naan as well. The Bhelpuri is a connoisseur's delight, containing puffed rice, vegetables and pomegranate seeds along with crunchy Sev made of gram flour. The tamarind sauce is the best finishing touch for this wonderful dish. The restaurant does a great job of balancing textures and tastes from several parts of India. In spite of its prime location opposite the Liberty department store along Great Marlborough Street, the joint is tranquil and
Tandoor Chop House- This Charing Cross joint is another great place to feast on authentic Indian street food, fusing a North Indian roadside eatery with the signature chop house from Britain. The interiors are somewhat rustic with the mosaic tiles and brass ovens for the Tandoor. You can choose select meat cuts including the Amritsari lamb chops, black-pepper chicken Tikka, British masala chicken in a marinade of garlic, ginger, hung curd, spices and chilli along with the fabulous roasted cauliflower and fish dishes alike. You will love digging into the buttery and super soft naans although the bone-marrow butter naan is the top draw here. You should not miss the brulee crafted from Chai and BBQ pineapple at the end.
Cinnamon Bazaar – Cinnamon Bazaar is a great Indian restaurant where you will find a quirky and delightful hand-painted cart for Chaat along with exclusive cocktails. Vivek Singh is a media celebrity and is known for his insistence on discovering new flavours and tastes. Cinnamon Bazaar is his fourth venture in this space and inspiration is abundantly taken from the food, colours and vibrant atmosphere of spice markets in India. The ceiling makes its own statement, complete with hot-pink silk panels and baskets. The interior doors are parrot-green in colour, making for a photographic moment by all means! Start with the Bazaar Old Fashioned cocktail crafted from coconut sugar, Indian scotch and burnt cinnamon. The main draws include Indo-Chinese wings with burnt chilies and double-cooked pork belly with barley, curried yogurt, broccoli smoked raita and pomegranate. The chaat cart keeps roaming around the premises and you can pick your spices and ingredients for making your own variety of chaat.
Calcutta Street – This joint at Fitzrovia is all about the finest flavours from Eastern India. The brainchild behind the restaurant is Shrimoyee Chakraborty, who came up with fascinating Indian street food in London, drawing inspiration from what she was used to in her hometown of Kolkata. She has also launched another outlet at Brixton. The bespoke and charming shutters at the entrance are mirror images of Kolkata's ubiquitous shops and you will find designer chandeliers inside which are crafted from hath-pakha fans along with other antique furniture items as well. The joint is known for the Calcutta Kati Rolls, the flaky and refreshing Paratha rolled up with paneer, egg or chicken and served with chutneys and salads. Other top draws include seafood dishes such as the creamy coconut king prawn Malai Kari and also the steamed sea-bass or Machar Paturi. Now that you have a list of the best Indian street food restaurants and outlets in London, you will naturally be sorted throughout your upcoming visit! Browse through London serviced apartments and book your chosen accommodation ahead of your trip. Here's to a gastronomically enjoyable stay in London!
---
---
Leave a Reply
Your email address will not be published. Required fields are marked *