Things To Do In London This Weekend
---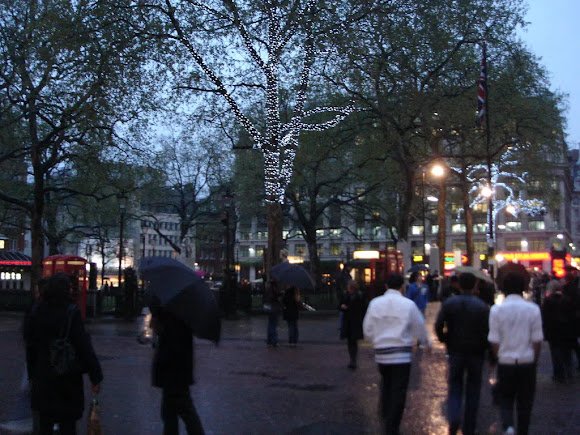 London is a city that is often described as 'heaving'. At the weekend this description can be upgraded to literally 'splitting at the seams'!
London is a place on which people descend to have a good time from all over the UK. Not only that, it's one of the most popular tourist destinations in the world and when summertime comes around it's an even more happening place to be.
Of course, London has its history, museums and fabulous landmarks, but what it also has is oodles of fun things to see and do. Some of them are only possible to see at certain times.
So, whilst a visit to the Tower of London, the Natural History Museum and the Houses of Parliament can be done at any time of the year, seeing Regent Street closed off to traffic is a one-off event that almost never happens.
If something almost never happens then it's an obvious must see, surely?
First things first though, secure some top accommodation.
TheSqua.re has some fantastically located, fully furnished and fully serviced apartments. More roomy, luxurious and better located than almost any hotel room. Book one and tick accommodation off of the to do list straight away.
Now it's time to organise the weekend's activities.
Here are some of the things to do in London this weekend. Some are constant, some are annual, and crucially some are rare, make the most of all of them.
Summer Streets on Regent Street
Regent Street is closed to all motor vehicles, any least for one day on Sunday 18 August.
The event is to celebrate the two hundredth anniversary of the famous shopping street and involves pedestrianisation of the street in order to make room for food, bars and plenty of activities.
The street is closed from Oxford Circus all the way to Piccadilly Circus and if this Sunday isn't possible then don't worry, the street will also be closed on September 18 as part of the same celebration. Different activities are promised on both days.
Classic Football Shirts
Everybody knows that England is the home of football. It's where the 'beautiful game' was invented and the Premier League ensures it still the number one destination in the world for top players and fans.
There is a shop in Manchester which boasts the largest collection of original, classic football shirts of anywhere in the world.
What's that got to do with London? Well, they've gone and opened up a temporary pop up shop in Brick Lane in the capital. No rush though, it's open until the end of January next year.
Whether looking for Hull's infamous tiger shirt or the shirt that Swindon Town wore in the top division in their only appearance back in 1993-94, here is probably a good place to start.
The London Dessert Festival
It's happening on Saturday 17 and Sunday 18 August, so plenty of time to make sure stomachs are ready for it.
It's being described as 'celebrating sensory indulgence through desserts'. Sounds like nonsense. What it actually sounds like is an excuse to cram as many sweet desserts down as humanly possible.
It's taking place at the Old Truman Brewery in Brick Lane and it's a first for the capital. As well as the tasting there's plenty of other events going on against sweet themed backgrounds.
But really, it's all about the tasting…
Wine Car Boot
To anyone aware of what a traditional British Car Boot Sale actually is, this particular event may seem strangely illegal in a similar way to the eponymous Mungo Jerry lyric.
However, although this event does feature people selling booze out of the back of their cars, they aren't the ones sampling, the visitors are.
This is an event attended by some of the very best independent wine sellers who will each showcase five of their best wines. All the visitor has to do is make a choice between tasting it, buying it to drink now to taking it away to drink later.
The venue is Coal Drops Yard in King's Cross, the date is Saturday 17 August.
Ginsecco
In case anyone wasn't aware, gin and prosecco have been the drinks to be seen with in the UK for a few years now, and probably for a few more years to come. Hence the need for a festival celebrating these two great bevvies.
Morden Park House is the venue and the unfortunate day is Sunday (only unfortunate for the poor souls who have to work Monday morning). Gin distillers from across the capital and the south-east will descend to show off their wares.
It's a great opportunity to meet the owners of some of England's boutique gins and get a chance to sample new creations and perhaps find a new favourite gin mix.
As the name suggests there's also a prosecco bar which will be mixing cocktails with prosecco on tap.
Just to add to the excitement there's music and street food too!
Beyond Retro Garage Sale
This is not just a garage sale selling any old tat. This is a huge event selling thousands of completely authentic vintage clothes that have previously been on sale at Beyond Retro in Peckham.
It takes place in the large warehouse next to the shop itself and promises huge discounts. Including coats for between £6 and £15. It's probably possible to refresh an entire wardrobe for less than £100.
It starts on 14 August and ends four days later.
Abbey Road Studio Lectures
The infamous recording studio is opening its doors to the general public. Yes, THAT studio. The one made famous by THAT band who are famous for walking across a nearby zebra crossing.
Of course, it's famous for more than being the go to studio of the most famous band ever. It was also the studio for some of the other most famous bands ever. Pink Floyd recorded their debut album here at the same time as Sgt. Pepper's Lonely Hearts Club Band was being put together down the corridor.
Sir Malcolm Sargent also exclusively used the studio as it was nearby to his home.
This is a studio with a legendary history. It's not even widely known that it was in fact the first purpose built studio to be found anywhere in the world.
This is a chance in a lifetime for music fans and the event is comprised of a series of lectures, between 16 & 18 August, telling you how the studio came about and more importantly who came to use it.
It's amongst a range of events celebrating 50 years since THAT band (The Beatles, in the unlikely event it wasn't clear), first walked on the crossing providing a picture for their last studio album.
The Floating Market
Head up to Paddington Central on 18 August for a chance to catch the second year of the Floating Market.
Just as it sounds, this is a market which takes place on the water, well, on barges actually as traders park up on in the canal to show off their wares.
The wares include food, drink and unique produce as well as some live music barges too.
Olafur Eliasson: In Real Life
This is a modern art exhibition at the Tate Modern that appeals to those people who don't necessarily think a lot of the modern art scene. It's an exhibition which displays itself in a way that makes people forget that it's a modern art installation and just enjoy it.
It's located in a long foggy corridor. Don't worry, the fog is intentional, and brightly coloured. The experience also includes rainbow mist (the differentiation between fog and mist isn't clear) and a mirrored tunnel.
There's many other things to assault the senses in what is set to be one of the Tate Modern's most popular exhibitions. No rush, the mist and fog are there until January 2020.
Her Majesty's Cavalry
The colloquial name for the Household Cavalry. Most people who come to London with even the fleetest of interests in the Royal Family would see the Household Cavalry perform at Hyde Park.
But how much do people actually know about them? Do they know, for example, that they are not just ceremonial? Do they know that they are actually made up of the two most senior regiments in the British Army, the Life Guards and the Blues and Royals?
They are not just for show, they are the highly trained and fully functional bodyguards of the Queen and the Royal Family.
Anyone who doesn't know these things will almost certainly enjoy a day at the National Army Museum on 17 August where they'll be a day of getting up close and personal with the cavalry. The soldiers themselves will be on hand to answer any questions anyone might have, show off their uniforms and introduce people to their highly trained horses, also known as the Cavalry Blacks.
They'll be lots of activities on offer for all the family and a demonstration of one of the most important jobs in the cavalry, the farrier.
---
---
Leave a Reply
Your email address will not be published. Required fields are marked *