Things to Do in London with Kids
---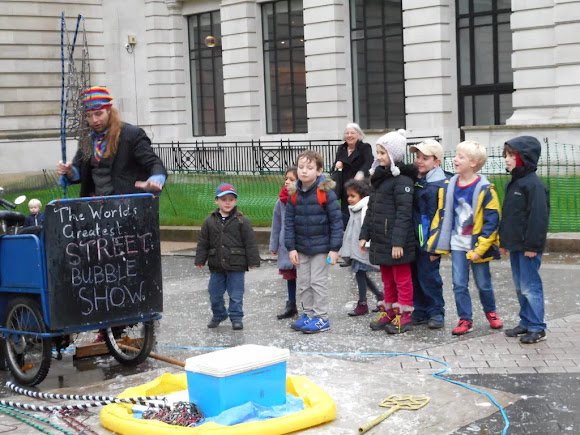 When planning a trip to London, it's easy to schedule things to do. There is so much culture, loads of history and heritage and tonnes of fun to be had.
However, culture, history, and heritage can end up being a bit heavy for kids. The fun in London can also be more adult-centric, with bars, clubs, and restaurants galore!
It needn't be that way though; London is a particularly family-friendly city and the following are examples of some great things to do in London when travelling with the kids.
Book a Serviced Apartment in London
Anyone who has ever shared a single hotel room with their kids on what is supposed to be a holiday will know the pain. The excitement, the giggling, the lack of privacy, the early mornings, the smells…
Anyone who has tried to find hotels with interconnecting rooms will also tell you the difficulties they experienced, not to mention the expense for those lucky enough to find such a thing.
A serviced apartment means that not only are separate bedrooms available, there's also a lounge and a fully fitted kitchen too. Why go on holiday to accommodation that is less luxurious than you have at home?
The Royal Observatory
There's plenty going on here to excite both young and old. Most kids who are old enough to understand the concept will marvel at standing on the Greenwich Meridien Line. All will love getting transported into outer space in the planetarium.
There's plenty going on nearby at the National Maritime Museum too, with its permanent displays and constantly changing pop up exhibitions.
Within walking distance, you can also find the Cutty Sark and the Queen's House, not to mention the massive park to play in that links them all.
The Tower London
One of the best-preserved medieval castles to be found anywhere in the world and it's right in the middle of London itself.
This is a great favorite for families as there is so much that appeals to both adults and children. The historical exhibits contained within have fascinating tales attached to them and are presented in an interactive way to keep even the smallest of visitors interested.
Older children will be interested in the times when the castle was turned into a prison and ultimately ended up being the site of some pretty grisly executions. In fact, a great deal of the history of the Tower of London is pretty dark. If traveling with younger children it's probably best to see what's going on at the White Tower, which is full of exhibits to suit younger ones.
Don't forget to visit the main draw though, the legendary Crown Jewels. Don't worry about people crowding in front of you. You can only view them whilst moving along a conveyor belt, meaning everybody gets a fair turn!
KidZania
From an ancient attraction to something altogether much more modern.
KidZania is a place where children can have a go at finding out what their future career might be. If they have dreams of being a pilot, a vet, a postman or many other things, then they can have a go in the KidZania city.
If they harbor dreams of becoming a professional cricketer and stepping out at Lords, that's a possibility too. Middlesex cricket club has just opened activities here to get them started.
If they're older they can even be left at KidZania by themselves. It's handily situated nearby to the Westfield Shopping Centre, in case adults would prefer to shop whilst the kids play.
Tower Bridge
Along with the Elizabeth Tower (Big Ben), Tower Bridge is probably the most iconic sight in London, an absolute must take a picture for any visitor. Getting a picture of its opening is the cherry on the cake and is thought of by some to be the rarest of London pictures.
This isn't true, the bridge opens up around a thousand times every year, so the chances of seeing it are actually quite high. The opening times are scheduled and are posted online, so that 'rare' photo opportunity can actually be timetabled into a visit, impressing the whole family! See Bridge Lift Times.
When looking for the best angle to take a picture of the bridge it's probably best to walk along the South Bank of the river. Failing that, an excellent shot can be taken from London Bridge, incorporating HMS Belfast into the picture too.
Tower Bridge isn't just about getting that iconic photo though, there are other ways to appreciate it. The Tower Bridge Exhibition gives a great insight into the history of the landmark and also provides the means, in the form of a lift, to get up to the top walkways.
These walkways stretch the light of the bridge and have a glass section in the middle where kids can 'hover' precariously above the river. This walkway also shows off the old steam machinery which used to raise the bridge until surprisingly recently.
The London Transport Museum
The Natural History Museum and the Science Museum quite rightly take many of the plaudits when it comes to family-friendly museum fun. However, there is one museum that is a proven hit with every child that visits it.
The London Transport Museum is a definite favorite, there aren't many children of a certain age who don't love a bus, train, tube or taxi, and they're all here!
The museum is very hands-on which is always fortunate when it comes to kids who want to prod and push and pull everything they see! After all, what's the point in seeing an old bus if they can't jump on board and ring the bell? Here, there's no-one to stop them.
There's also educational, but fun, videos, old posters, and maps and a play area for the very little ones.
It's not free, like many of the other museums in London, but it is reasonable. Don't forget to save some money for the shop though. It's difficult to leave without buying at least one toy bus!
Warner Bros Studio Tour London - The Making of Harry Potter
So Universal Studios in Hollywood may have meticulously recreated Diagon Alley, Gringotts Bank, and Hogs mead, but they are still recreations. Here you can see Dumbledore's Office, 4 Privet Drive, and the awesome Hogwarts School Dining Room and know that these are the real deal! These are the sets where the iconic movies were actually filmed!
Not only that, there are literally thousands of genuine props and costumes to look at, replica wands to collect, Hogwarts Express carriages to ride and Butterbeer to drink.
If travelling with kids who are fans of the Harry Potter universe, this is something not to be missed.
Imperial War Museum
Another museum that kids love due to the fact that it is stocked full of warplanes and tanks, as well as guns and military uniforms and equipment.
Be warned though, there are parts of exhibitions which are unsuitable for younger children. The flashy machines of war are on prominent display, but the exhibits do not shy away from recounting the horrors of the wars and battles they were used in.
To get fully immersed in the experience the audio tours of the museum come highly recommended.
Be aware that there is an emotionally challenging holocaust exhibit which is quite rightly restricted to children over the age of eleven only.
The London Eye
Essentially a massive big wheel. What's not to love if you're a kid?
Despite not being close in size to some of the tallest buildings in the city, this is still one of the best ways to get a 360 view of the capital, especially looking south across Greater London.
The pods are air-conditioned and hold up to 25 people, so be prepared to share unless you fork out a huge amount for a private rental.
Any nervous members of the party who generally don't like fairground rides needn't worry. The wheel moves at a pace so slow that it takes a full half-hour to make one revolution. It's hardly the "Scream if you want to go faster" kind of ride!
Booking ahead of time makes it cheaper. To bypass the queues, it's possible to book a Fast Track ticket, at quite a reasonable supplement.
London Sea Life Aquarium
This is a surprisingly huge aquarium which is within walking distance of the London Eye. So ideal to fit in on the same day.
There are seventeen zones to get through here, each containing the most fascinating exhibitions.
There are recreated habitats of the Pacific and Atlantic Oceans, showing off creatures of the deep, but there are also exhibits showing off wildlife a bit closer to home. The sea life you'd find off of the British coastline.
Younger children can hunt down Nemo and Dory, whilst the older ones can look out for something a little bigger. The highlight of the exhibition is an ocean tunnel that allows you to walk through the water, whilst huge turtles and sharks swim just inches away.
There's even an Antarctic exhibit complete with gentoo penguins, always a favourite with younger visitors.
---
---
Leave a Reply
Your email address will not be published. Required fields are marked *