Top Places to Visit in Berlin
---
Berlin is a great combination of glamour and grit and is bound to fascinate you if you love to explore vibrant culture, cutting-edge and old architecture, delicious food, and tangible history. This city has everything you would want with its iconic sights, its vast spaces of greenery, sky high bars and stylish restaurants. The laidback lifestyle, beautiful cultural expressions and richly textured history, makes Berlin an endlessly fascinating city, attracting millions of visitors every year.
Here is the list of top 10 places to visit to make your Berlin experiences unforgettable!
1. Reichstag Building
This distinctive attraction, Reichstag is one of Berlin's most iconic buildings. A neo-renaissance Parliament, this historic building in Mitte was opened in 1894 and after being destroyed in the war, it was reconstructed again between 1961 and 1971. The most attractive part of this building is its Norman Foster glass dome from where one can get beautiful 360-degree city views. One can witness the stunning baroque revival architecture and postmodern architecture in this building.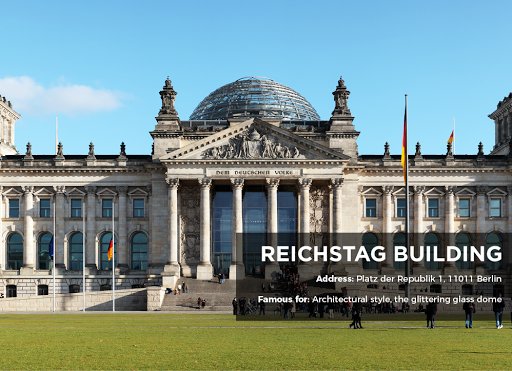 Address: Platz der Republik 1, 11011 Berlin
Famous for: Architectural style, the glittering glass dome
Things to know:
To get access inside the building, make free reservations online. Get tickets at the Reichstag Service Centre for the same or next day.
Bring ID
Opening hours: Daily 8 am – midnight and last entrance is till-10pm
2. Museum Island
Spend a day in Museum Island, which is a UNESCO-listed World Heritage Site, offering the insights of the cultures of Europe and the Near East from antiquity to the recent past. The attraction is home to five of Berlin's most important museums. While exploring this sprawling museum, walk through a series of astonishing structures, from a partial recreation of the Pergamon Altar to the two-storey Roman Gate of Miletus. The five museums include Pergamon Museum, Bode Museum, Neues Museum, Alte Nationalgalerie and Altes Museum, bringing all magnificent work of art under single roof. The museum also boasts of the Lustgarten park and the Berlin Cathedral.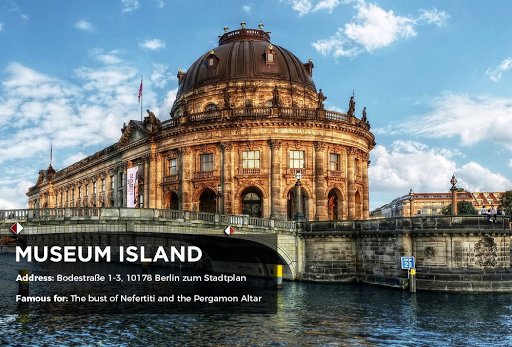 Address: Bodestraße 1-3, 10178 Berlin zum Stadtplan
Famous for: The bust of Nefertiti and the Pergamon Altar
Things to know:
Admission fee:Combi-ticket Museum Island 18.00 Euro, reduced 9.00 Euro
Free admission for children and teenagers up to the age of 18.
3. Brandenburg Gate
An 18th-century neoclassical monument in Berlin, Brandenburg Gate is a landmark with 200 years of history. The gate is situated in the western part of the city centre of Berlin within the historic Mitte neighbourhood. During its existence, the monument has played host to many historical events from political speeches of a divided city, to its role in the emotional reunification of a nation. Presently, Brandenburg Gate is a symbol of German unity.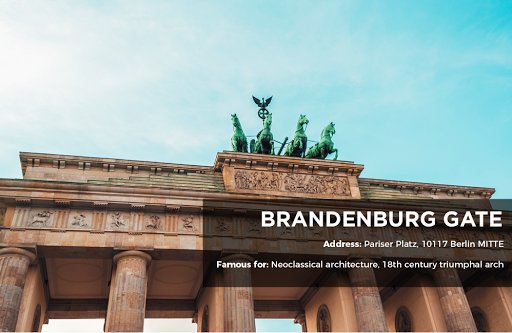 Address: Pariser Platz, 10117 Berlin MITTE
Famous for: Neoclassical architecture, 18th century triumphal arch
4. Berlin Wall (1961-1989-)-Constructed by the German Democratic Republic, the Berlin Wall was the defining symbol of the Cold War for 30 years. The official purpose behind the construction of this wall was to completely cut off West Berlin from East Germany and from East Berlin, until the head of the East German Communist Party opened it in November 1989. And still today, the Berlin Wall remains one of the most significant symbols of the Cold War. Enjoy the amazing graffiti art on the Wall!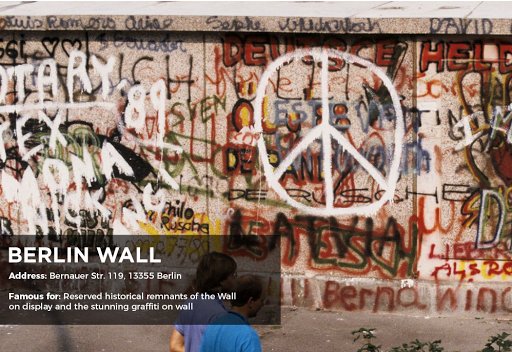 Address: Bernauer Str. 119, 13355 Berlin
Famous for: Reserved historical remnants of the Wall on display and the stunning graffiti on wall
5. Checkpoint Charlie
During the cold war,Checkpoint Charlie was the name given by the Western Allies to the Berlin Wall crossing point that lies between East Berlin and West. This famed Allied sentry post popularly called as "Checkpoint Charlie" was officially closed after 30 years, which acted as a way station for crossing one side of the Wall to the other by the officers. This iconic symbol of cold war is now a popular attraction in Berlin.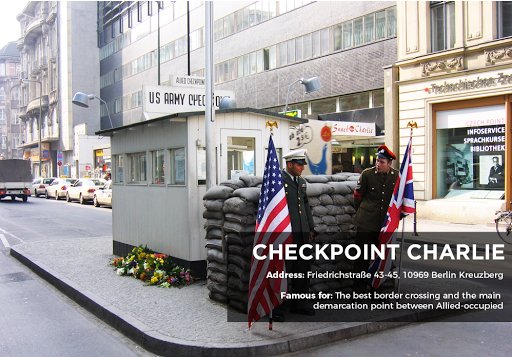 Address: Friedrichstraße 43-45, 10969 Berlin Kreuzberg
Famous for: The best border crossing and the main demarcation point between Allied-occupied West Berlin and the Soviet-held East.
6. East Side Gallery
An international memorial for freedom, East Side Gallery is a 1316 m long section of the Berlin Wall located near the centre of Berlin. This Gallery boasts of 105 paintings, contributed by artists from all over the world. Today, The East Side Gallery is possibly the largest and open air gallery in the world and also a symbol of freedom, especially for artists.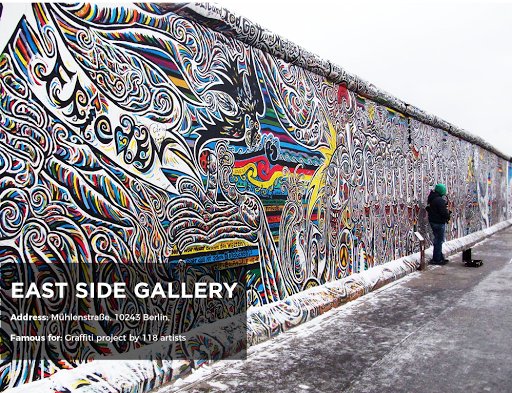 Address: Mühlenstraße, 10243 Berlin,
Famous for: Graffiti project by 118 artists
Things to know:
Open 24 hours
Artist run initiative offers tours for school classes and can be booked on request
7. Charlottenburg Palace
This is the largest palace in Berlin, located in the Charlottenburg district of the Charlottenburg-Wilmersdorf borough. Opened in 1699, this stunning royal palace has a Baroque architecture and houses18th century French paintings, which is the largest of its kind outside France. The major highlight of this palace is the central and oldest part- the domed Altes Schloss. You can also explore an English style landscaped garden behind this palace.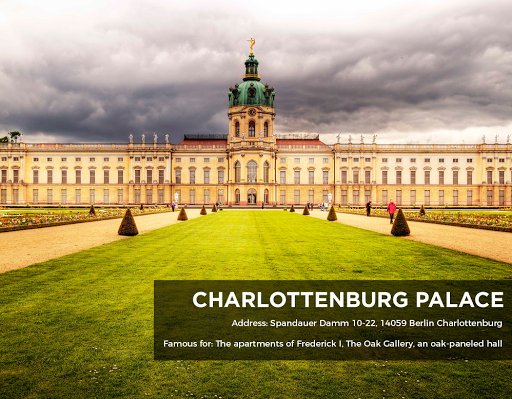 Address: Spandauer Damm 10-22, 14059 Berlin Charlottenburg
Famous for: The apartments of Frederick I, The Oak Gallery, an oak-paneled hall
Things to know:
Tickets for each section are sold separately
Gardens are open to the public for free of charge
Opening Hours: April – October (Tue-Sun 10-18), November - March: (Tue-Sun 10-17)
Admission Fee: 10,- Euro, red. 7,- Euro
8. Berlin Cathedral
The Protestant Berlin Cathedral is nestled on the Museum Island in the Mitte borough. This largest church is the sepulchre of the Prussian Hohenzollern dynast and was first built in 1465 as a parish church on the Spree River and was completed by 1905. The church is popular for its opulent interior designs, marble columns and gilded ornaments.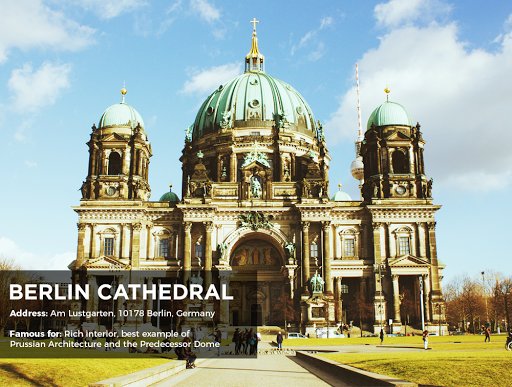 Address: Am Lustgarten, 10178 Berlin, Germany
Famous for: Rich interior, best example of Prussian Architecture and the Predecessor Dome
Things to know:
Opening hours:
Mon-Sat 9-20 (Oct-Mar 9-19), Sun + public holidays 12-20 (Oct-Mar: 12-19)
No viewing during church services or event
9. Gendarmenmarkt
This historical market square is lined with highly impressive and stunning architecture. The market is famous for presenting an annual Christmas market & ice rink. One of the most beautiful squares in Berlin, the area offers view of the German and the French Cathedral and Schinkel's Konzerthaus. This lively urban place is surrounded by some of Berlin's most glamorous hotels and restaurants that you would surely fall in love with!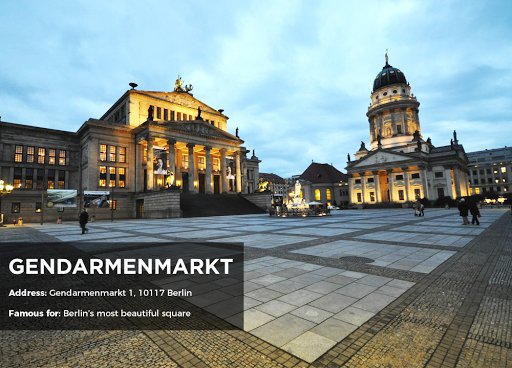 Address: Gendarmenmarkt 1, 10117 Berlin
Famous for: Berlin's most beautiful square
The most popular residential neighbourhoods in Berlin are Prenzlauer Berg, Kreuzberg, Neukölln, and Friedrichshain. All these areas are centrally located and home to many good hotels and rented apartments. Thesqua.re offers world-class serviced apartments, which are available in all these major residential neighbourhoods. Our fully-furnished Berlin serviced apartments are appointed with modern amenities to make your stay in the city homely, relaxing and comfortable. Book your apartment prior to your visit to Berlin City to avoid any last minute confusions.
---
---
Leave a Reply
Your email address will not be published. Required fields are marked *