What You Need to Pack on Your Business Trip
---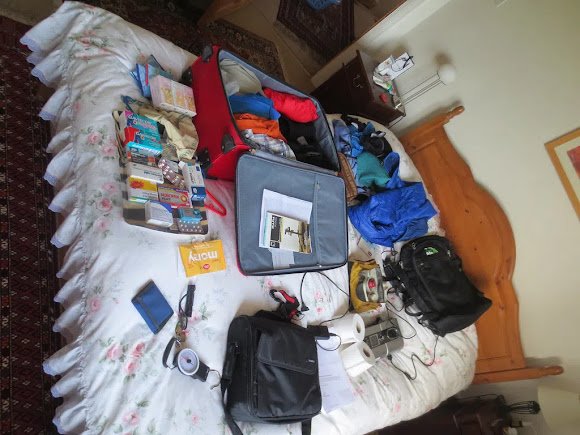 As those of us who frequently travel for business know, it can be as challenging a time as it is rewarding.
Knowing what to pack can make or break a trip's success and keeping a handy checklist of what to pack that you can use each and every time keeps the beginning of your trip efficient and stress-free.
First thing to decide is whether to check a bag in?
The short answer is, if you can, you should. Of course on short trips, it might not be worthwhile. It's also worthwhile finding out if your clients or colleagues are checking bags in. You don't want to be the only one forcing the group to hang around the baggage carousel at the end of a long flight.
Checking in your bag means you can take all that you need, you don't have to lug an oversized bag through security and it won't be taken away from you if all the overhead lockers are full.
Now you've decided to take the big suitcase, what are the essentials you need to succeed on your business trip? Here are a few ideas.
Clothes
To ensure you don't have to turn up to a business meeting naked, you should always take clothes…
To be honest, this is something you're unlikely to forget! However, which clothes to take is where it gets a little bit more tricky,
Some people choose to take just one pair of basic trousers or a skirt. They then choose a jacket that goes well with the bottoms. The trick is to wear fairly dull, neutral colours in order to make it less obvious you're wearing the same suit every day.
Take shirts, blouses enough for the number of days you are away. Ensure they all match the suit combo.
Make sure you take comfortable travel clothes too.
With regards to underwear and socks, make sure you have enough for every day you are there. Then add in two extra pairs of each. Travelling can be a sweaty business!
Shoes
Do not take any more than two pairs! No need to take gym shoes and separate trainers. For the smarter shoes always choose comfort over style. You never know how far you'll be walking.
Toiletries
Taking a big bag gives you more choice of toiletries. If you're not checking a bag in, ensure you are sticking to travel restrictions.
The basics should be shampoo, hair products, moisturiser, toothpaste, toothbrush, deodorant, razor and makeup. Anything else you fit in is a bonus.
Travel documents
Ensure these don't go into the suitcase but are with you at all times. Airline reservations, corporate housing details and car rental info are essentials you may need on hand at any moment.
Have relevant contact details on your phone within easy access too. You don't want to turn up at your extended stay apartments only to realise you've no idea how to get in.
Chargers
In this day and age, it is very likely that all of the above documents will be on your mobile phone or stored on some other sort of device. The last thing you want to do is deal with a dead battery which prevents you from accessing essential info.
Take your mobile phone charger in your carry on luggage. Many airlines have charging points in the seats and you should take advantage of this whilst in the air.
Ensure you have a battery back up too in case of no access to a USB port.
Also ensure you remember laptop chargers, tablet chargers and other chargers for things such as razors and toothbrushes.
Business cards
Make sure you have enough for your whole trip. If you're going to a trade show or your trip is to an Asian country, make sure you take more than you think you'll need!
Keep them in pristine condition. In countries such as Japan and Hong Kong, the business card is held in very high esteem.
Office supplies
Make sure you have pens, pencils, erasers, notepads. Just take what you need and spares. Most documents will likely be passed electronically.
Umbrella and wet weather clothing
If you are visiting Singapore or London for example, an umbrella should probably be the first item in your suitcase. Ensure your umbrella is small and compact enough to fit in your case.
Money and credit cards
Your business trip is no different from being at home. You still need to ensure you have the means to pay for stuff!
---
---
Leave a Reply
Your email address will not be published. Required fields are marked *