Wimbledon 2018
---
If you mention the word 'Wimbledon' anywhere in the world, or indeed in the UK or London, you're unlikely to think about an affluent area of the London Borough of Merton in southwest London. More than likely you are thinking about a tennis tournament that is alternatively known as 'The Championships'.
The tennis tournament has not only taken over the name Wimbledon, it is also the most famous tennis tournament in the world and probably one of the best known sporting events of the year.In terms of tennis itself, it is one of the Grand Slam tournaments alongside The Australian Open, The French Open and The US Open.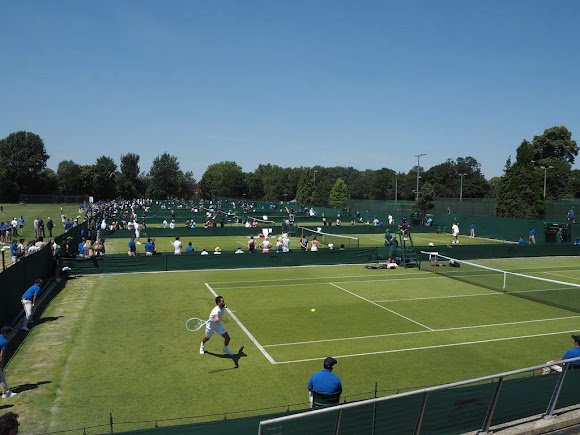 Lawn tennis was originally conceived in around 1875 as an outdoor alternative to court tennis. It was added to the activities of the 'All England Croquet Club'in Wimbledon in 1876. By 1882 the activities at the club were almost solely confined to tennis.
The first Wimbledon Championship was held in 1877 and predictably it was open only to gentlemen. Ladies' Singles were introduced in 1884 along with Gentlemen's Doubles, with Ladies' Doubles and Mixed Doubles coming along in 1913.
Of the Grand Slam tennis events, Wimbledon is the only one which uses exclusively grass courts. The US Open stopped in 1975 and the Australian tournament last used grass courts back in 1988.Of the major four only the French Open has never used grass.
The use of grass as a surface makes for an exciting, quick game but obviously has its disadvantages, especially for groundsmen considering the wear and tear. This is why Centre Court and other show courts rarely see any action outside of the two week championship. Notable exceptions have been the Olympics in 2012 and Davis Cup home ties.
Wear to the Centre Court was reduced in 2009 with the introduction of a retractable roof, this also had the advantage of extending play time through the notorious British rain.
The main events that people come to see at the tournament are the Gentlemen's and Ladies' Singles and the Gentlemen's, Ladies' and Mixed Doubles. There are also junior events which include the same events except Mixed Doubles,as well as seven Invitation Events.
Since Spencer Gore, the first winner in 1877, there have been many winners of the famous Championship. Current holder of the Gentlemen's singles title is Roger Federer, who also happens to be the most successful men's player with eight wins. The current Ladies'Singles champion is Garbiñe Muguruza, the most successful lady is Martina Navratilova who won it an extraordinary nine times.
To enjoy The Championships with friends and family you will need three things: tickets, a love of strawberries and places to stay near Wimbledon. Obviously, accommodation near Wimbledon is hard to come by at this time of year, ensure you check out some of the fantastic serviced apartments available from thesqua.re to ensure you don't miss out.
---
---
Leave a Reply
Your email address will not be published. Required fields are marked *