4 New York City Points of Interest for an Unforgettable Trip
---
If there ever was a city with too much to do, it could well be New York. If you find yourself in the Big Apple for a few days and you ask five people what to do in NYC, the chances are you will come up with twenty-five completely different recommendations.
But what are the things you need to see during your stay? What are the things that are going to make you talk about your trip for years to come?
What are the things that are going to make you want to come back to New York in the future?
1. Central Park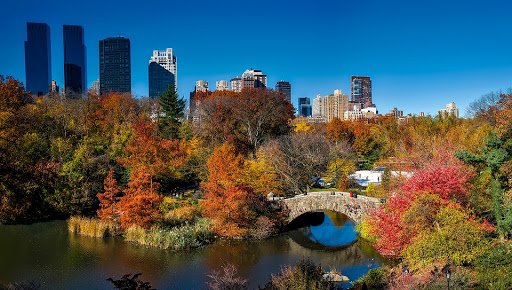 Central Park, New York
Yes, it's a massive cliché and probably full of tourists but Central Park is somewhere you have to experience. It's not like the never-ending greenery of London's parks for example, where you can literally lose yourself and forget where you are. In Central Park, you'll never forget where you are. You can see the iconic skyscrapers surrounding you and you'll always know you're in a man-made park in the city. But somehow it's still a magic place to be.
It's 693 acres in the middle of some of the most expensive real estate in the world for a start. Even if you just stuck to the paths you'd still have 58 miles of them to walk along. It may be man-made but that doesn't stop it from having hills, forests and fields within its borders.
There're 21 playgrounds for the younger ones, as well as a zoo and an ice rink. For the older ones, there're sculptures, fountains, bridges. There's even a castle!
Read More: 10 Unique Street Foods You Must Try While You are in New York
2. The Islands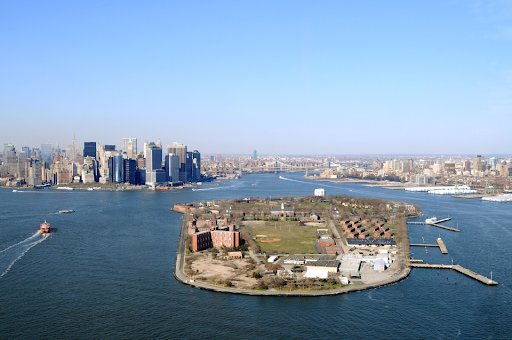 Governor's Islands, New York
New York City is a harbour with many islands that are well worth a visit. The ferry ride alone will give you some fantastic photo opportunities.
Governor's Island wasn't even open to the public for two centuries, but now anyone can visit by simply jumping on a ferry. There are monuments to see and parks to enjoy, but Governor's Island really comes alive during summer festival season. At this time you can enjoy music and dance performances, art exhibitions and even pop up restaurants during food events.
From Governor's Island, you can get a great view of Liberty Island and one of the most iconic sights in the US, let alone New York, that of the Statue of Liberty. However, the only way to truly say you've been in Lady Liberty's presence is to actually visit the island itself.
You can climb up to the pedestal level or even right up to the crown. But be aware, tickets are limited each day and you could find that tickets are sold out months in advance.
To complete your island hopping why not visit Ellis Island? Years ago you would have had no choice if you wanted to enter New York City and become a permanent resident. Nowadays it is home to the National Museum of Immigration and you can actually look up to see whether any of your relatives emigrated to the US in the past and travelled through this port.
If they did, you've got somewhere to potentially go for dinner!
Read More: New York Travel Tips - What to Do See, Costs & Ways to Save
3. Guggenheim Museum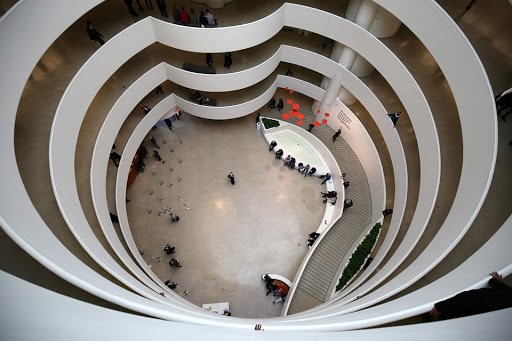 Solomon R. Guggenheim Museum, New York
New York is full of museums. Even if you're limiting your museum search to just art museums you're still faced with an impossible choice.
If you have space for just one museum visit on your itinerary then it has to be the Solomon R. Guggenheim Museum on Fifth Avenue in Manhattan.
For a start the building itself it stunning, a classic piece of architecture from the twentieth century by Frank Lloyd Wright. If you're walking along Fifth Avenue trying to find it, don't worry, you most certainly will not miss it.
Inside the architecture is just as stunning, with a ramped gallery extending into a twisting upward spiral. We haven't even considered the art yet!
Guggenheim began collecting his artwork in the late nineteenth century and today it has grown into one of the world's best. The museum houses works from greats such as Cézanne, Kandinsky, Picasso and many more. Even today it continues to expand and is one of the leading collections of Impressionist, early Modern and Post Impressionist art.
Read More: 27 Cool Museums in New York That You Can't Miss
4. Carnegie Hall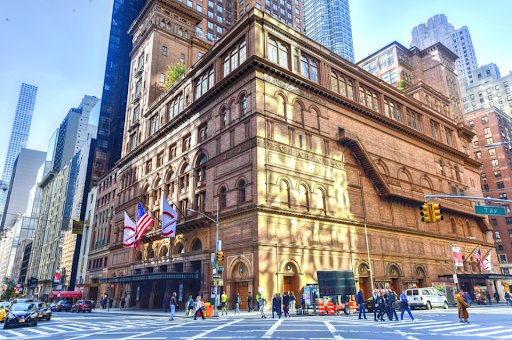 Carnegie Hall, New York
Another iconic landmark that everyone knows the name of, but unlike the Statue of Liberty or Central Park, you probably couldn't conjure up a picture of it in your mind.
It was designed by a well-renowned architect but that's not the draw, nor the memory you will take from this building. If you're lucky enough to be present during a classical or popular music concert then it is the sheer prestige of being in such an iconic venue that you'll take away, as well as the memory of the unparalleled acoustics.
TheSqua.re has short term rentals in New York near to all of these unforgettable locations. Luxury and comfort combined with perfect placement.
---
---
Leave a Reply
Your email address will not be published. Required fields are marked *