Christmas celebrations in the USA
---
If you were to name a country which takes celebrating the holidays to a new level then you'd most likely be thinking of the United States. The US is the poster country for what Christmas is in 2018, the excess, the glitz and the glamour. Against American style celebrations anything European can look a bit low key!
But where are the best places to celebrate the holidays in the US. It's such a vast country that you really have to pick a place for your stay. At least you can come back the next year and have a completely different experience. After all, Christmas Los Angeles style is going to be very different to Christmas Boston Style!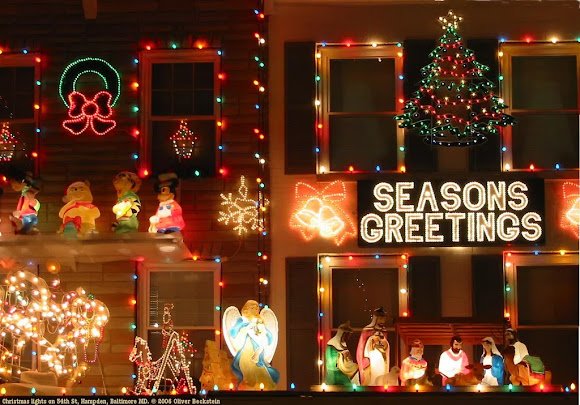 New York City
This has to be the number one choice. If you're not a US citizen the chances are the images you've built up in your head of Christmas in the US are based upon Christmas in New York City. Nowhere does Christmas quite like NYC!
It's a popular place to visit at this time of year so make sure you book your holiday apartments in New York in plenty of time. Furnished apartments NYC style will give you the feeling of a home away from home, an essential feeling in the holiday season.
From there you'll have to choose what you can fit in. The tree at the Rockefeller Centre needs to be top of your list, as do the famous department store window displays.
Central Park is a focal point for the celebrations too and you can go ice skating or take a nighttime carriage ride amongst plenty of other things.
If shopping is your thing then there are plenty of Christmas markets where you can pick up last minute knick-knacks. The must visit one has to be Columbus Circle Holiday Market, but there are equally impressive displays at Grand Central Station and Union Square too.
If you want to see how real New Yorkers celebrate Christmas away from the tourist traps then try heading out to south Brooklyn. The neighbourhood of Dyker Heights sees the residents compete against each other to see just how spectacular their light displays can be!
Chicago
A modern Christmas phenomenon is the obsession with the traditional German Christmas market. Every major city seems to have one, but Chicago has the largest in the US in the Daley Plaza. You can enjoy the traditional bratwurst, goulash and German beer whilst you peruse the cuckoo clocks and wooden nativity scenes at your leisure.
The Magnificent Mile is a must see for any Christmas visit to Chicago. The trees are adorned with thousands of sparkling lights and the effort made on the shop displays is something to behold. If you're lucky you might even get to see a firework display over the Chicago River.
Miami
If you think a traditional Christmas shouldn't have to include hats, scarves, gloves and the feeling like your feet are going to drop off, then the winter sun of Miami will definitely appeal to you.
It has the same celebrations as every other city in the US but it has them accompanied by a rather pleasant 21℃ average temperature.
Santa's Enchanted Forest is hard to miss. It's an amusement park that is completely Christmas themed, decorated with over 3 million fairy lights. Unusually for a forest associated with Santa, it's located in Miami's Tropical Park!
If you find yourself in Miami at the beginning of the holiday season then the lighting of the Christmas tree at Bayfront Park is a popular event. Traditionally taking place the day after Thanksgiving, the lighting up event is accompanied by uplifting Christmas music.
If the heat gets too much for you and you're tired of being able to feel your extremities then the good news is, snow can be found in Miami. The Pembroke Pines Snowfest has 75 tonnes of the stuff, along with rides, musical performances and a visit from Santa and his reindeer.
Santa Claus
Not the Santa Claus but an actual place in the state of Indiana where the real Christmas obsessive can feel at home. Not just during the holiday season either, but 365 days a year!
As you would imagine, during December the place has markets, parades and Christmas events galore. There's a candy castle, constant chestnut roasting and festive film screenings. Slightly off agenda, there's also a water park!
If you feel like one more glass of egg nog is going to send you round the twist, then there is some culture on hand to soak up too. The Santa Claus Museum and village brings a little more decorum to the over-excited proceedings.
---
---
Leave a Reply
Your email address will not be published. Required fields are marked *