Dubai Travel Tips - What to Do, See, Costs & Ways to Save
---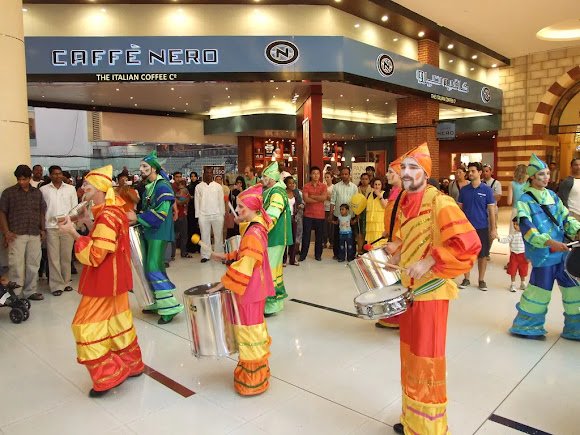 Dubai has emerged as arguably the top tourist destination of the last decade, visited by some 90 million travellers every year. From its humble beginnings as a simple fishing town, the city saw huge amounts of development and investment toward the end of the 20th-century, transforming it into one of the most architecturally stunning cities on earth. The UAE authorities have also made a concerted effort to diversify the country's economy by promoting tourism, which has seen the construction of numerous luxury resorts and modern leisure facilities.
Must-see Landmarks in Dubai
As with any major city, Dubai has certain landmarks and locations that simply must be seen. From its record-breaking skyscrapers to its incredible natural wonders, the UAE city is a paradise for photographers and sightseers, where the ultra-modern meets the ancient world and stunning beaches meet one of the most developed cityscapes in the world. Below is a small selection of must-see landmarks.
Dominating the downtown skyline, the Burj Khalifa is the world's tallest building and a miracle of engineering. Visitors can take the world's fastest elevator to the viewing platform for spectacular views from the 125th floor. Tickets booked online start at around £32 and booking ahead is advised for those hoping to see the desert sunset.
The Dubai Mall is famous across the world for its size and ostentatious features - which include a full-sized aquarium for visitors to gaze through as they shop. Boasting over 1,200 stores and services, the mall caters to everyone from the casual sightseer to the most ardent shopper. Of course, the mall has a huge selection of global brands on offer, but visitors aren't limited to shopping - there's also an ice rink, flight simulator and dinosaur park!
Another iconic landmark is the Dubai Fountain - the largest choreographed fountain in the world and with construction costs of some $128m. Several times a day, the fountain is activated, with its 6,600 lights and 25 colour projectors creating a spectacular show. As such it is one of the most popular photo spots anywhere in the city.
When many people think of Dubai, they will immediately conjure an image in their mind of the famous landscaped beach, formed into the shape of a palm. Of course, Palm Jumeirah is home to some of the most popular resorts in Dubai, but it also has a host of bars and restaurants - making it the perfect place to spend a day out and offering truly incredible views - even at ground level!
Suggested Read: Best Time to Visit Dubai
The Best Things to do in Dubai
Dubai is often viewed as one giant holiday resort, simply because it offers so much to see and do, with the opportunity for fun, adventure or all-out luxury in every corner of the city. With a surprisingly diverse offering of attractions and activities, Dubai really does have something for everyone - from the keen gastronomist to the intrepid explorer. Below are a few of the options when it comes to choosing what to do in Dubai:
Toast the High Life at the Dubai Marina
The Dubai Marina is the heart of the modern city and offers a huge amount to see and do - not least enjoy many of the upmarket cocktail bars, galleries and beach resorts. The area has a lively social scene and is known for the smart cafes and pop-up craft markets that line Dubai Marina Walk. However, Dubai Marina isn't all about socialising, there are also plenty of marine adventures to be had, including speed boat rights, parasailing and jet-skiing.
Explore the Desert
Often overlooked in favour of the glitzy buildings and resorts, the desert surrounding Dubai offers some truly breathtaking vistas, not to mention all manner of adventurous activities. Tour operators in the city offer everything from traditional camel trekking to dune boarding and adventure 4 x 4 experiences. In short, no one can claim to have had the full Dubai experience unless they have ventured into the desert at least once. Combined trips including camel riding and dune boarding can be found for as little as £60 with overnight safaris starting at £170.
Shop the Souks of Al Fahidi
Whilst downtown Dubai is known for its ultra-modern shopping opportunities, those who don't venture to some of the more traditional shopping locations could be missing out. Al Fahidi is the place to go to experience the historic heart of Dubai. Filled with souks and old-world architecture, Al Fahidi offers a fantastic opportunity to see a way of life that has remained unchanged for centuries, as well as to engage in a little bartering. Expect to find everything from hand made clothing and soft furnishings to multi-coloured spices and cooking ingredients.
Enjoy a Meal at a World-Class Restaurant
Dubai is a paradise for food lovers, with millions of tourists visiting the city simply to enjoy its incredible restaurants. Dubai has a particularly rich offering of fine dining establishments, with Trèsind Dubai, STAY by Yannick Alléno, Teatro and Eauzone being known across the world for their diverse menus. The city is also known for its food festivals, ranging from coffee brewing competitions to celebrations of world cuisine. More adventurous diners can also try some of the excellent street food on offer, with Al Mallah, Ortego's Grill, Firas Sweets, and the Pars Iranian Kitchen being amongst the most reputable establishments.
Extreme Sports in the City
Unlikely as it may seem, Dubai has etched out a reputation as a hub for extreme sports enthusiasts. Whilst most people will probably want to avoid the daredevil base jumping that is often seen on TV, there plenty of more sensible options. Perhaps most surprisingly, Dubai - a desert city with temperatures reaching 40 degrees - offers visitors the chance to try their hand at snowboarding at the Ski Dubai resort. Prices start at around £45 for a two-hour session or £70 for a full day pass.
Dubai on a Budget
City trips can vary hugely in costs depending on the individual traveller(s). Dubai is not known as an overly expensive city (although it dies like gold), but with so much to see and do, it can be difficult to budget without adequate planning. Whilst Dubai can hardly be described as a city that encourages frugality, there are ways and means of keeping costs down - especially for first-time visitors. Of course, no one wants to miss out on any of the sights - and it is a fact that many charge an entry fee, however, there are often concessions to be had and costs can be offset by finding free things to do across the city. What follows is a list of suggestions for exploring Dubai on a budget.
Also Read: Top 10 Romantic Restaurants in Dubai
Accommodation
Accommodation is almost invariably the biggest cost on any trip. Whilst it can be tempting to book into one of the super-luxurious suites or resorts available in Dubai, money-conscious travellers should know that even the more modest accommodation in the city is of a very high standard. Serviced apartments and short-term lets, for example, are often a much more cost-effective means of finding a place to stay and many properties rival upmarket hotels with their stylish interiors and range of mod-cons.
Visit the Mall - Without Shopping
Dubai Mall is without a doubt one of the world's top shopping destinations, however there is also plenty to do without spending any money. For example, the aquarium is part of the mall and accessible for free, as is the famous dino-display. There are also some fascinating displays and sculptures to view, such as the human waterfall or the hydraulic catwalk at Fashion Avenue.
Spend a Day at the Beach
Dubai has some stunning free beaches and there are plenty of shallows to do some paddling in the warm waters. Several of the beaches often hold events throughout the year and there's always the chance of catching an impromptu music performance or acrobatic performance.
Visit One of the Free Museums
Dubai has several small museums offering free entry and a fascinating afternoon out. Perhaps most notorious is the Camel Museum, which, as the name suggests, is dedicated to the Camel and its importance to Arab culture and industry throughout the centuries. There's also the world-famous Coffee Museum, housed in an Al Fahidi a villa, the Coffee Museum Dubai tells the history of coffee through a collection of artefacts dating back centuries.
The activities and attractions outlined above offer just an idea of what's on offer in Dubai. Many first-time visitors find themselves simply overwhelmed and the best-laid plans are swept aside as they are lured by the endless things to see and do in the city. However, having an idea of the major landmarks will hopefully serve as a rough guide and help the would-be traveller build an idea of what they would like to see first.
---
---
Leave a Reply
Your email address will not be published. Required fields are marked *