From Famished to Full – Exploring the Best Street Food in Mumbai
The culinary culture of Mumbai goes beyond the fine-dining scene and explores the streets for its lip-smacking delicacies. The list of exciting and mouth-watering flavours found on the Mumbai streets is long. We at thesqua.re, have summarized the list for you and bring to you some of the best street foods in Mumbai!
Here Are Top 7 Street Foods In Mumbai (India), You Must Try:
1. Vada Pav
A very Indian version of a vegetarian burger; 'Vada Pav' is a fluffy bun packed with a fritter-stuffed mashed potato patty. Served with garnishes, chilies, garlic powder, and sweet & spicy chutneys- this grab-and-go snack is a delectable must-have for your Mumbai experience.
Easy to find, several vendors sell a variety of options of the same. Our advice, go for the original version!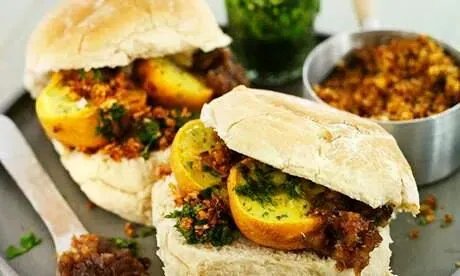 Vada Pav in Mumbai
2. Pav Bhaji
An assortment of vegetables brought together with spices on a griddle, this aromatic curry (bhaji) is a palate pleaser. Eaten with bread (Pav), this buttery delight is served with chopped onions and a squeeze of lemon juice.
Dunk your bread in the goodness of the thick curry and you can thank us later. Pav bhaji can be found on any street in Mumbai, but try finding a stall on Juhu beach, serving the same.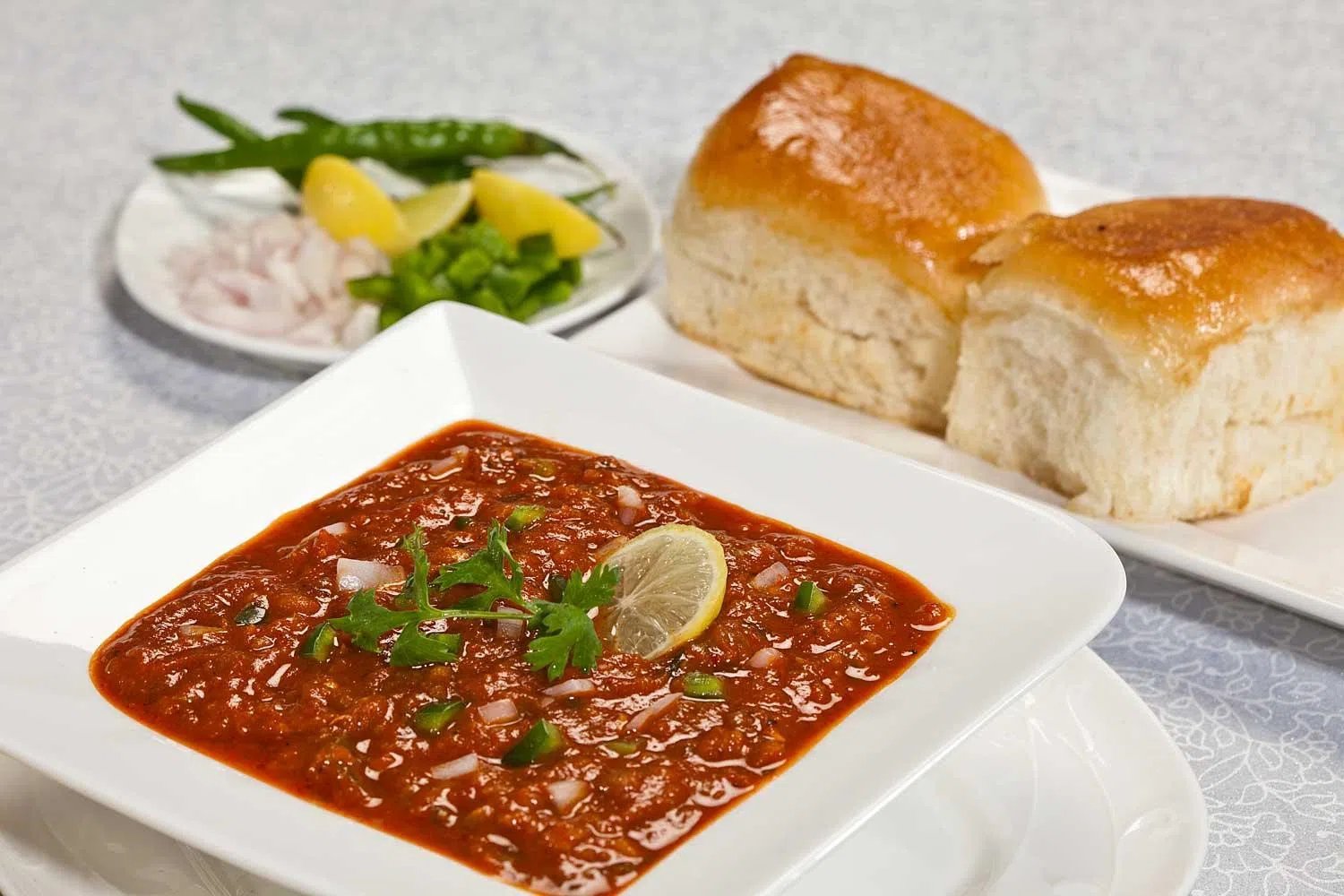 Pav Bhaji in Mumbai
3. Paani Puri
One needs skills and a perfect-timing to eat this genius of a dish, that brings together crisp spheres with flavoured-water, that can get it squelchy within seconds!
An absolute knockout, this street-food dish from Mumbai is a one-bite wonder stuffed with boiled potatoes, chickpeas, chutney (more or less on request) and spicy water.
A party for your palette, this flavoursome street favourite can be found anywhere in Mumbai, but head towards Bandra for your first taste, or a stall in Chowpatty.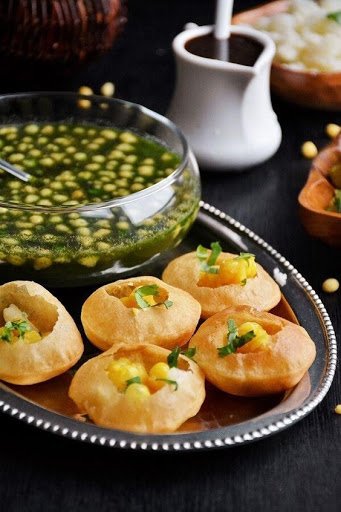 Paani Puri in Mumbai
4. Bhel Puri
A 'chaat' made of puffed-rice crisps, thrown in with chopped vegetables and tamarind sauce, this homegrown street favourite is garnished with fried 'sev' (a dry-savoury) and fresh parsley.
The piled-up goodness is a must-have in Mumbai. Easily found on the beaches in Mumbai, bhel-puri is a common all-day snack.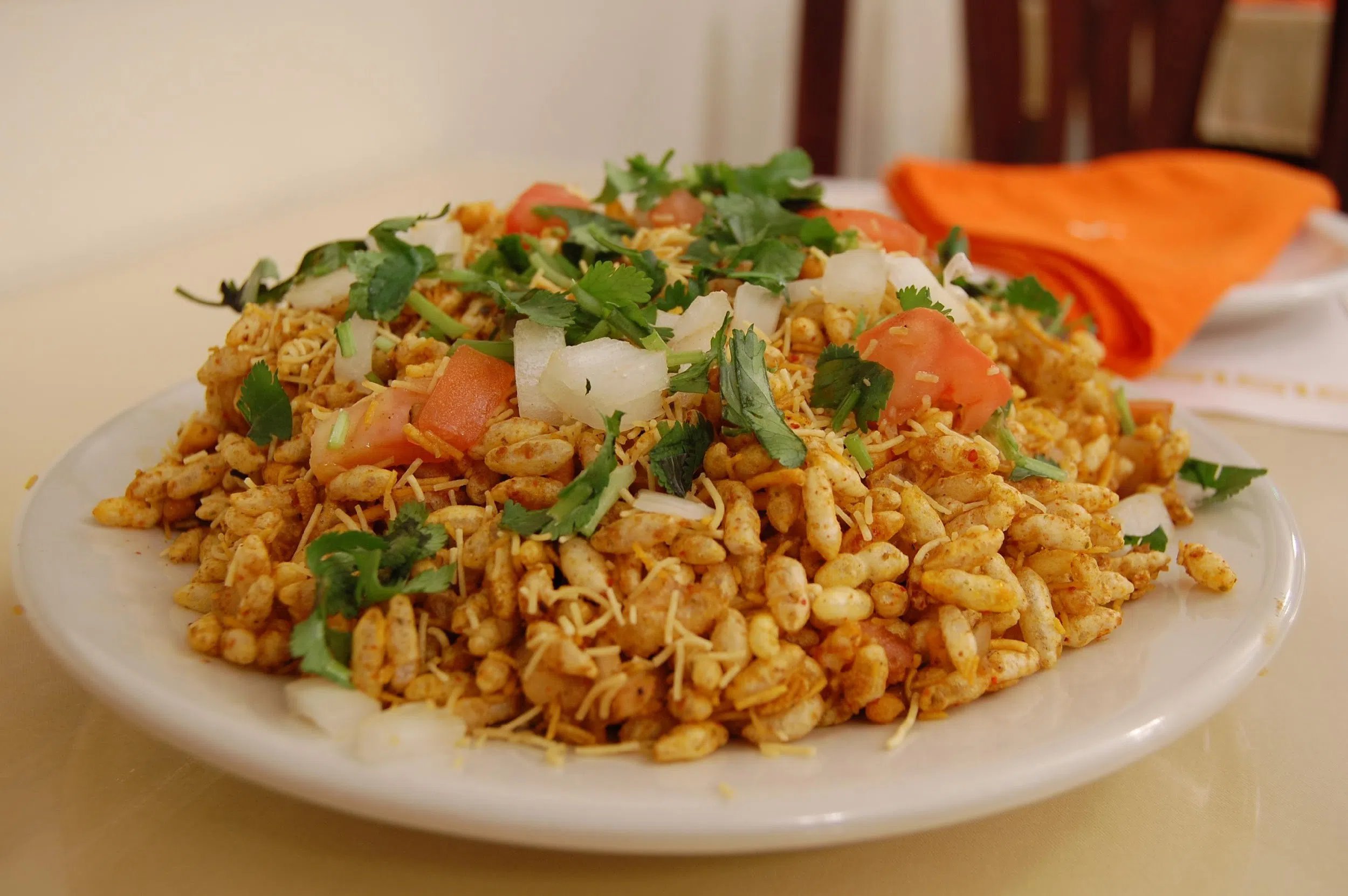 Bhel Puri in Mumbai
5. Keema Pav
The minced-mutton mixed with spices (masalas) and served with 'pav' bread is another prevalent dish on the Mumbai street menu. The sides of onions, lemon and pickle make this non-vegetarian delight a crowd favorite!
Olympia coffee house is a known name for serving the best keema pav in Mumbai. Served both in or with the bread, this relished street-dish is an experience for your taste buds.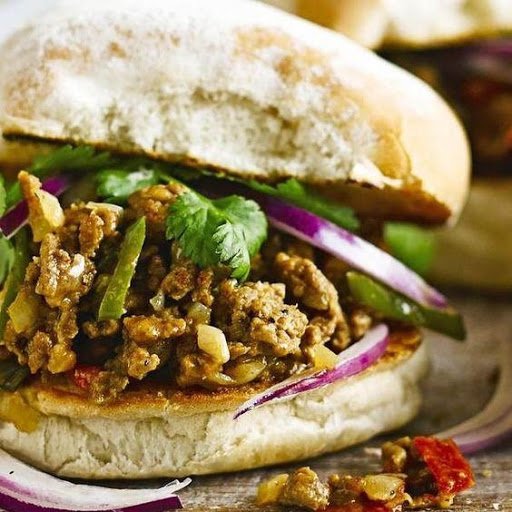 Keema Pav in Mumbai
6. Naan Chaap
The fragrant Indian carnivore burger, 'Naan chaap' is a meat-filled delight with a soft naan exterior, ready to sink in your teeth. The succulent meat (mutton) is cooked to perfection in a slow pressure-cooker with spices, sprinkled with chopped mint & coriander leaves, and stuffed in a soft naan bread. A treat for your tongue, this street-food pick is a scrumptious grab-and-go choice.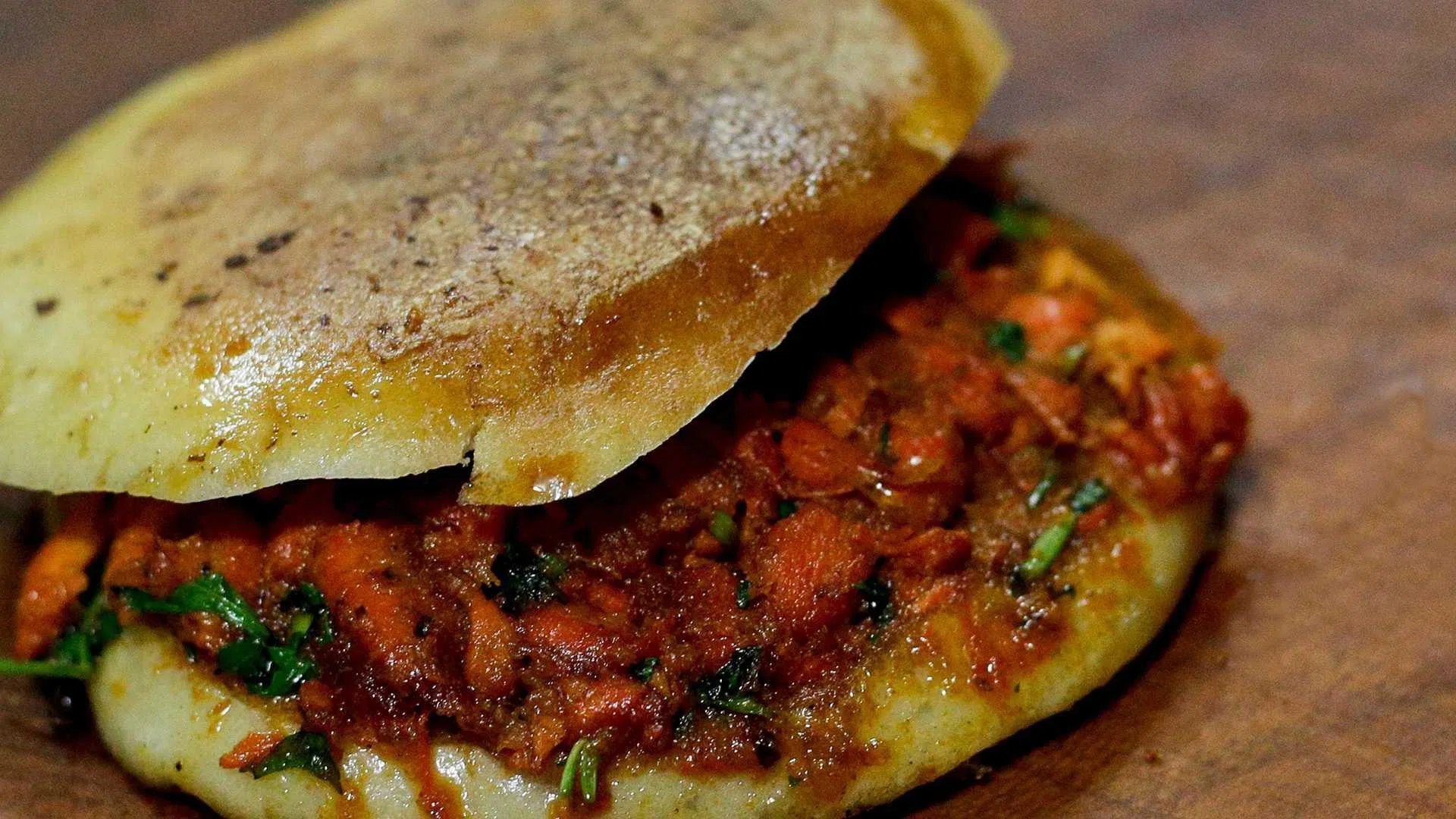 Naan Chap in Mumbai
7. Baida (Egg) Roti
An appetizing parcel filled with scrambled eggs and minced meat, this stuffed parantha (crepe) is fried on a flat pan called tawa.
The street-side snack packs in the warmth of an understanding of flavours that blend in together for a mouth-melting treat. As simple as it sounds, the complex flavours of this small package is an experience one cannot afford to miss.

Baida Egg Roti in Mumbai
We would like to conclude by saying, Mumbai is a city that loves to eat! A walk through the streets here will help you discover a never-ending list of options for foods to try.
Luxury vacation rentals in Mumbai can place you anywhere within the radius of delicious food joints. Thesqua.re's list is just a beginner's guide for your palette. Care for some more?
---
---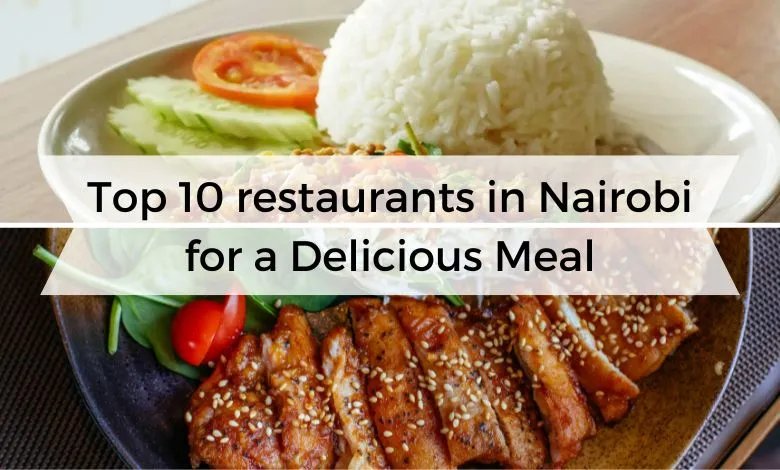 Top 10 Restaurants in Nairobi for a Delicious Meal
Abhishek Kapoor
05 Sep 2023
Nairobi, sometimes known as the "Green City in the Sun," is a thriving metropolis in East Africa's center. Its vibrant environment and globally diverse population provide a distinctive fusion of cultures, culminating in a melting pot of culinary influences tha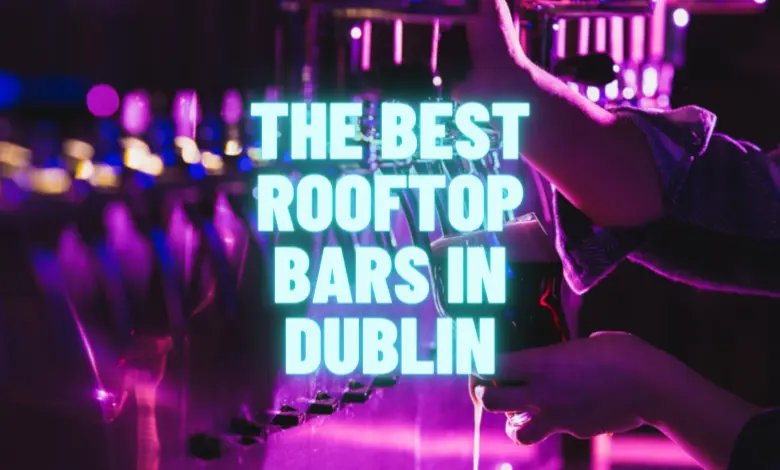 The Best Rooftop Bars in Dublin
Mugdha Kilnake
01 Sep 2023
Dublin is an exciting city, where the excitement extends beyond the streets and reaches new heights. In this blog post, we will unveil the city's hidden gems and discover the best rooftop bars in Dublin. Imagine sipping on handcrafted cocktails, surrounded by
Top 8 Dog-Friendly Restaurants in Copenhagen
Mugdha Kilnake
04 Aug 2023
Dogs in Copenhagen are more than simply pets; they are part of the family. As a result, there are many venues where dogs are accepted, including restaurants that welcome our four-legged companions. If you are travelling with your dog and wish to enjoy wonderfu