Hello Hong Kong Tourism Campaign- 500K Free Air Tickets
Hong Kong has always been one of the world's biggest and most popular global tourism destinations. Visiting Hong Kong at the moment could be a great decision for travellers, with a new Hello Hong Kong tourism campaign launched by the city.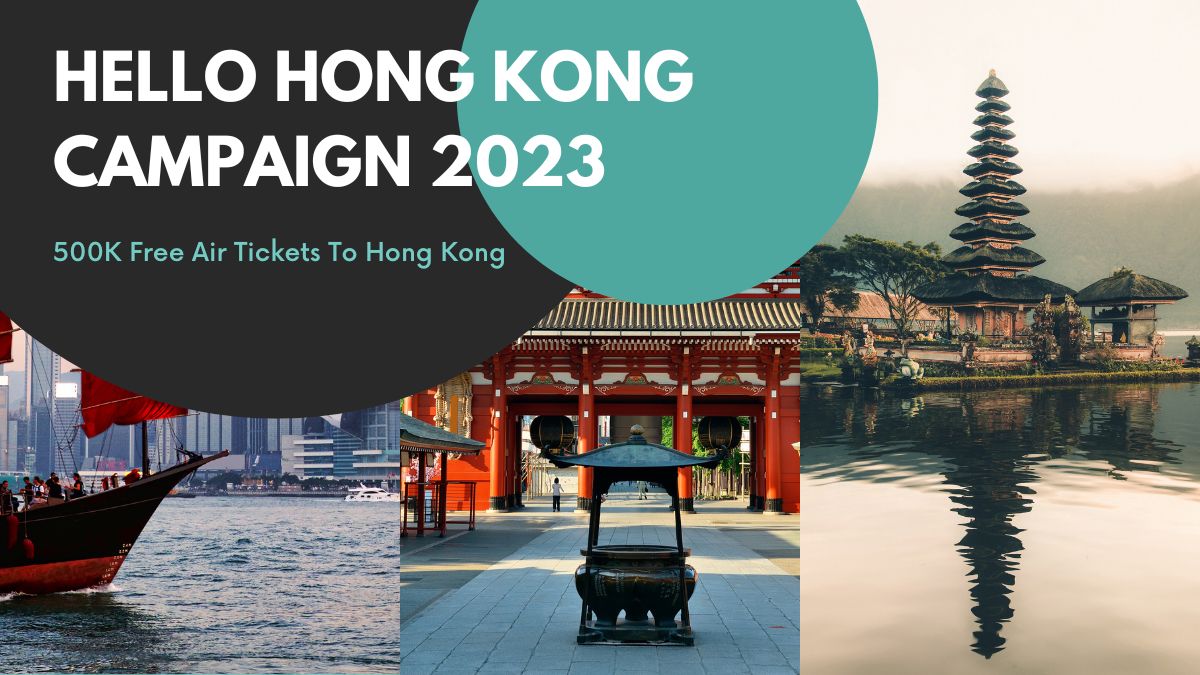 What is the Hello Hong Kong Campaign all about?
Chief Executive John Lee has unveiled this special tourism campaign, promising 500K free air tickets to tourists worldwide. Hong Kong will be giving away these vouchers and air tickets for drawing global tourists back in sizable numbers.
Throughout the previous pandemic, Hong Kong adhered to the zero-COVID blueprint of the Chinese Government. However, the relaxations in entry regulations come after several months as compared to other tourism rivals like Taiwan, Singapore, and Japan. The border with mainland China was also reopened in January, although the tourism sector is yet to kick into recovery mode.
This explains this campaign which John Lee illustrates as probably the world's biggest welcome ever! He has confirmed zero quarantine or isolation and the full connectivity of Hong Kong to the world and mainland China.
More Details About the Hong Kong Free Air tickets and other Offers
A majority of air tickets (estimated at $255 million or 2 billion Hong Kong dollars) will be derived from three airlines based in Hong Kong via promotional activities such as games, buy one, get one free scheme, and lucky draws. The mega campaign will start in March and cover six months according to the Airport Authority CEO, Fred Lam. The city is hopeful that people getting these air tickets will bring along at least two or more family members and relatives with them on their trips. With 5 lakh free air tickets, the city is also hopeful of garnering close to 1.5 million visitors in total.
The airlines will be distributing their tickets in multiple phases, with the first phase benefiting markets in Southeast Asia hugely. 80,000 more air tickets will be offered to residents of Hong Kong in the summer as well. Residents in the Greater Bay Area will have benefits from 700,000 air tickets offered as a part of the policy. This is a Chinese Government initiative for connecting Hong Kong to Foshan, Dongguan, and Shenzen among other mainland cities. Visitors will also receive special vouchers, offers, and other incentives according to the authorities. There will be a million vouchers with values of HKD100 for discounts on transportation, food, beverages, retail, hotels, and other attractions. They will be available at tourist inquiry counters across four border checkpoints from 5 PM on 2nd February.
The city will also organize 250+ festivals and events across 2023, including the Clockenflap music festival, Hong Kong Marathon, Hong Kong Rugby Sevens, and Art Basel. With Hong Kong getting a whopping 56 million visitors in 2019 before the pandemic, the city is now on a mission to bring back tourist inflows which came down massively in the aftermath of the pandemic.
What are the Entry Requirements for Hong Kong Now?
Hong Kong no longer has stringent regulations for entry. Visitors who test negative for COVID-19 do not have to undergo self-isolation upon arrival in Hong Kong. Inbound tourists may have to go through rapid antigen testing when they arrive and on the fifth day of the visit. Those testing positive will require self-isolation at their accommodation/hotel for another five days. Vaccination proof is necessary for people over the age of 12. Hong Kong residents without full vaccination can still enter the country. Non-residents who have visited areas outside Taiwan, Macao, and mainland China without full vaccination over the last seven days will not be able to enter Hong Kong.
Planning a Hong Kong Trip
With these free air tickets and other special vouchers on offer, now is the best time to plan a Hong Kong trip. You should first arrange for transportation and strategically book your flight tickets accordingly. At the same time, make sure that you arrange for proper accommodation in the city. You will find luxury serviced apartments in Hong Kong that are ideal for both short and long-term stays.
You will enjoy more privacy, convenience, comfort, and flexibility with these apartments. They come fully furnished and with all the amenities and appliances that you require on a daily basis. They are also well connected to several business hubs and tourist landmarks in Hong Kong. The best part is that you can live in them like a second home itself, with all services at hand. You do not have to bother about maintenance, deposits, and other paperwork too. Also, check out major festivals at the time of your visit and book your tickets, along with securing passes to popular tourist attractions in the city as well. Here's to a wonderful Hong Kong trip!
---
---
The 8 Best Los Angeles Neighborhoods for a Short Term Stay
Elliott Troop
22 February 2023
Los Angeles is one of the most thriving and vibrant cities in the United States. There are literally unlimited things to see and do in the city. Being home to a flourishing business circuit and numerous tourist landmarks, it draws travelers in large numbers an
Top 10 Must See Attractions in Toronto
thesqua.re
20 November 2021
Toronto, Ontario There are several must see places in Toronto that you should not miss on your trip. Toronto is the capital of Ontario and the biggest Canadian city, encompassing everything from globally acclaimed museums and art galleries to the CN Tower and
Best London Vegetarian Restaurants - Top 21
Mike Stapley
22 October 2021
There are innumerable options available if you are seeking the best London vegetarian restaurants. Vegetarians were seriously deprived of quality options earlier in London although the restaurant scene has transformed like never before. Several popular joints