New York: Business Attractions Beyond Wall Street
---
For a number of very good reasons New York City finds itself as one of the number one destinations for business travel in the world.
If you come to New York for pleasure you've probably set yourself a jam packed schedule to allow yourself the opportunity to see all that you want to in a short space of time. If you're travelling on business you've probably already got a jam packed work schedule and are wondering how to squeeze in the fun bits and the must sees?
After all, what's the point in going all the way to this fabulous city if you're not going to see past Wall Street?
The great thing about New York City is that it's huge and full of things to see or do. You're probably not going to have time to take a ferry over to Liberty Island to check out the famous statue. You're probably not going to have time to go up the Empire State Building and have a look at the view.
There are however many other less time consuming things you can do to at least show everyone you escaped Wall Streets on your business trip!
First things first. Rent serviced apartments which are in the heart of the action. A corporate accommodation provider such as TheSqua.re has furnished apartments across New York City which are not only conveniently placed, they also offer a level of comfort way above a simple hotel room.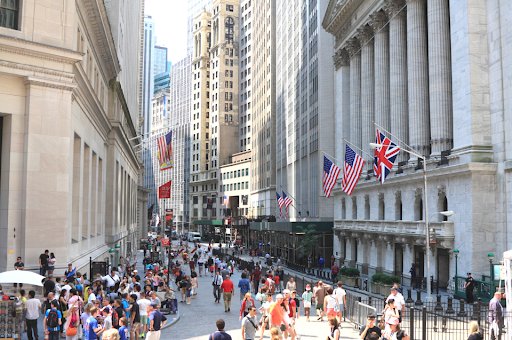 Wall Street in New York City
Listed below are some of the places and things which you can do in New York:
1. Top of the Rock View
Whichever city you go to in the world you have to take in the view. We've suggested this over the Empire State Building simply because of the wasted queuing time you'll find at the latter. The Top of the Rock allows you to book a specific time in your busy schedule. It even has a great view of the Empire State Building.
2. Walk the Highline
A fantastic way to escape the hustle and bustle that New York takes to a new level. This is a 1.45 mile elevated park which has been built in the place vacated by a disused part of the city railway. As well as being a scenic space it also plays host to a number of festivals and events throughout the year.
You don't even need to use it as a place to get away from business either. What's to stop you having a walking and talking meeting out in the open air?
Read More: Why London & New York Are The Most Popular Business Travel Destinations
3. Grab Lunch
A great way to escape the financial district is to suggest a lunch at one of the city's top restaurants and bars. It's hard to pick a few, but here goes.
Bāng Bar - Above the shopping centre in Columbus Circle this lunch spot specialises in globally flavoured spit roasted meat. It's also fantastically reasonable value.

Little Tong Noodle Shop - With only 16 seats you best be quick to get to this renowned home cooked noodle restaurant, situated in Midtown East.

Kish-Kash - Ever been to a restaurant that boasts a specialisation in couscous? That's exactly what Kish-Kash does, thankfully mixing it up with dishes such as slow cooked lamb and chicken. This is a great venue for a quick lunch.
4. Visit the Times Square Billboards
You've spent so much time working you're bound to want to see a place where practically everyone is playing!
This is one of the busiest parts of the whole city, crowds of people throng here almost 24 hours a day. It's crowded, it's loud and it's bright, with the famous digital billboard displays constantly flashing as a back drop.
It's a place that most locals avoid, but as a visitor it's well worth a glance at least.
Read More: 5 Things for Business Travellers to Do in New York
5. Walk Across a Bridge
A great way to spend your lunch hour getting some fresh air and a nice view. If you're lucky enough to be working near the East River then the Brooklyn Bridge should be your first choice. It's the most visually stunning bridge in the city and it also offers some pretty good views of Lower Manhattan.
If it's not close by then try the Williamsburg Bridge as an alternative. It will give you a much quieter walk that the Brooklyn Bridge and is in between two of New York's trendiest neighbourhoods, Williamsburg and the Lower East Side.
6. Take a Break in Central Park
An oasis in the middle of the city, this is a great place to exercise, relax, or just to lie back and get a good view of the sky for once. Avoid the southern part if you want a bit more solitude but generally you can find a quiet place without too much trouble.
---
---
Leave a Reply
Your email address will not be published. Required fields are marked *