Things to do for Free in London
---
Have you heard the myth about London being a wallet-destroying city? Well, if you are looking forward to a trip down to London without hurting your pocket, there are a plethora of options that you can check out.
While, it is true that London city is one of the most expensive ones in the world, but there are several things to do for free in London. From world class museums to beautiful parks, busy markets, auspicious churches, and phenomenal tourist destinations, there are plenty of attractions for visitors to London.
Best Free Activities in London
A Tour to the National Gallery
The National Gallery of London is on the shelf of the world's most impressive art collections like 'The Sunflowers' or 'A Young Woman standing at a Virginal', from some of the famous painters like Van Gogh, Leonardo Da Vinci, Michelangelo, and Renoir. More than 6 million visitors around the world visit the National Gallery every year.
Tate Modern and London's Scenic Beauty
Tate Modern is located on the southern bank of the River Thames and is one of the most attractive tourist destinations in the city. From the 10th-floor viewing deck of the Blavatnik Building, one can enjoy the wonderful panoramic views of the river Thames. It has a beautiful collection of masterpieces by Pollock, Matisse, Picasso, and Warhol.
Hyde Park for Fun Rides and History Alike
Hyde Park is one of the largest parks of London, which is also a part of the Royal parks of the city. The Great Exhibition of 1851 was celebrated here, and a crystal palace was built. Several years back, it used to be the hunting grounds of King Henry VIII. People flock to this part of the city to enjoy the Serpentine and Long Water, pay honour to Lady Diana, and spend time at the Speaker's Corner.
Several concerts are arranged in Hyde Park during the summers. And, the place turns out to be 'Winter Wonderland' with the availability of fun rides.
Stroll Along the Banks of the River Thames
Strolling along the bank of the longest river in England, which ranks second in the United Kingdom, keeps you away from the hustle and bustle of life. Believer starts from Gloucestershire and meets the North Sea at Thames Estuary. This area is surrounded by iconic buildings and monuments.
If you take a cruise or stroll around the river, you will reach the Palace of Westminster that has Big Ben, the largest four-faced clock in the world, besides the houses of parliament.
Visit the Victoria and Albert Museum.
It is the world's best decorative art museum, containing over 4.5 million incredible items. The Victoria and Albert museum has been open since 1852. The first floor of the museum is based on Asian items like Japanese swords, and ancient Chinese ceramics, along with a part of unique European art.
Pray at St Paul's Cathedral
You need to purchase a ticket at a very reasonable price to visit St Paul's cathedral. The George is located on the western flank of Covent Garden piazza or Actor's church. In 1662, the first Punch and Judy show was organized here. One can also find the Charlie Chaplin memorial and Vivian Leigh memorials here.
Pay Respects at the Highgate Cemetery
Wandering from one place to another is the fun part of a London trip, but for a bibliophile, visiting Highgate Cemetery and paying homage to some prominent personnel is recommended. This Cemetery is situated in North London and approximately 50,000 graves are resting in peace. These include Karl Marx, George Elliott, Catherine Dickens, Gibbons, Michael Faraday, are a few among many others.
Free Lectures at London School of Economics
Located at Houghton Street, the London School of Economics offers a free public lecture on various topics. One can check out the topics on their official website and the scheduled time for the lecture.
Historic Attractions at Natural History Museum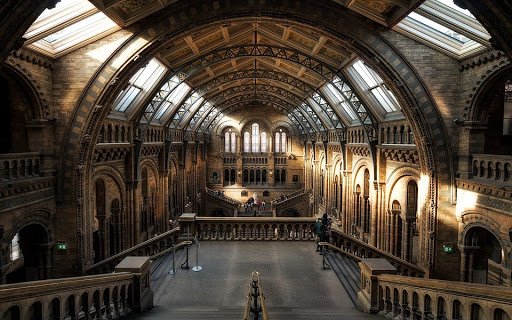 Natural History Museum has a great collection of antique items that range around 80 million in the catalogue. There is an enormous blue whale skeleton kept in the centre of the main hall, and a visit to the wildlife garden is a must.
Get Fabulous Views from Greenwich Park
If you reach the top of a hill at the centre of Greenwich Park, you can get a spectacular view of the entire city, along with the skyscrapers of Canary wharf, and the 17th century Queen's House behind it. If you are looking for a perfect picnic spot on a summer day, then yes, you are at the right place.
Spend a Day at the British Museum
One of London's top attractions which are free to visit is the British Museum. There are around 80,000 objects on display and the museum possesses more than eight million objects. These are collected from all over the world, starting from Egyptian mummies to samurai armour, and several other enthralling artefacts.
A Short Trip to the Houses of Parliament
The house of parliament is a non-gothic wonder that was built in the mid-19th century. It is popular for the world-famous clock Big Ben, which is officially known as the Queen Elizabeth tower. If the tours to this wonder are suspended for certain reasons, you can have a virtual tour, but don't miss out on this masterpiece.
Window Shopping at Portobello Road Market
Portobello Road Market is a one-stop destination for vintage clothes to antique home decors. If you are a vintage lover you can pay a visit to this market located at Notting Hill. Not necessary that you always need to make a purchase; you can just go window shopping and enjoy the atmospheric and energetic Market of London.
Enjoy the Street Performers at Covent Garden
It is the best place for street performers to entertain large crowds. Usually, you can find them performing at the West end of the plaza. From human statues to magicians, musicians, dancers, and comedians, you can find some of the greatest talents on the streets. These are free of cost but you can donate money to encourage their performance.
Enjoy the Charm of London from Parliament Hill
If you climb up on the top of Parliament Hill in Hampstead Heath, then you will get an incredible view of the entire city. You can stroll through the longitude Zero or the Meridian Line in Greenwich Park. Also, one can visit several play parks and the National Maritime Museum in a nearby location. It's a great destination for summer picnics.
Visit Harry Potter Platform 9 ¾
A Harry Potter lover cannot miss out on this wonderful destination. You can take photos with Hogwarts house scarves, or push a trolley through the wall. A professional photoshoot can be costly, but you are allowed to take photographs here. Additionally, there is a shop that sells gifts related to the Harry Potter series.
Enjoy Multiple Shows, Carnivals and Parades in London
London Streets showcases some of the best annual parades and carnivals. Few among them are the London parade, London Pride, and Notting Hill Carnival.
The London parade is organized on New Year's Day; more than 10,000 performers entertain large crowds. London Pride is the annual celebration of the LGBT community, and Notting Hill Carnival is the biggest street festival in Europe that celebrates the multicultural heritage of London.
Enjoy Free Skating at Undercroft SkatePark
One of the iconic free skating places in London is the undercroft skatepark. It is located at the Southbank, a space designed with graffiti under Queen Elizabeth Hall. It has been carrying with London's skate culture since the 70s. There are a few other options including parks like Victoria Park in East London provides free skating.
Enjoy Political Debates at the House of Commons and House of Lords
Whenever the House of Lords and House of Commons walk inside the Palace of Westminster, common men get an opportunity to enter the building free of cost and sit in galleries to enjoy political debates. This important building is open to visitors.
Enjoy A Music Show at Wilton's
This is the oldest Grand Music Hall in the world that is surviving. Since 1850 music shows have been organized at this place and today's musical, and comedy shows are hosted for free to the public.
Take Your Kids to Crystal Palace Dinosaurs
The Crystal Palace Dinosaurs is located inside Crystal Palace Park and has a collection of over 30 dinosaur statues. It has been listed as a grade-I monument by English heritage. All the statues are designed by Benjamin Waterhouse Hawkins, and the dinosaurs look lively and fantastical. It is worth visiting if your kids have recently completed the Jurassic park series.
Watch a Comedy Show at the Angel Comedy Club
If you are near Angel Underground Station, then you must know where the angel comedy club is. It is located on the top floor of a pub. Well-known comedians perform their act every Saturday, and tickets are available for free depending on a first come first serve basis on that day.
Watch Wildlife Movies at University College London's Grant Museum's Zoology
This centre is free to visit throughout the year, and they stage movies related to wildlife for the visitors. Also, in the end, they offer you a glass of wine to enjoy.
Enjoy Watching Stars in Hampstead
If you love watching stars, then pay a visit to Hampstead scientific society. It opens an observatory to the public, from September to April, every year. To know about the stargazing dates, you can look into their website. Besides these, visitors are given information on several telescopes, their range to view celestial objects, knowledge about meteor showers, and eclipses, etc.
Enjoy the Street Arts of London
There's no better place than East London if you want to experience street art. Several renowned artists put up their impressive artworks on the walls of the city. It is free of cost and is a wonderful experience for all, especially young artists.
There are several other fun activities that you can perform in London, even when your budget is low. Now that you have got a brief description of things you can do for free, check out and book studio apartments in London for a safe and home-like staycation.
---
---
Leave a Reply
Your email address will not be published. Required fields are marked *