Top 10 Must See Attractions in Toronto
Toronto, Ontario
There are several must see places in Toronto that you should not miss on your trip. Toronto is the capital of Ontario and the biggest Canadian city, encompassing everything from globally acclaimed museums and art galleries to the CN Tower and many other landmarks. The best part? The renowned Niagara Falls is only a quick drive away!
While the list of best places to visit in Toronto is vast, there are plenty of fun things to do like catching up on the latest performances and musicals at the Entertainment District, heading down to the iconic Distillery District and also checking out the wonderfully restored buildings and their bevy of restaurants and stores. The city centre in Toronto is readily navigable with most top landmarks within short strolls from each other. The subway network also helps greatly in covering bigger distances. You can also check out the sizable PATH network that has underground and interconnected walkways leading to major entertainment and shopping destinations.
Here are the top 10 must see attractions in Toronto:
1. CN Tower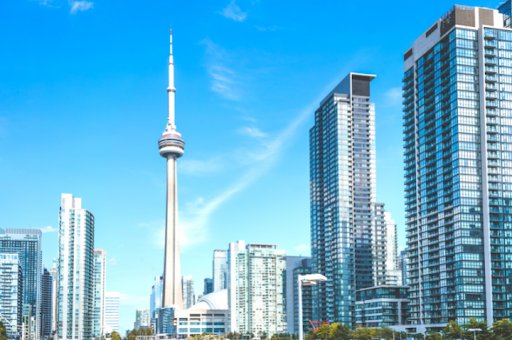 CN Tower, Toronto
The CN Tower is one of the best places to visit in Toronto. The tower goes up to 553 metres and is one of the must-see landmarks in the city. It can be seen from almost every vantage point in Toronto. You can go up to the restaurants or observation decks for getting amazing views of Lake Ontario and the city alike. The tower came up between 1972 and 1976 and was once the world's tallest freestanding building. The highest viewing station is at 447 metres at the Sky Pod and the views may extend till New York State and the Niagara Falls on clear and sunny days. You have to take two elevators to reach this viewing point. Just below this observation point, at the head of the central elevator, you will find the LookOut level which stands tall at 346 metres and its floor-to-ceiling windows are major draws for visitors. There is also the brand new Glass Floor which is positioned above the original and authentic Glass Floor which is just a level beneath the same. It also has the Outdoor Sky Terrace encompassed within it, offering a downward and sweeping view of Toronto. If you are looking for a little more fun and adventure, you should try the Edge Walk. This will have you walking hands-free on a ledge that is 1.5 metres wide, right around the external edge of the central pod, at 365 metres high. All participants will be linked to ropes and safety harnesses. The CN Tower also has the fabulously designed 360 revolving restaurant. It offers a tastefully curated fine-dining menu and some of the best city views alongside. It opens for both dinner and lunch and those eating here will get access to the Glass Floor and LookOut levels on a complimentary basis. This tower promises to be a magnificent attraction for visitors to Toronto.
2. Royal Ontario Museum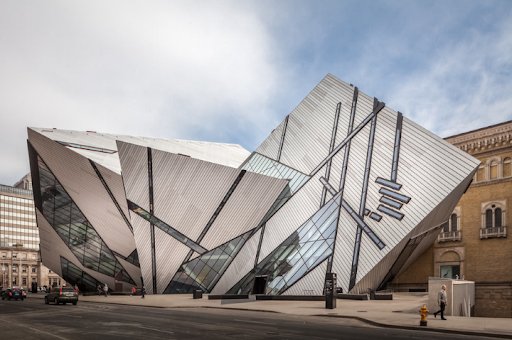 Royal Ontario Museum, Toronto (image courtesy: flickr.com)
The ROM or Royal Ontario Museum is one of the best museums in Canada. It has a stellar reputation worldwide for offering some of the most fascinating collections that cover areas like culture, art, natural history and a lot more. There are several historical time periods covered by this museum and it is known for featuring exhibitions covering several parts of the world as well. The museum was expanded in the year 2007 and the Michael Lee-Chin Crystal was added as a contemporary wing that had sharp angles and glass while being added onto a traditional and older structure. It is one of the most photographed Toronto buildings.
3. Ripley's Aquarium of Canada
Ripley's Aquarium of Canada, Toronto (image courtesy: pinterest.com)
Ripley's Aquarium of Canada lies near the foot of the famed CN Tower. The amazing facility showcases various types of marine life and is one of the most popular attractions for families in the city. The massive underwater tunnel is a stand-out feature with its moving sidewalk. You can watch the mesmerizing ocean ecosystem all around including sawfish and sharks as well! This is one of the best experiences for any visitor in Toronto.
4. Entertainment District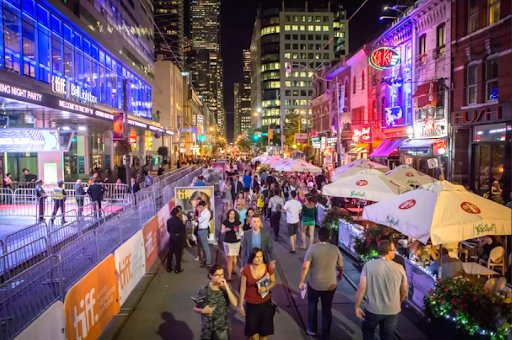 Entertainment District, Toronto (image courtesy: blogto.com)
The Entertainment District is one of the most famous areas in Toronto and has several key attractions like Scotiabank Arena, CN Tower, Rogers Centre and several other leading museums. It is known for offering the best dining and nightlife experiences along with the latest performances and shows. A large part of the excitement can be witnessed in and around the stretch between University Avenue and Spadina Avenue, known as King Street.
5. AGO (Art Gallery of Ontario)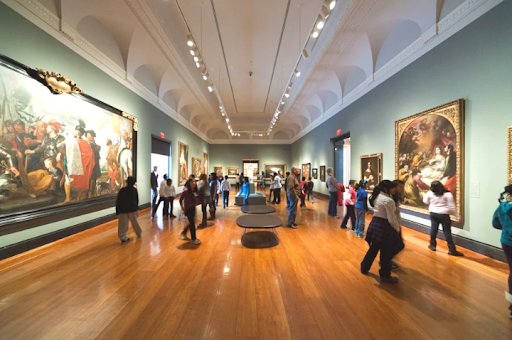 Art Gallery of Ontario, Toronto (image courtesy: todocanada.ca)
The Art Gallery of Ontario (AGO) is one of the biggest North American museums ever. The collection encompasses 95,000+ pieces and has works from around the entire world, right from masterpieces in Europe to modern artistic marvels along with Canadian artworks by masters like the Group of Seven for instance. Several temporary exhibitions are organized round the year.
6. Toronto Zoo
Toronto Zoo (image courtesy: toronto.com)
The Toronto Zoo is known for its vast and diverse collection which includes more than 5,000 animals. Some of the top draws include lions, pygmy hippos, orangutans, giraffes, penguins and a lot more. The zoo is sub-divided into multiple segments and each one is indicative of a key global region. Some other draws include the enchanting Gorilla Rainforest, Tundra Trek which has polar bears and also the notable Great Barrier Reef. The Discovery Zone is a popular zone for families in the summers and the splash pad is a big attraction for everyone.
7. Casa Loma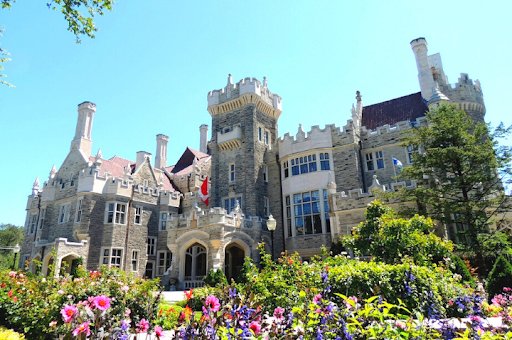 Casa Loma, Toronto (image courtesy: flickr.com)
Casa Loma has impeccably maintained grounds and is an imposing building that resembles a castle from the medieval era. It was built originally in the year 1914 for the Canadian multimillionaire Sir Henry Pellatt, one of the earliest to spot the inherent profit-making potential of the Niagara Falls and tap the same. With almost 100 rooms which include 30+ bathrooms, the house has been transformed into a stunning museum today. Visitors will love going back time, witnessing true European splendor and magnificence along with viewing the richly decorated living suites and other nooks and corners.
8. St. Lawrence Market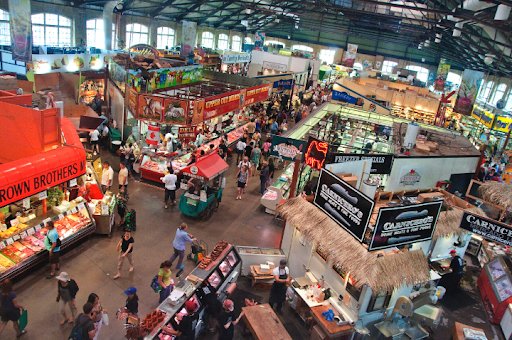 St. Lawrence Market, Toronto (image courtesy: pinterest.com)
The St. Lawrence Market is home to numerous vendors who offer the best flowers, food and other specialty attractions. The Hall was built in the year 1850 in Toronto while being a major place for public meetings and concerts alike. If you have been visiting or shopping in the nearby area, this is a great place to sit down for a tasty bite or just have a relaxing session with your pals over a hot beverage. Outdoor and elevated patios serve as the best place to take in the warmth of the sun during summers.
9. City Hall and Nathan Philips Square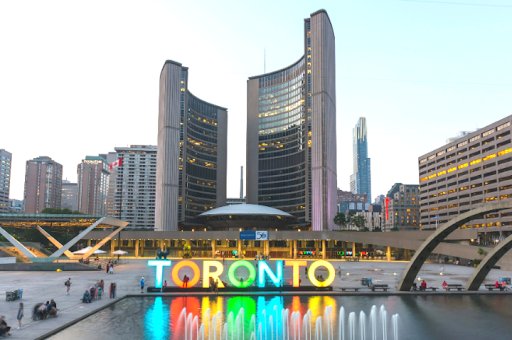 City Hall and Nathan Philips Square, Toronto (image courtesy: mgac.com)
The Nathan Philips Square is known for its sheer space and appealing sculptures crafted from bronze. The most famous one is still The Archer created by Henry Moore. The new City Hall was conceived by famous architect Viljo Revell from Finland and came up in the year 1965. The City Hall has two high-rise and arc-shaped blocks which go up to 20 and 27 stories respectively. They wrap neatly around a lower central structure that has a flattened cupola on top. There is a man-made pond right in front of City Hall and this turns into a wonderful skating rink during winters. This is where the highly photographed sign for Toronto is positioned. This is a great area to visit during the winter and at night when it is magnificently decorated for the holidays.
10. Eaton Centre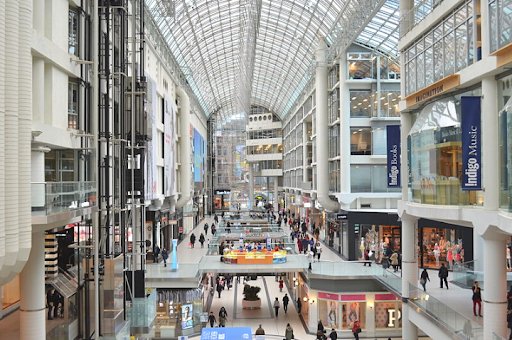 Eaton Centre, Toronto (image courtesy: wikipedia.org)
The Eaton Centre is a massive mall lying at the northern end of the CBD (Central Business District) and has its own subway station alongside. This contemporary shopping zone goes throughout numerous blocks and is continually being expanded and renovated in turn. There are innumerable department stores along with boutiques, specialty outlets, cafeterias, snack bars and top restaurants as well. They are located throughout multiple levels in this mall. The Eaton Centre is directly linked to the store in Hudson Bay via a wonderful skywalk and a Toronto subway stop as well.
Now that you know about the top attractions in Toronto, make sure that you plan your itinerary in advance. Book your furnished apartments in Toronto for a memorable trip while also finalizing your travel tickets accordingly.
---
---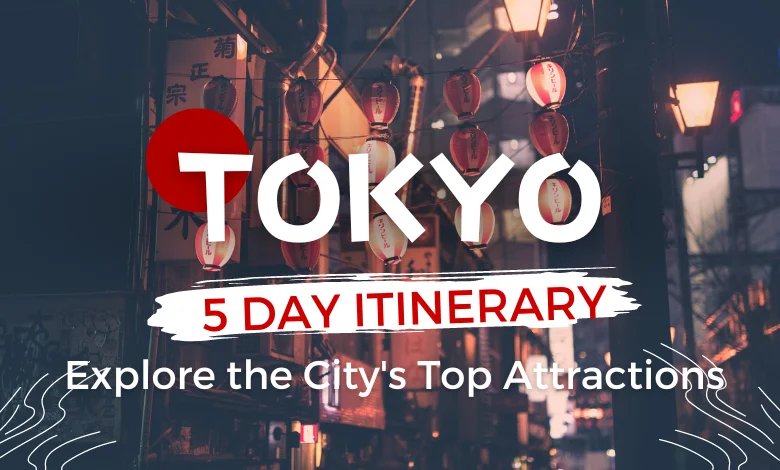 Tokyo 5 Day Itinerary: Explore the City's Top Attractions
Mugdha Kilnake
25 Aug 2023
Konnichiwa! Welcome to Japan's capital where ancient traditions seamlessly blend with modern innovation. I have recently had the good fortune of visiting this gorgeous city. And after enjoying a successful trip, can't wait to spill the secrets of my Tokyo 5 da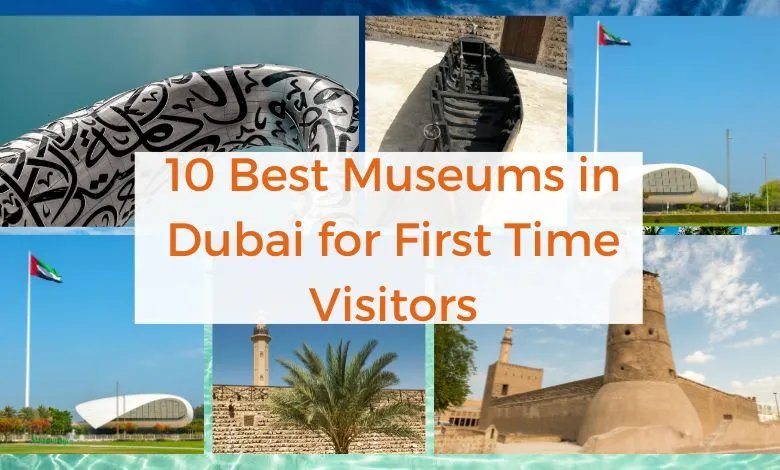 10 Best Museums in Dubai for First Time Visitors
Abhishek Kapoor
22 Aug 2023
Dubai is a city that marries tradition with modernity. It beckons visitors with its best museums in Dubai. These repositories of history and culture offer so much into Dubai's rich past and its promising future. We all know about the famous infrastructure and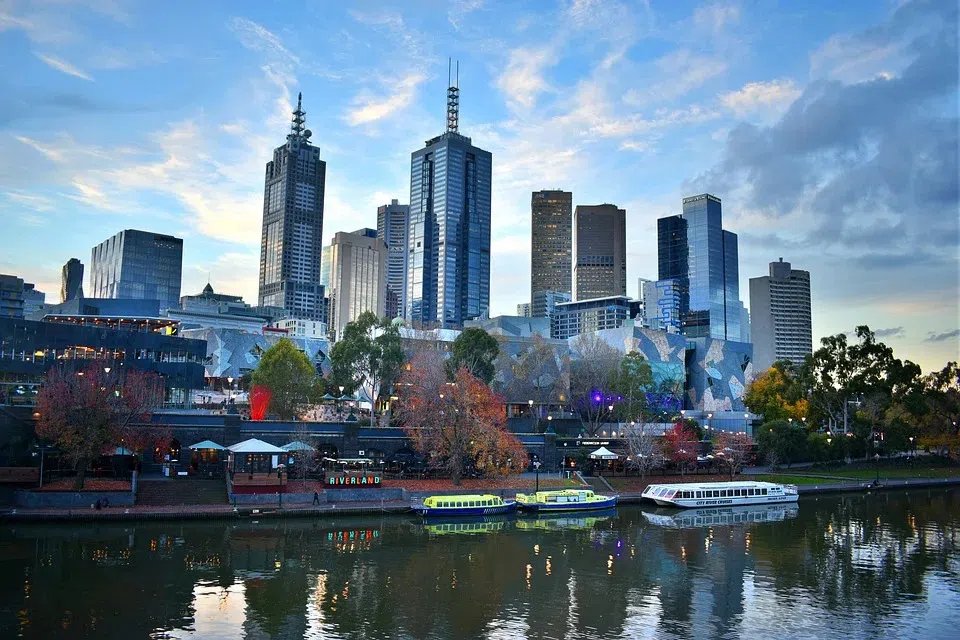 Incredible Travel Guide to Melbourne in 2023
The coastal city of Melbourne, the adoring capital of Australia's State of Victoria, is a vibrant oasis. Full to the brim with many landmarks, sunny beaches, museums, and other cultural essentials, you will be in your element regardless of whether you're here