Top 10 Restaurants of Amsterdam
---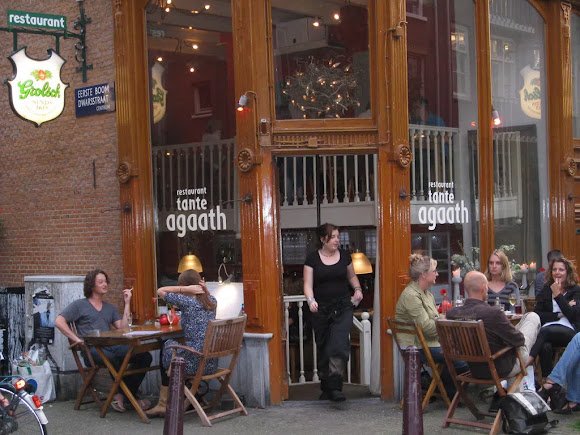 Top 10 Restaurants in Amsterdam
There are numerous restaurants Amsterdam that you should check out without further ado. Be it for a lazy brunch Amsterdam or a sumptuous lunch and magnificent dinner, you will find these restaurants to be the best choices at all times!
Best Restaurants Amsterdam- A Guide
De Kas Amsterdam – De Kas Amsterdam has been functioning on the plant to plate premise from the year 2001 onwards. One of the most famous and award-winning Amsterdam restaurants, it has gardens in the city and also the Beemster which harvest 300+ fruits, vegetables and herbs. The menu is all about seasonal ingredients and organic elements on the plate. Vegetables are the key players in the menu while they are accompanied suitably by meat or fish portions if required. The freshest and most natural products are used along with home-growth Dutch items as well. The restaurant already has its own Green Michelin star along with a clutch of other global laurels.
Neni Amsterdam – Neni Amsterdam is all about enjoying the vibrant Eastern Mediterranean theme within the ex-Citroen garage, Stadiouplein and the lip-smacking menu that encompasses almost everything under the sun. The Neni Deli offers salads, juices and sandwiches while bread is churned out by the in-house bakery. The central restaurant has huge open kitchens and offers exclusive vegetable and fish preparations galore. The Deli is an all-day dining joint while you should not miss the wonderful Balagan menu at the main restaurant. This takes diners on a scintillating journey that covers the signature tastes of the Middle East and oriental splendor on a plate. The dinner will begin with plant-based mezze-esque dishes along with larger plates that g well with the dining culture in Tel Aviv. This is Balagan and the menu is shared neatly amongst diners. Something called sympathetic chaos is what the restaurant aims to build at each table. The Balagan keeps getting bigger with the increasing size of the dining group!
Pllek Amsterdam- Pllek Amsterdam is a connoisseur's treat near the NDSM Wharf, offering spectacular river views till the Silodam and even beyond. You will fall for the delightful ambiance inside and this complements the views to perfection! The crowd here is diverse and the place has been crafted neatly from shipping containers and recycled materials along with various maritime elements/items as well. Pllek has a lovely interior and the quality of beverages and food is simply out of the world. The organic products are the chief highlight of the dinner and lunch menus without a doubt.
Jansz – Jansz is a restaurant which aims at ensuring a fusion of classic eats with contemporary elegance. This joint covers several rooms with plush yet simple décor themes. Elegance is the byword, right from the imported marble tables to the delicious food. You will love almost everything you taste here, right from the lobster risotto to hanger steak and even the dover sole. Chef Jeroen Robberegt emphasizes upon cooking vibrant and solid dishes for patrons.
Wilde Zwijnen – Wilde Zwijnen is a restaurant sporting the contemporary industrial vibe to the hilt! It offers a changing menu on a daily basis, packed with modern cuisine from the region and the Wild Boar has steadily become a trendy hangout for people at Oost. People can order 3/4 main courses and a little wine and watch the experts do their thing with the freshest seasonal ingredients and a lot more. You can simply frequent the Eetbar adjacent to the restaurant for lighter nibbles and individual plates.
Sotto Pizza – Sotto Pizza is another gem in Amsterdam. For a city which has innumerable Italian joints, high-quality pizza was something that was rare and exclusive earlier. However, this joint is known to offer the softest dough along with impeccably charred crusts, sauces crafted from fresh San Marzano tomatoes and the works! It has obtained membership of the highly reputed Associazione Verace Pizza Napoletana, only one out of two pizzerias in Amsterdam to find a place in this hallowed list. True pizza lovers will thank us profusely after just one visit!
Moeders – This restaurant is about savoring what the Dutch have on a regular basis, i.e. the fusion of cabbage, mashed potatoes, sausages and bacon. This is a huge plate and particularly when it has an accompanying meatball! You can choose from a lot of other options and portions here are massive to say the least! This quirky restaurant is themed on mothers, done up with photographs of mothers of their customers!
Stork – Akin to its name, you will love digging into seafood and fresh fish at this huge space on the IJ Riverbank. There is a free ferry service which will take you over the water till Noord and this ex-factory which now whips up the best-ever oysters, lobsters and seafood platters along with the catch of the day specials galore! You can also order some wine here and plonk yourself on the terrace for watching the picturesque landscape all around.
Pesca – Pesca lays claim to what they call is a theatre of fish. The joint is all about glistening champagne, friendly staff and an opportunity to scrutinize the daily catch, i.e. mussels, cod, scallops, octopus and a lot more! You can choose accordingly and sides and drinks will start flowing thereafter! You can thereafter wait for your plate of impeccably cooked fresh fish. This joint is also known for its vibrant and bustling atmosphere that will delight diners.
Cannibale Royale – Lovers of meat will have a ball at this charming brasserie nestled beneath De Pijp which is Heaven for those who love chargrilled stuff. You should not miss trying the fantastic burgers, in-house specialties, pulled pork, jerk-style roasted chicken, ribs and a lot more! The top pick here is the 1 kg Absurde which should be ordered 24 hours in advance at last. The craft beer lineup is also fabulous with the local brews being continually rotated.
Are you planning a trip to Amsterdam anytime soon? Make sure that you book your place to stay in Amsterdam in advance and plan out the itinerary carefully. Here's to a gastronomically fulfilling trip!
---
---
Leave a Reply
Your email address will not be published. Required fields are marked *