Hong Kong Christmas: Top 5 Unmissable Things to do
---
A tropical winter it might be but Hong Kong is definitely no stranger to the festive spirit. Look to this city for a melting pot of activity come December and expect the entire harbour lit as a nod to Christmas time.
When you're looking for things to do in Hong Kong this Christmas, look no further than our guide to the must-visit attractions and festive activities to get you into the mood of the season.
Have a Closer Look at Top 5 Unmissable Things to do in Hong Kong Christmas Eve
1. Hong Kong Christmas Lights
'Tis the season for bright lights, merriment and plenty of glamour. Hong Kong is definitely a place that is on board with this. The first thing to expect of Christmas in Hong Kong is the decorative zeal in which those living here like to indulge.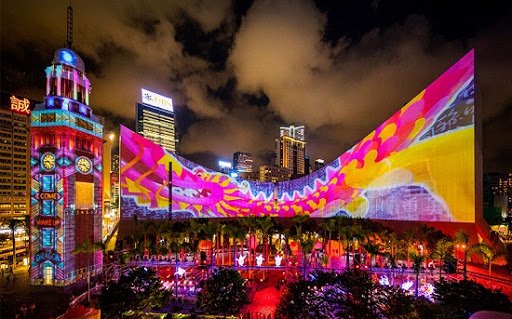 Hong Kong Christmas Light Show
The buildings on the harbour are the perfect example of Hong Kong Christmas jollity, so the first festive tip to get you in the mood would be a cruise down the harbour, taking in the bright lights and decorations.
Hong Kong Pulse offers an official light show celebrating the festive season, beginning December 1 right through to 28. No excuses to miss this one.
2. Hong Kong Winterfest
In the same vein, make sure to check out the huge Christmas tree that is bedecked annually in Statue Square on island side, a symbol of the time for parties, celebrations and last but not least, Christmas shopping.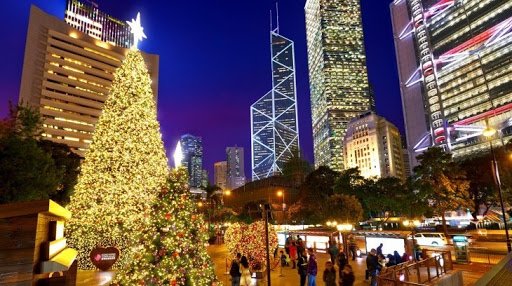 Hong Kong Winterfest
The installation of the tree marks the beginning of WinterFest, a Hong Kong Tourism Board sponsored series of festive activities that take place between mid-late November and January.
There's always an official launch to Hong Kong WinterFest as the lights on the tree go on, so keep an ear to the ground and tune into Hong Kong Tourism Board announcements for the latest on the star-studded launch evening. Past WinterFest trees have included an LED light installation from designer fashion label BVlgari and a Swarovski crystal encrusted tree.
3. Hong Kong Disneyland in Christmas
If you're looking for fun for all of the family this Christmas, then no child would pass up on the chance to visit Hong Kond Disneyland. Marking the festive activities at Hong Kong Disneyland is its transformation into a snow capped winter wonderland.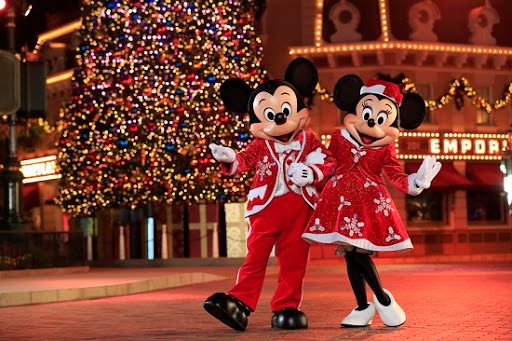 Hong Kong Disneyland in Christmas
Expect carol signing, parades and again, plenty of Christmas trees. Head to Hong Kong Disneyland between mid November to January for Christmas cheer that will light up your little one's face.
Also Read: Hong Kong Disneyland Christmas in This Year
If you've never seen a Disney evening parade then the Christmas one is a great one to start on. Hong Kong Disneyland christmas decorations comprises of computerised floats wrapped in countless LED lights, interacting with spectators, what's not to love?
4. German Christmas Market
Of course, no festive merriment is complete without a traditional Christmas market.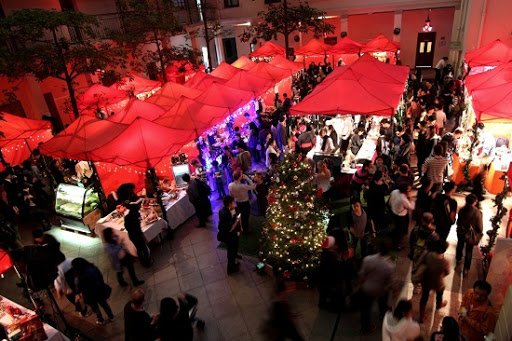 Hong Kong German Christmas Market
The stanley christmas market in Hong Kong can be found every weekend in December and is actually sponsored by the German Consulate, so you are assured of authenticity. Grab chestnuts, traditional sausages and mulled wine and when you've had your fill, there's plenty of traditional gifts and Christmas decorations for you to peruse through.
5. Lan Kwai Fong Christmas Party
Quite simply the biggest Christmas street party in Hong Kong and certainly one not to be missed.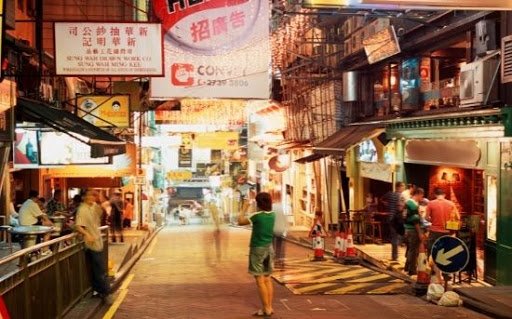 Lan Kwai Fong Central In Hong Kong
Lan Kwai Fong is probably one of the most lively spots in Hong Kong at any time of the year but during the festive season it goes into overdrive! The party is on Christmas Eve and consists of all of the things that make up a great night out, fantastic food, plenty to drink and dazzling entertainment.
All of the restaurants, bars and clubs will be heaving so make sure you book early. Remember to conserve your energy too, they do it all over again a week later on New Year's Eve!
If you're are planning to spend and enjoy Christmas time in Hong Kong with your family, you're going to look for some suitable family accommodation in Hong Kong . Not only are they well placed, but they are also some of the best self catering accommodation you'll find in the city.
---
---
Leave a Reply
Your email address will not be published. Required fields are marked *