Perfect Itinerary for 3 Days in Sydney - 2023
Sydney is the oldest, biggest, and most beautiful of all Australian cities. The celebrated capital city of New South Wales, all travellers love Sydney because of its unmatched financial, tourist, and historical potential.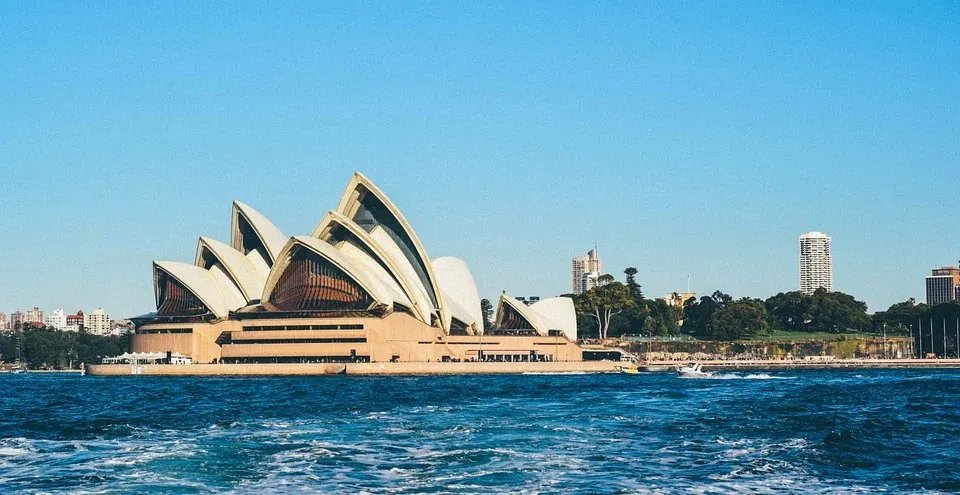 Opera House (Sydney Itinerary for 3 Days)
You've landed in Sydney. What next? The cheapest and quickest way to get between the airport and downtown is by taking the train. Sydney's airport has two train stations.
Opal Cards are Sydney's contactless payment system for its public transit network. Buy the contactless payment card called Opal Card as soon as you land. Get $50 on it to suffice for a 3-day trip. The key takeaway would be to hop on the T8 line and let the city take you by surprise!
Once you've arrived at your short term rental in Sydney, you can then start your trip and see the best spots in 3 days. Get your shoes on, and prepare to find out Sydney itinerary for 3 days.
Read More: 10 Best Places to Stay in Sydney, Australia
Day 1: Sydney Opera House & the Royal Botanic Gardens to Welcome You
Begin with the two most renowned landmarks of Sydney and get a taste of what comprises the heritage of the city. Enjoy a comforting hour at your serviced apartment after you land. Freshen up, have some tea, and head for a hearty fill to charge you up for the day. Two of the most exquisite attractions await to impress you on your very first day in Sydney!
Sydney Opera House
As soon as you manage to reach here, buy tickets to the show that are available at a half an hour difference at all times. The Opera House stands tall on the sparkling harborfront of the city and is a celebrated UNESCO World Heritage Site. Welcoming over 8 million visitors annually, it is the most visited tourist destination in the country. Ar. Jørn Utzon's architectural marvel is one of the finest in its innovation and creativity. You will find yourself gasping at its breathtaking construction.
Immerse yourself in over 2000 shows yearly in one of the busiest and finest centres of performing arts in the world. It would be an absolute delight to your senses and would kickstart your 3-day trip with an artistic bang!
Ideal time: 9 am to 5 pm
Location: Bennelong Point, Sydney
Nearest Public Transport Station: Circular Quay
The Royal Botanic Garden
This gorgeous Sydney attraction lies a quick scenic stroll away from the Opera House. Sharing a similar gorgeous view of the waterfront, this lush garden is 30 hectares of a soothing oasis amidst the fast-paced city.
A great place to spend a cozy evening with your fam and end your first day in a beautiful city. The Palace Rose Garden, ferns, palm groves, and beautiful orchids are some of the highlights here. The garden also tops the charts for free things to see in Sydney, and we couldn't be happier!
Get a fuss-free lunch or snacks packed from any of the popular restaurants nearby. Take that along and enjoy your packed sandwiches or coffee amid the greenery of the park. You can either soak in the view or just explore the nearby area at your own pace, shopping on your way back.
Ideal time: 7 am to 8 pm
Location: Mrs Macquaries Road, NSW 2000
Nearest Public Transport Station: Circular Quay and Martin Place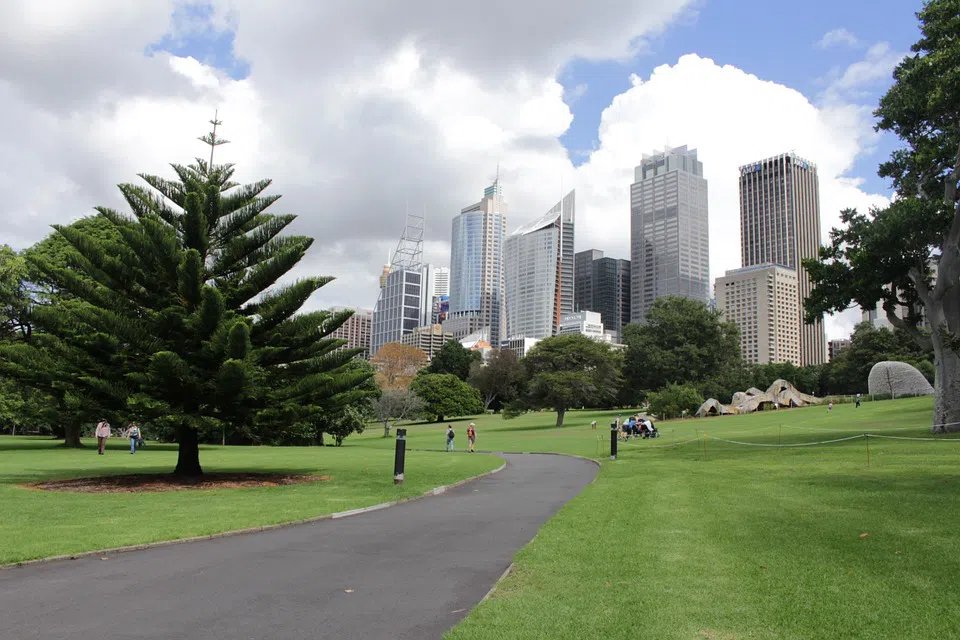 The Royal Botanic Garden, Sydney
Day 2: The Ultimate Combo of the Rocks and the Ferry
The Rocks
Wake up early, eat your breakfast and head straight to the stunning Sydney Harbour Bridge. If you can go the extra mile to seal the trip with a memorable view, catch the sunrise from above the whopping 440 feet high summit. If don't know The Rock, it is a historic neighbourhood that is home to the majority of Sydney's attractions. From markets, museums, art galleries, and local restaurants, it also has an impressive Aboriginal heritage to boast of too.
You have an entire afternoon to spend here with so much to do and take back with yourself. Over 100 heritage sites, endless cobblestone laneways, the city's oldest surviving house, and the Rocks Discovery Museum, are all yours to explore.
Trace the fascinating journey of the neighbourhood to become the ultimate tourist hub that it is. Don't forget to grab a drink at Sydney's oldest club, the Fortune of War (1828) here to sum up the first half of the day.
Ideal time: 10 am to 9 pm (8 pm on Sundays)
Location: 66 Harrington Street, Level 6, The Rocks, Sydney
Nearest Public Transport Station: 2-minute walk from Light Rail or Circular Quay station
Circular Quay & the Ferry
The sparkling Circular Quay happens to be the main ferry terminal of Sydney. You can always consider taking a ferry back from the Rocks and immerse yourself in the bustling local flavour that the waterfront has to offer. The local streets will entertain you with skilled street performers, adding to your sunny day out.
After you have walked through the cobblestone lanes and eaten at the little outdoor cafes, hop on to the Harbor cruise on your way back to your apartment. Since you are short on time, this would be your perfect alternative to the more popular 2-hour cruise called the Sydney Harbour Coffee Cruise. Apart from the waterfront promenade itself, the fine attractions from Day 1 are just a short walk away. If you missed buying something from the souvenir shop, this would be your chance to make a quick visit back.
Location: Sydney Cove
Nearest Public Transport Station: Circular Quay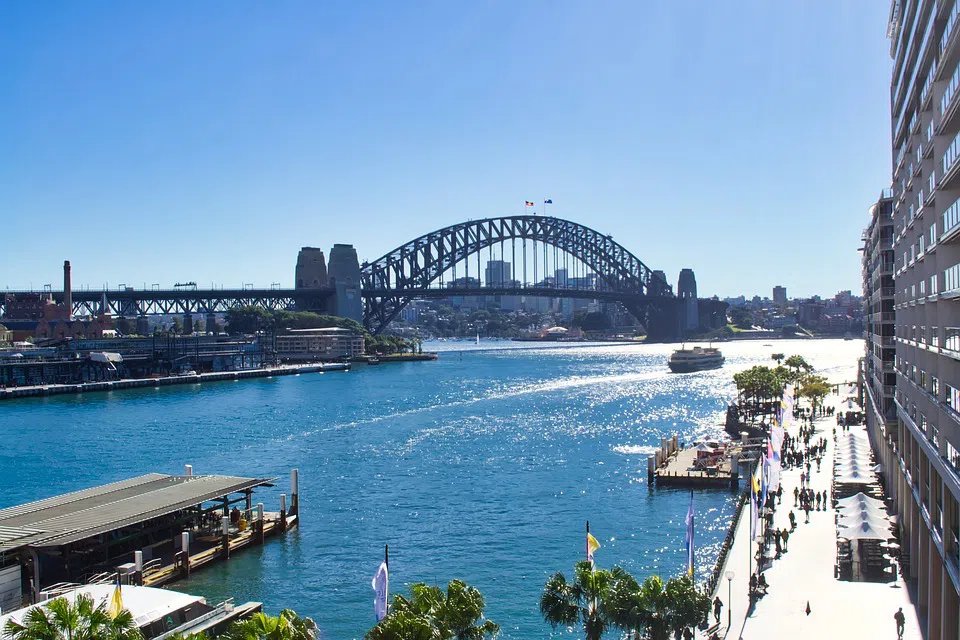 Circular Quay in Sydney
Day 3: Sydney's Star Bondi & Coogee Beaches to Sum it Up at a Fun Note
Since it will be your last day in the city, just take your time and you deserve a lazy late morning. Soak in the balcony view with a hot cup of coffee and home-cooked breakfast and let the vacation mode reach its peak before you freshen up and head out. With your beach bag packed on, head straight to the sweeping white sand and blue waters of Bondi.
How to reach Bondi Beach?
It will take under 45 minutes to reach the final beach destination. Board a reading available express bus from the city centre and it will take you to the beach in almost 30 minutes. If you prefer trains over buses, it will leave you at the Bondi Junction station. Just take a taxi or a bus and you will be right at the sandy waters in under 10 minutes.
Location: Sydney Cove
Nearest Public Transport Station: Bondi Junction
Bondi Beach and Other Coogee Beaches
Hands down one of the most iconic beaches of Australia, Bondi change your entire perspective of Sydney.
Begin with a quick dip in the Bondi Ocean while you join other surfers in the water. While you make the most of the shiny waters, you can marvel at the gorgeous scenery from one of the finest treks in Sydney, from the Clifftop Bondi to the Coogee Coastal Walk. Coogee Beaches are some other fine ocean spots that are loved by tourists. You can always swim along.
On your way back, pick from a few casual or sophisticated healthy eateries that serve the most delicious comfort food. If you happen to be visiting on a Sunday afternoon, Campbell Parade nearby has a local designer flea market that sells vintage clothes. Other fascinating experiences that the Sydney coast offers include snorkelling or scuba diving at Gordons Bay and the most wonderful Pacific Ocean view from the country's oldest lighthouse. You will be thanking me if you manage to spot majestic whales here around May to November.
From Bondi to Coogee
Starting Point: Tamarama or Bondi iceberg ocean pool
Trek Distance: 3.7 miles/6 Km (will take a little over an hour)
Big Bus Sydney Tour (Optional)
If you still have time or you are someone who likes to see most of the entire city, just take this elaborate bus tour. It takes you through the entire city and gives you breaks on destination stops like Bondi Beach.
This pretty much is the crispest yet varied itinerary to follow to make the most of your 3-day trip to Sydney. This not only allows you to explore the areas like a local but also relax on your vacation. It can't get better than this finely balanced short vacation in Sydney, can it?
Book your serviced apartments in Sydney with TheSqua.re and enjoy a 3 day trip to the best city in Australia.
Above is the perfect Sydney itinerary for 3 days and make the most of your visit to this vibrant city. Explore iconic landmarks, immerse yourself in cultural experiences, indulge in local cuisine, and create unforgettable memories in Sydney. Plan your trip with our expertly crafted itinerary and maximize your time in this captivating destination.
---
---
Top 12 Theatres in Singapore for the Best Movie Experience
Singapore is a bustling metropolis noted for its rich cultural tapestry. The city has a thriving film industry that caters to a wide range of tastes and inclinations. Moviegoers in the Lion City have the opportunity to see films in world-class theatres. These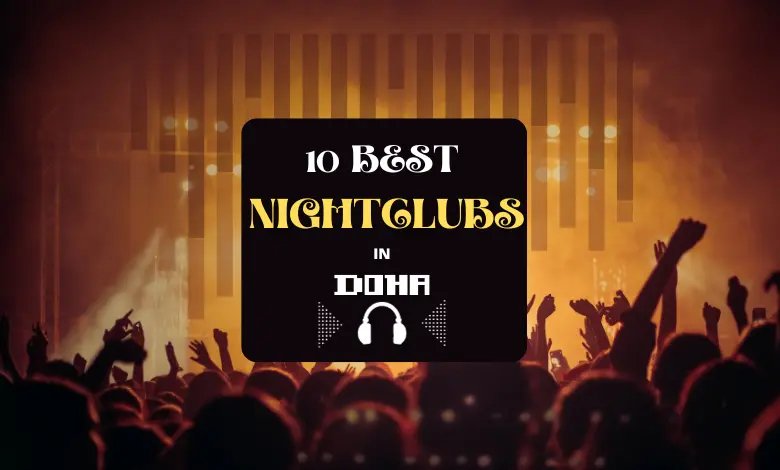 10 of the Best Nightclubs in Doha to Check Out
Abhishek Kapoor
19 Oct 2023
Doha, the crown jewel of Qatar is a luxurious destination for party animals worldwide. As the sun kisses goodbye beneath the dazzling skyline, the city gets alive with a pulsating beat. The night clubs in Doha create an electrifying atmosphere. Encouraging ev