Where to Stay in Singapore [Best Places To Stay in 2021]
---
Singapore may not be a big country, it may not even be anywhere near the biggest city in the world either but that doesn't stop it from seeming vast to the uninitiated.
Any unfamiliar city can feel the same way for first time visitors.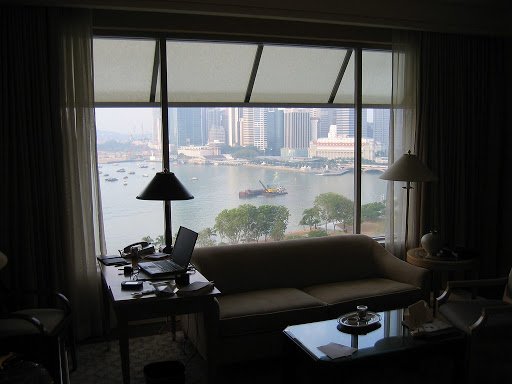 Best Places to Stay in Singapore
Finding the best places to stay in Singapore can be a stressful experience as no-one wants to stay somewhere that has a detrimental effect on their trip.
People naturally want to stay somewhere that enhances their trip.
It's not about ending up somewhere off of the beaten track, Singapore doesn't have many places that can be described as that, even the seemingly rural places are never far from the action. It's about finding the place that makes the rest of your trip easier.
For corporate travellers, serviced apartments in Singapore city centre are the most likely requirement. Nearby to places of work, conference centres and exhibition halls.
Leisure travellers will want to be as close by to all the major attractions they plan to visit as they can.
Also Read: 50 Fun & Free Things to Do in Singapore
Even the laid back traveller with no advance plans will want to be close by to all of the fun things to do in Singapore, making daily choices as to where to go and what to do much easier, or comfortingly harder due to the sheer amount of choice.
After the location is chosen the accommodation type is the next question. Luxury accommodation providers like TheSqua.re make this decision that much easier. They have a database of thousands of apartments, each one providing not only comfortable places to sleep for parties of various sizes, but offering a home from home with fully fitted kitchens and lounge areas in which to relax.
The following is a guide to some of the best places to stay in Singapore. It should be remembered however that it is difficult to find oneself in a disappointing location in this city. If staying in or near the city there's so many places that are accessible by simply walking. This offers the added bonus of discovering new places along the way.
Failing that, Singapore's public transportation is second to none, covering vast areas not only efficiently, but legendarily cleanly. Have a look at the city's most popular neighborhoods which will help you to decide where to stay in Singapore for first time.
Explore the Best Areas to Stay in Singapore for a Tourist & Corporate Travelers
1. Chinatown and Clarke Quay
For those people who like their holidays to be 24/7. Holidaymakers who want the nightlife to be as lively as the day and business travellers who want to add a bit of pleasure to the end of a hard day in the office.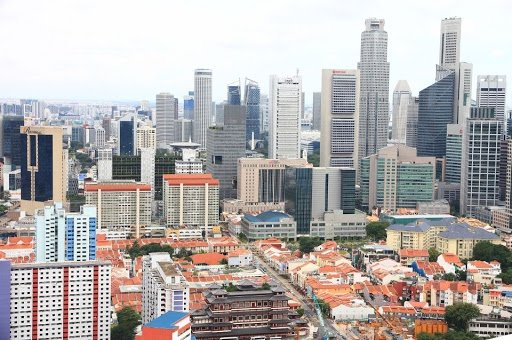 Chinatown in Singapore
There's lots to see here for the tourist but the riverside area of Clarke Quay its most renowned for its nightclubs, bars and restaurants which open until the early hours. It's definitely a best place to stay in Singapore for the more lively and outgoing of travellers.
Also Check: Serviced Apartments Chinatown
During the day there's plenty of shops too, as well as quieter, more family friendly restaurants.
Chinatown is a few minutes walk away from Clarke Quay and can, in some ways, feel like a different country. It gives a far more traditional side to this modern city with traditional houses, eateries and markets.
Gone are the flashing neon, replaced by strings of lanterns stretching down every street.
As mentioned, the area has plenty to see and do for the tourist too, including the legendary temples in Singapore like Buddha Tooth Relic Temple and the Sri Mariamman Temple for the traditionalists and the G-Max Reverse Bungee for the more adventurous!
2. Orchard Road
Put quite simply, for people that love shopping there is no better place to stay in Singapore, or probably the world!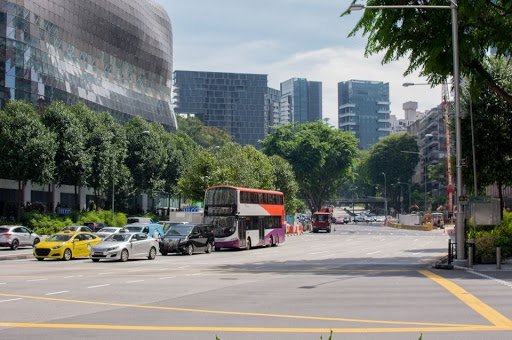 Orchard Road Cityscape Singapore
For people that don't like shopping, it's still ideally located for the city and business districts.
The name Orchard Road derives from the farms and orchards that were located here in the 1800s, growing all sorts of produce including nutmeg, peppers and fruit. Looking at it today it's hard to imagine its rural past.
Also Check: Orchard Point Serviced Apartments
Maybe its reputation makes it seem bigger than its 2.2km size? But there's no doubt that Orchard Road gives people one of the best outdoor shopping experiences around. It's telling that it's just as popular with locals as it is with tourists.
Back to back shopping malls include centres dedicated to high fashion, including shops like Gucci and Armani. These are alongside malls dedicated to high street brands and more traditional Singaporean wares.
The tree lined streets are also full of restaurants and eateries. Everything that a person might need is within a few short steps, there really is no need to leave the area making it ideal for the short term traveller.
Outside of the frenzy of shopping, there's other attractions too. Fort Canning Hill is one of Singapore's most important landmarks with a rich and incredibly varied history from the kings of ancient Singapore to colonial times.
In front of this is the oldest museum in Singapore, the National Museum which focuses on the history of the country.
For nature lovers, the Singapore Botanical Gardens is a must visit. Whilst some natural attractions in Singapore seem too man-made, the Botanical Gardens, whilst just as manicured, is 158 years old with a huge rainforest and an orchid garden with over 1,000 species of the flower.
3. Sentosa Island
Remember Pleasure Island from the Disney film Pinocchio? Imagine that, only with less donkeys and badly behaved boys.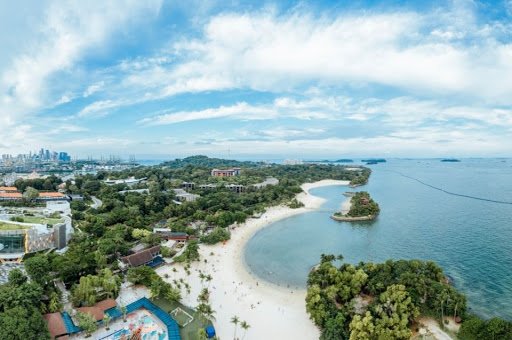 Sentosa Island in Singapore
Sentosa is a real life pleasure island, a playground that appeals to all ages from kids to adults. It's a place that was created specifically for fun, both indoor and outdoor which makes it a great option of where to stay in Singapore for tourists.
Although it's Singapore's most famous island, it is by no means a natural wonder. Sentosa Island is very much a man-made paradise covered in luxurious resorts, theme parks such as Universal Studios, an aquarium and beautiful golden beaches, which are of course, man-made.
A luxury apartment on Sentosa Island is the only way to explore it. Attractions such as Universal Studios and the S.E.A Aquarium can take a day to get around on their own. That's not to mention the Adventure Cove waterpark too.
After action days there's the option of relaxing on one of three beaches, Sentosa, Siloso or Tanjong.
If anyone's still got energy then there's a zip wire, bungees, indoor skydiving, a vertical skywalk and a cable car too.
There's so much to see and do and that's not even mentioning the fantastic restaurants, bars and nightlife also on offer on Sentosa.
Although the culture on Sentosa Island may feel very different to some of the business areas in the city, there are still plenty of corporate guests to be found here due to its close proximity to the business districts.
Also Check: Serviced Apartments Sentosa Island
The apartments offered by Thesqua.re on Sentosa Island are much sought after by the business traveller. Not only do they offer all the amenities that a traveller should expect in a home from home, they also boast an award-winning spa, a swimming pool and fitness centre and their location means that they are within walking distance of all of Sentosa's other amenities including some of the best restaurants to be found in Singapore.
Not only that, but they also provide a much needed peaceful haven away from the otherwise hectic, but fun, Sentosa Island. It's no wonder that this is often the destination of choice for the long term traveller.
4. Marina Bay
Much like Sentosa Island, the Marina area of Singapore is built on reclaimed land and has been designed for comfort and enjoyment. Some of the most famous images of the Singapore skyline can be seen here, including Singapore's most iconic and architecturally significant building, the Marina Bay Sands.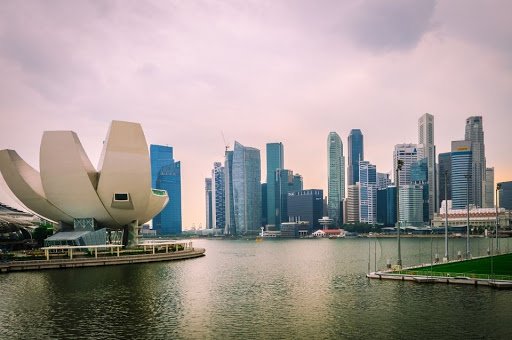 Marina Bay in Singapore
This is well known as the world's most expensive casino but it is so much more. It is also a 2561 room hotel, an exhibition centre, a shopping mall, a museum, two theatres, restaurants and a place where Singapore exhibits its best art and science displays.
The ship like structure resting on top of the three huge buildings is the SkyPark containing an infinity swimming pool which is the world's largest.
Aside from this behemoth of a building, staying in Marina Bay opens up a range of other exciting attractions too. The Singapore Flyer is here, a giant ferris wheel which was the largest in the world for six years until 2014. This is a great place to stay in Singapore from which to view many of historic and modern landmarks.
Also Check: Marina Bay Apartments Singapore
One of Singapore's premier attractions, the Gardens by the Bay is also close by. This includes beautifully manicured gardens, huge glass domes and most famously, the Supertrees, some of which can be explored way above ground level on the Skywalk.
Marina Bay is also a great place for nightlife too with restaurants, bars and cafes to be found in abundance, as well as dazzling light and water shows which take place every weekend. This is also the location of Singapore's Merlion, a water spitting lion statue that's the official mascot of the country.
As well as all the merriment, Marina Bay is also a highly sought after business traveller location, hence the availability of serviced apartments from TheSqua.re. It's a place frequented by long stay corporate people who are looking for luxury, location and a bit of fun after the business day ends.
---
---
Leave a Reply
Your email address will not be published. Required fields are marked *