15 Reasons Why You Need to Visit Kowloon and Causeway Bay in Hong Kong
---
As someone who has recently grown an immense fondness for Hong Kong, the combo of Kowloon and Causeway Bay is a super hit! With the variety of flavors, experiences, markets, temples, and more, there cannot be a crisper itinerary offering such elaborate insights into Hong Kong than Causeway Bay and Kowloon.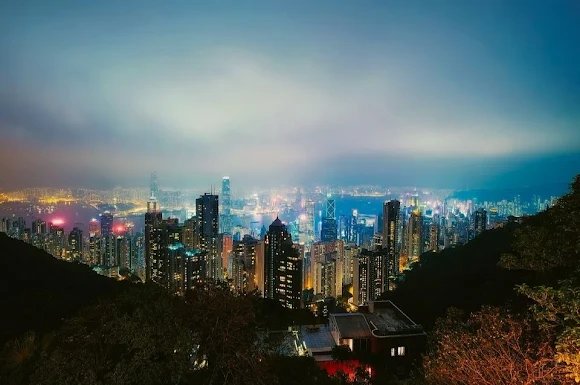 Victoria Harbour Hong Kong
But before you start exploring these areas of Hong Kong, you need to get your accommodation sorted out. We have serviced apartments in Kowloon that are aptly designed for you, as well as serviced apartments in Causeway Bay that are fully furnished for every kind of stay.
Also Read: Top Places Where to Stay in Hong Kong
Why Should Causeway Bay Be Your First Pick?
As per tourists' advice and my latest Hong Kong trip, Causeway Bay turns out to be among the finest HK island neighborhoods. There are alot things to do in Causeway Bay, from SOGO and night markets to shop like there is no tomorrow to savoring street food like the whole calorie game is a scam, from the traditional hints of Wan Chai District to the largest library and park in HK, Causeway Bay leaves you too many temptations to tackle.
Some of the most irresistible reasons to visit Causeway Bay are:
1. To Shop Your Heart Out!
With 16 floors of Times Square retail heaven for upscale shoppers to flea market vibes at the very popular Jardine's Crescent Market, this Hong Kong neighborhood is all about its shopping hub. Tourists from around the globe look forward to exploring the diverse taste that it has to offer. From endless posh boutiques to a goldmine for bargain hunters, over 200 retail outlets in Times Square alone to street shopping at its best, there cannot be a better reason to begin with Causeway Bay.
2. Cheer For Your Favorite Sports Team
Home to one of the most celebrated Hong Kong stadiums, the Causeway Bay neighborhood often welcomes sports enthusiasts from around the globe for some crazy rugby and football matches. With space for over a whopping 40,000 people, this 1953 stadium (renovated in 1994) is a huge hit among locals and tourists alike. International football matches and the annual Sevens Rugby Tournament are legit tourist magnets to look out for.
3. Any Day for Incredible Hong Kong Food!
Food and shopping pretty much compete neck and neck when it comes to impressive variety. As a lover of both, I was more than happy to treat my taste buds with the most varied Asian food platter in between my shopping sprees. Houston Street (Food Street) is your best one-stop-shop for delicious street food in Hong Kong. For a more upscale Cantonese menu, consider Times Square to keep you sorted.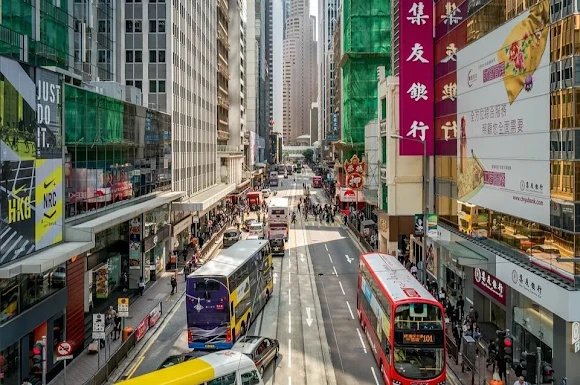 Hong Kong Market
4. For the Largest Park in Hong Kong
Enjoy an outdoor class of Tai Chi or take a big picnic basket along, head straight to the gorgeous Victoria Park in the heart of Causeway Bay. While it isn't something that the neighborhood can boast of, competing among the most gorgeous parks in the world, it sure offers a very warm community vibe. When traveling with family, just enjoy a sunny afternoon in the green cluster surrounded by skyscrapers.
Also Read: Top Beautiful Parks in Hong Kong with Natural Attraction
5. For an Unbelievable Black Magic Experience
A unique practice that adds to Hong Kong's overall character, da siu yan is roughly translated in English as 'Petty person beating'. It is a traditional practice in which old retirees called hitwomen help you combat your enemies and believably have the power to shake away your ill-fortune. You can get your rivals or unfaithful partners whacked by their shoes. The whole process is carried in a very fascinating way involving paper effigies which makes Causeway Bay even more interesting.
6. To Pay Homage to the Sea Goddess
Yes, you read that right. It is a fact that Chinese people are very traditional when it comes to following beliefs. Causeway Bay is no different. Head straight to the iconic Tin Hau Temple in the neighborhood. It dates back to the 1700s and has a very distinctly peaceful aura to offer. If the hustle and bustle of the Hong Kong streets push you for a break, come and chat here with local temple fishermen and spend a day amidst their peaceful vibes.
7. For the Largest Library in HK!
This library is quite a big deal for book lovers like myself. If you are a fan of that charming smell of old books, huge bookshelves transporting you to a whole other world, your trip cannot end without visiting the Hong Kong Central Library. This flagship library of HKPL is a proud home to over 2,300,000 items, hard to believe right? While you are here, don't miss to admire the Victorian Harbor view from the 12th-storey.
Also Read: Top 10 Hong Kong Attractions & Travel Guide
8. The Love and Legacy of Horses
With the iconic Happy Valley Racecourse sitting majestically here, the neighborhood drags horse lovers from far away lands to get a glimpse of the celebrated legacy of this place. Crowd madly cheering for their favorite horses and a whole new insightful perspective on the Jockey Club Archive of Hong Kong made it all the more wholesome for me. All in all, this amphitheater-style iconic stadium has a lot of exhibits in the elaborate museum and a high level of adrenaline to treat you with.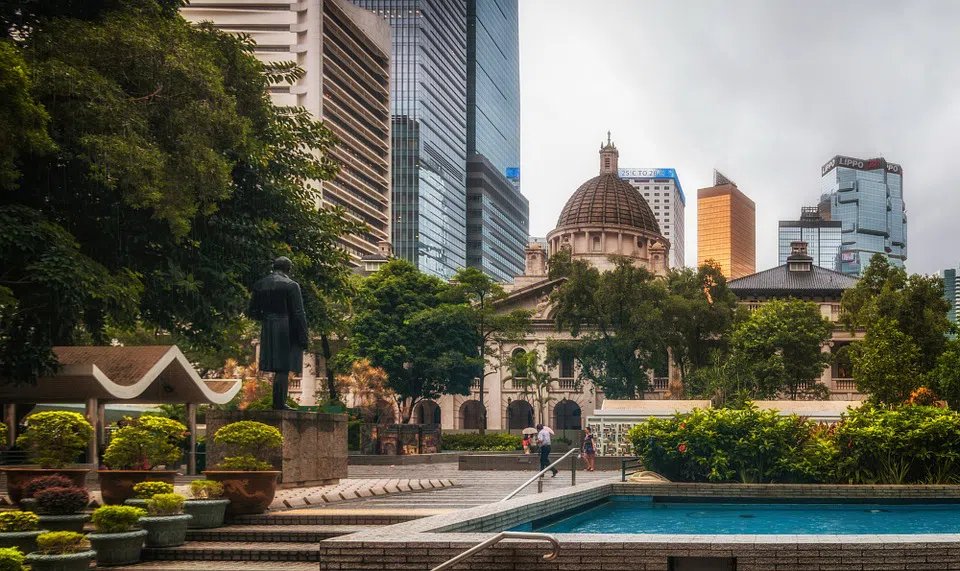 Hong Kong Experience
What Makes Kowloon Equally Popular?
Kowloon or Dark Side happens to be the fairly quieter, traditional, yet edgier part of Hong Kong. To enjoy the curious mix of the authentic Chinese vibe and newer influence, you just cannot miss this fascinating neighborhood for the world. There are many things to do in Kowloon raging from hiking to bar hopping, savoring street food to flea bargains, Kowloon makes your pick easier.
Some of the even more irresistible reasons to visit Kowloon are:
1. Street Shopping Scenes That Bring Every Shopper Alive!
Kowloon brims with street shopping hubs with some of the most popular markets like the Temple Street Night Market. From clothing to antique trinkets and even e-gadgets, Kowloon has so much to impress. Apliu Street Flea Market and Sham Shui Po Wet Market are the other top ones to consider. Don't miss eating some of the craziest street dishes after you shop your heart out.
2. The Iconic Victoria Harbor for the Win!
Enjoy a memorable Star Ferry ride on this stunning waterfront of Kowloon. After enjoying your halt at Tsim Sha Tsui, grab a seat on the ferry and take a quick ride to the calm Victoria Harbor waters. It is one of the most sought-after moments for tourists visiting the Hong Kong island. I was thoroughly impressed by how cheap the ride was for its incredibly peaceful experience.
3. The Largest Handmade Wooden Building in the World
Yes, you read that right. Built in 1944, Chi Lin Nunnery is the largest handmade wooden building that Kowloon boasts of being home to. Can you imagine such a huge structure standing purely on Cypress wood without a single nail? The renovated architectural style is based on the traditional Tang Dynasty and is magnificent in its outlook. I personally clicked great pictures by the lotus pond right outside, I am sure you would too.
4. Did Someone Say Selfie with the Stars?
There is a wonderful attraction called the Avenue of Stars rapidly climbing tourists' list of preferences. Bronze statues of some of the greatest Chinese celebrities can be seen posing in what they are known most popularly for. Get clicked with them while the Victoria Harbor becomes the most stunning backdrop. Don't miss the life-size Bruce Lee statue at all costs.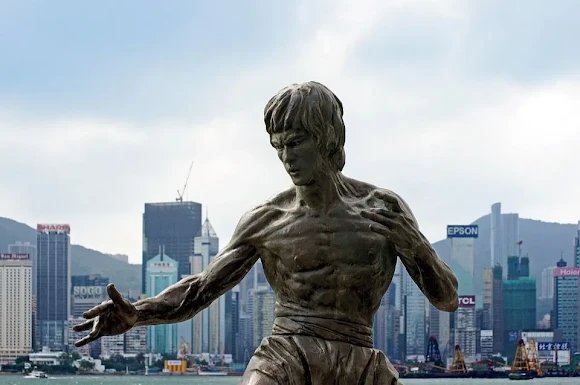 Bruce Lee statue in Hong Kong
5. The Notorious Kowloon Walled City Park
The rumors of its notoriety have been whispered all across the country during the 1950s-1970s. From drug peddlers to uncontrolled prostitution, the history of this gorgeous park is quite dark yet fascinating. Post its renovation in 1995, what you will see today here is a lush green gorgeous garden built in traditional Chinese-style. The historical artifacts here deserve your special attention to unthinkable details.
6. An Irresistible List of Tsim Sha Tsui East Bars!
If you haven't figured as yet, Tsim Sha Tsui East is the ultimate hub of clubs and bars in Kowloon. No Hong Kong trip can be complete without some booze, can it? From outdoor seating to the tempting drinks menu, posh picks in the square mall storeys to some all-night fun in clubs across the street, there is something for all budgets in this otherwise very quiet place.
7. For the Adventure of Hiking with a View
Kowloon is home to a whole bunch of hiking trails to impress. With the Lion Rock standing at a whopping 16000 feet, this peak attracts hiking enthusiasts thriving on magnificent views like the one it offers in huge numbers. Just immerse in the view of the skyscrapers from the top with your special someone or propose to them. It cannot get better than this, can it?
With so many reasons backing these wonderful districts, I am sure that Causeway Bay and Kowloon will make this Hong Kong trip all the more memorable for you and your family.
Book you serviced apartments in Hong Kong now to enjoy the perfect stay.
---
---
Leave a Reply
Your email address will not be published. Required fields are marked *