Castro Street Fair 2022 in San Francisco: Enjoy the Fair in Style
---
The Castro Street Fair is an event in the truest sense of the word, world renowned as one of the most important parties in the LGBT calendar.
This year, the 48th Castro Street Fair San Francisco 2022 will take place on Sunday, the 2nd of October.
It will feature mouth-watering food, live music, and dance on the streets of Castro.
The San Francisco LGBT street festival is the brainchild of Harvey Milk. He led the Castro Valley Association in 1974. This event gained popularity by 1977. Attendance even reached 5,000 in 1974 and then 70,000 in 1977. It was famous for promoting the district's tourism industry. Regardless of gender, sex, or anything, you can join the Castro Street Fair 2022. Enjoy the diversity on the streets of San Francisco.
About Castro Street Fair
The Castro Street Fair is one of the many street festivals in San Francisco. The others include the North Beach Festival and the Haight Street Fair. There is also the Folsom Street Fair and San Francisco Pride. This festival celebrates the variety and diversity of culture and community. This is where everyone feels at home and accepts. It is open to everyone only if you have a code 'be you'. Several local vendors, small businessmen, and craftsmen take part. They showcase their work and talents in and around the festival zone. People of different communities get a free platform to showcase their talents. They can come up in front of people in their real form without worrying about discrimination.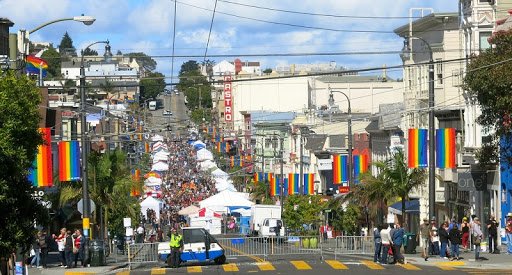 Castro Street Fair, San Francisco (Image Courtesy: torbakhopper/Flickr)
Castro Street Fair San Francisco will take place on the first Sunday from 10 am to 6 pm in October. It will happen at the intersection of Market and Castro Streets. This is where you will find two live music stages, "dance alleys," and more. There will be many more events to lighten up your mood and mark the day in style. To enjoy the event you can look for furnished apartments in San Francisco.
Activities in the Castro Street Fair Festival
The main stage lying in the center of Castro and Market is the heart of the Castro Street Fair. This is where a variety of performances will take place from 11 am to 6 pm. You can enjoy the San Francisco sunshine with friends in four zones. These are the Dance Alley, the Sundance Saloon, the Main Stage, and the Castro Street Stage.
Last year, on 3rd October 2021, Dance Alley made a special appearance. This was at the Market and Castro Street crossing with some talented DJs. We had Trevor Sigler performing between 11 am to 12:45 pm. Rich King was there between 12:45 pm and 2:30 pm, Infinite Jess between 2:30 pm and 4:15 pm, and Jordee between 4:15 pm and 6:00 pm.
Dance Alley is the perfect place to dance with some of the hottest DJs in the local area.
Meet Midway is a fun and interactive area. This is where you can enjoy fun games and activities on Market Street at the intersection of Noe and Castro.
Sundance Saloon is the popular area where you put on cowboy boots. You can enjoy the day with country and western dancing. This part of the city lies on 18th Street at the intersection of Hartford and Noe.
Also Read: 10 Cafes in San Francisco That Everybody Loves
Due to the pandemic, a lot of festivals changed their course flow. Yet, one thing that most visitors could not miss out on was the scavenger hunt. This started on 27th September 2020 and went on till 10th October 2020. It gives you an idea of the entire event, and you can get to know everything. This is even if you miss out on the Castro Street Fair 2022. You can also learn about the LGBTQI community, points of interest, and lots more. When businesses were running low, this fair tried its best to attract buyers. It played a role in trying to balance the economic crisis.
The Castro Street Fair San Francisco requests donations at the door of $5 to $10 per person. One can receive $1 off a spiked seltzer from any of the four official beverage counters. A non-profit organisation organizes this fair. Hence, all the donations collected through the activities go to social causes. These are causes that are important to the Castro community. Some beneficiaries are Bears of San Francisco, AIDS and Breast Cancer Emergency Fund. Others include Bay Positives, Healing Waters, Castro Country Club, and others. This fair has funding for the rainbow-coloured flag flying high at the intersection. The official after-party celebration of 2021 took place at "THE PUBLIC WORKS". We are all waiting to know the after-party destination of the Castro Street Fair 2022.
This festival showcases a massive variety of eateries, food trucks and drinking booths. Here you can find your favourite BBQ creations. Find ice cream and a seafood stand with local delicacies. Feast on a variety of yummy cuisines from Aunt Betty's Corn Dogs to Mater's Fine Foods.
How to Reach Castro?
San Francisco has a great network of public transportation. This ranges from light rain train systems to public buses. You can take the L, K, M, or T trains of Muni Light Rail. Take them from the underground MUNI station near Union Square and get off at Castro St Station.
To enjoy the sites along the way, you can take the F-Street Car and reach the terminus of Castro and Market streets. If you are travelling from Fisherman's wharf, the easiest mode of transport is F-Street Car. Get up in the car from Mason Street to the festival spot in approximately 50 minutes.
Also Read: The Best Family-Friendly Neighbourhoods in San Francisco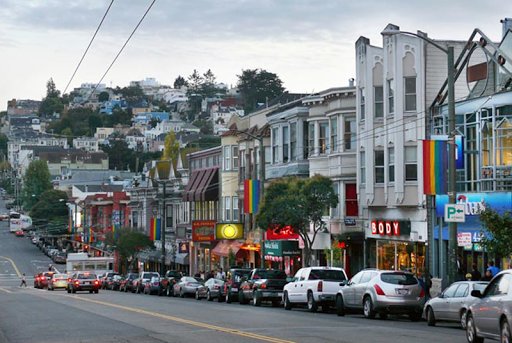 Market Street, Castro
Places to Stay Near Castro Street Fair
You can find some of the best lodging options near the Castro Street Fair in San Francisco. These include both affordable and luxurious accommodation. Some of the popular neighbourhoods are Union Square and Fisherman's Wharf. Others include Downtown San Francisco, Financial District, and several others.
You can find some well-furnished apartments in the locality. These are ideal for short stays and longer vacations at affordable prices. Plus, these apartments range from studio apartments, 1 Bedroom to 5 Bedrooms and more. They are best suited for business to leisure travellers. This includes small families and large groups of tourists visiting San Francisco. They come to enjoy the Castro Street Fair and be a part of the most exciting event in the city. They have great locations with a good transportation network. Have a great time, enjoy live music, dance to DJ beats, and more. Have a swell time walking on the streets, getting a drink in the bar, or dining at your favourite food stall.
If you're looking for a festival experience that you'll always remember and you happen to be in San Francisco this fall, check out the Castro Street Fair.
---
---
Leave a Reply
Your email address will not be published. Required fields are marked *