New Jersey - Current Restrictions on Travel Due to Covid-19
---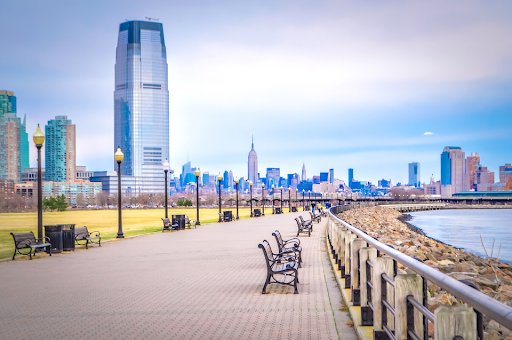 New Jersey, USA
New Jersey is still officially discouraging non-essential interstate travel although some regulations have been modified for specific categories of travelers. Those on the anvil of visiting the State and seeking furnished apartments in New Jersey should know that if they have been vaccinated completely (two weeks post the final dose), they do not require testing and quarantine any longer. Those who have recovered from COVID-19 within the last three months are also exempted likewise.
If you do not meet the above mentioned criteria and still wish to book serviced apartments in New Jersey for a vital business trip, you should know that a COVID-19 test will have to be taken 1-3 days prior to your visit and 3-5 days after. If you test positive, you will be self-isolating first 10 days at least. If you test negative, you will still have to quarantine for 7 days post arrival. A good serviced/furnished apartment will help immensely in this regard if you book in advance. If you cannot take a test, you will have to quarantine for 10 days post arrival. This applies for travelers visiting New Jersey from States other than Connecticut, New York, Delaware and Pennsylvania.
Those driving into New Jersey through the Garden State Parkway, NJ Turnpike and other highways may find signs directing them to call 511 for updates on quarantine regulations. Governor of New Jersey, Phil Murphy, stated that the State will not be setting up checkpoints along its borders although the Department of Health will be pursuing non-compliance cases once it becomes aware of them. Arrivals that are unvaccinated will have to complete the out-of-state traveler registration form.
Key Restrictions on New Jersey Travel
The advisory will not apply for those passing through restricted States for a limited time period, i.e. lower than 24 hours. If stopping in a car, bus or train at a rest point or stopping for a layover at the airport, you will not be required to self-quarantine n New Jersey.
New Jersey still discourages non-essential interstate travel by unvaccinated individuals.
Unvaccinated travelers/residents coming from any U.S. State or territory beyond the immediate zone, i.e. Connecticut, New York, Delaware and Pennsylvania, should self-quarantine at a hotel/home/temporary accommodation base upon CDC guidelines.
If travel is essential, visitors should get tested via viral tests and not antibody tests 1-3 days prior to the trip and 3-5 days after.
If testing positive, they should isolate for 10 days and postpone travel. If testing negative, they should quarantine for 7 days. If testing is not available or results are not on time, travelers should undergo a 10-day quarantine period.
Full vaccination means more than 2 weeks post getting the second dose of the Moderna or Pfizer-BioNTech vaccine or the first and sole dose of the Johnson & Johnson Janssen vaccine.
Unvaccinated travelers are recommended to take a voluntary survey online to offer information about their travel and destination. This can be done at covid19.nj.gov/njtravel or by send a text with NJTRAVEL TO 898211. This data will be shared with local Public Health authorities in New Jersey as per law. Local health departments will contact travelers for reminders regarding self-quarantine while offering support on finding details of testing sites.
What is Essential Travel in New Jersey?
Those traveling from and to the State of New Jersey for work purposes.
Those traveling from and to the State for medical purposes including those offering support/comfort to patients.
Those traveling to adhere to court orders including child custody and so on.
Military personnel coming to New Jersey on the directives of a Federal or State military authority or body.
All people are discouraged from non-essential travel and essential personnel or vital infrastructure workers are exempted from the advisory recommendations and requirements of quarantining in restricted circumstances. As per CDC guidelines, reintegrating exposed critical infrastructure workers who are not experiencing any symptoms and have not tested positive back into onsite operations should be used as a last resort and only in limited circumstances, such as when cessation of operation of a facility may cause serious harm or danger to public health and safety. Travelers may refer to the page of the CDC for Critical Infrastructure Response Planning in this regard.
Read More: New Jersey Travel Tips - What to Do, See, Costs & Ways to Save
Global Travel Guidelines
CDC requires international air passengers entering the U.S. from any foreign nation to offer proof of negative COVID-19 tests or recovery from the coronavirus.
Travelers should be tested no more than three days prior to departure of their flight to the United States and show negative results to the airline likewise before boarding. They should be also be prepared to show recovery documentation (recent positive viral test, proof of recovery and letter from healthcare provider or a public health official clearing them to travel) if applicable. The CDC website offers more information in this regard.
With particular exemptions, foreign nationals who have visited the following countries in the last 14 days may NOT venture into the U.S.- United Kingdom, European Schengen Area countries, Republic of Ireland, South Africa, Brazil, Iran and China.
Global travelers should go by regulations published on the CDC page and check the COVID-19 travel advisories for New Jersey. Several nations are classified as Level-4 high COVID-19 risk and avoiding travel to these countries has been recommended by the CDC.
Governor Phil Murphy and the New Jersey Department of Health have already issued the new travel regulations for COVID-19 and they follow the updated policies and recommendations published by the Center for Disease Control (CDC) sometime earlier. The Governor has stated that while the coronavirus pandemic is still raging on, the updated CDC guidance and vaccination blueprint have made it possible for those who are vaccinated to start traveling without quarantine needs. He talked of how residents of New Jersey should still be cautious while following all rules of public health.
Judith Persichilli, the Department of Health Commissioner for New Jersey, stated that with COVID-19 vaccination, several residents are keen on visiting friends and family members after missing them throughout the last year. Additionally, Persichilli recommended that people should continue following COVID-19 rules including wearing masks, physically distancing from others, bypassing crowds and also frequently washing hands.
Read More: New York Covid-19 Travel Restrictions in 2021
Summing Up General Travel Guidelines
Negative test result/documentation proof of recovery needed for international travelers to enter the U.S.
Self-monitoring required for symptoms during/post travel and self-isolation in case of development of symptoms.
Mask mandatory over the nose and mouth in public areas.
Crowds should be avoided and one should stand a minimum of six feet away from other people.
Hand-washing is recommended frequently along with usage of hand sanitizers.
Those fully vaccinated should be tested 3-5 days post coming back to the U.S. from any other nation although no quarantine is required post testing/travel or before travel. No test/quarantine needed for vaccinated domestic travelers. This applies from those recovering from the coronavirus in the last three months.
Unvaccinated Travelers Should Set Store by the Following:
Do not travel until complete vaccination.
Prior to traveling, COVID-19 test is required (viral test) at least 1-3 days prior to journey.
Get tested 3-5 days post traveling.
Stay indoors and self quarantine for 7 days post traveling in spite of post-traveling test being negative. If not tested post travel, stay indoors and self-quarantine for a period of 10 days.
---
---
Leave a Reply
Your email address will not be published. Required fields are marked *