Top 10 Places to Visit in Bangalore (Bengaluru)
The capital of India's southern Karnataka State, Bengaluru is popularly known as the "Garden City" and "The Silicon Valley of India". Apart from being home to the highest concentration of IT companies in the country, the city boasts of many great places to explore including gardens, museums, palaces and religious centres.
The city is blessed with a benevolent climate and an escalating drinking, dining and shopping scene, making it one of the most popular fun places to visit in Bangalore to explore in India.
Read More: Best Places to Stay in Bangalore
List of 10 Tourist Places to Visit in Bangalore, you must explore:
1. Bangalore Palace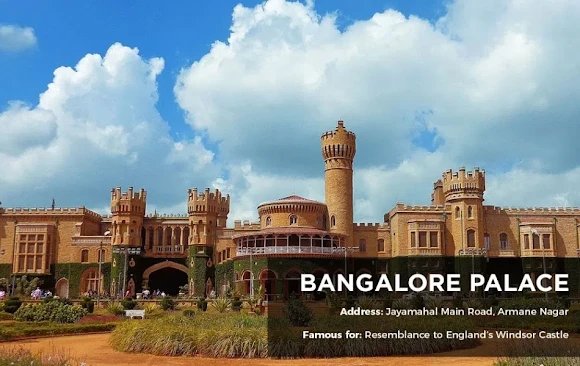 Bangalore Palace
This beautiful scenic palace is spread across a sprawling area and has a prominent resemblance to England's Windsor Castle. This tourist hotspot is set amidst lush green environs and the ground is used for organizing many big events and musical shows. The highlight of this palace is its immaculately designed interiors, the glorious paintings and stained glass windows that adorn this architectural marvel.
Address: Jayamahal Main Road, Armane Nagar
Famous for: Resemblance to England's Windsor Castle
Entry Fee for Bangalore Palace: For Indians: INR 225 and Foreign Tourists: INR 450
2. Lal Bagh
Lalbagh Botanical Garden
One of the most popular tourist attractions in Bengaluru city, Lal Bagh is spread across a sprawling area of over 240 acres. This enchanting garden was built in the 18th century, during the reign of Hyder Ali and his son Tipu Sultan. You'll find some of the rarest species of flora and fauna, lake and a glasshouse here. Do not miss the opportunity to attend the annual Flower Shows, which are organized every 26 January and 15 August.
Address: Upparahalli, Mavalli
Famous for: Rarest species of flora and fauna
Things to know:
Opening Closing Time: 6 am to 7 pm daily
Lalbagh Entry Fee: Rs. 10 per person from 9 am to 6 pm
No entry fee from 6 am to 9 am, 6 pm to 7 pm
3. Tipu Sultan's Palace
Tipu Sultan's Summer Palace
The elegant, grand and magnificent Palace of Tipu Sultan is noteworthy for its teak pillars and intricate ornamental frescoes. The palace has been converted into museum, showcasing achievements of Tipu Sultan and his administration. This attractive masterpiece has impressive figures, paintings and other artwork in store, something that is very unique.
Address: Albert Victor Road, Chamrajpet
Famous for: Constructed using pure teak wood
Things to know:
Opening Closing Time: 8:30 am to 5:30 pm daily
4. Vidhan Soudha
Vidhan Soudha
The seat of the state legislature of Karnataka, the structure boast of a Dravidian style of architecture. This largest legislative building in India is one of the most famous landmarks of Bangalore city.
Address: Dr. Ambedkar Road, Sampangiram Nagar
Famous for: The largest legislative building
Things to Know:
Vidhan Soudha Entry Fee: Free Entry
5. Cubbon Park
Cubbon Park Bangalore
Visiting this huge park, you can see around 6,000 species of trees and plants, along with famous statues and well-planned avenues. The entire park covers an area of 300 acres with a predominant green area, well laid out walking paths and magnificent landscape. This public park is a must-visit place for nature lovers.
Address: 2nd Cross Road, Gandhi Nagar, Kasturba Road, Gandhinagar
Famous for: Showcasing 6,000 tree species
Things to Know:
Open Time: 6:00 AM - 6:00 PM.
Closed on: Mondays and second Tuesdays of Every month
Cubbon Park Bangalore Entry Fee: Free Entry
6. Bannerghatta National Park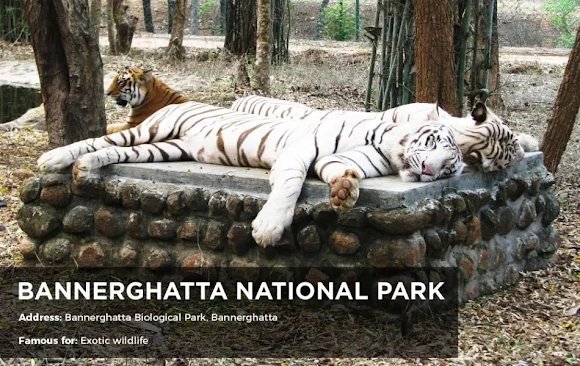 Bannerghatta Biological Park
A rich natural zoological reserve, Bannerghatta National Park is located only 22 kilometres south of Bangalore, in the valley of the famous Champakadhama hills. The park boast of a zoo, butterfly park and rescue centre that work towards the conservation of wildlife and rehabilitation of orphaned animals.
Address: Bannerghatta Biological Park, Bannerghatta
Famous for: Exotic wildlife
Things to Know:
Bannerghatta Biological Park Entry fees :
For Adults is Rs. 80
Children: Between 5 to 12 years of age is Rs. 40
For Grand Safari along with zoo:
Fee for adults: Rs. 260
For Children: Rs. 130
7. St. Mark's Cathedral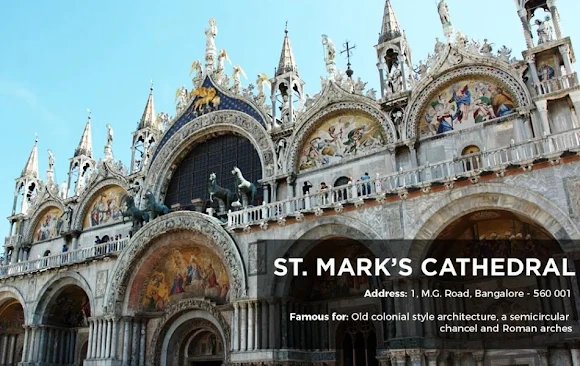 St. Mark's Cathedral
Located on the popular M.G. Road in Bangalore, the Cathedral was founded in 1808 and consecrated in 1816. This beautiful cathedral is built in old colonial style architecture and is decorated with a beautiful dome. Intricate Roman arches decorate the walls of this magnificent St. Mark's Cathedral. Also, the huge ground with a number of tress that surrounds the cathedral offers a peaceful escape to the visitors from the hustle and bustle of M.G Road.
Address: 1, M.G. Road, Bangalore - 560 001
Famous for: Old colonial style architecture, a semicircular chancel and Roman arches
8. Innovative Film City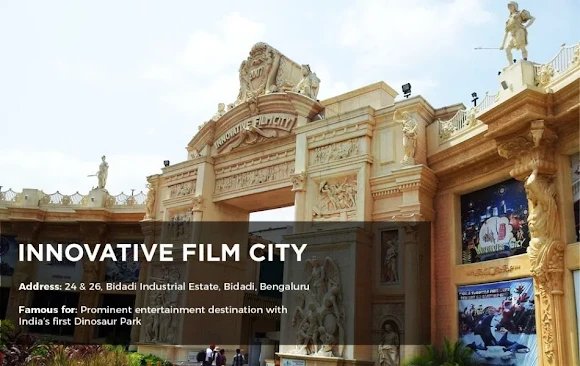 Innovative Film City
A significant entertainment centre in Bengaluru city, Innovative Film City was established in 2008, offering 27 different facilities including an amphitheatre, an entertainment district, food courts and theme restaurants. There are many fun things to do and see in this attraction like Haunted Mansion, Cartoon City, Aqua Kingdom, Funplex within 4D - Theatre, Adventure Sports and Roller Skates, amongst others.
Address: 24 & 26, Bidadi Industrial Estate, Bidadi, Bengaluru
Famous for: Prominent entertainment destination with India's first Dinosaur Park
9. Jawahar Lal Nehru Planetarium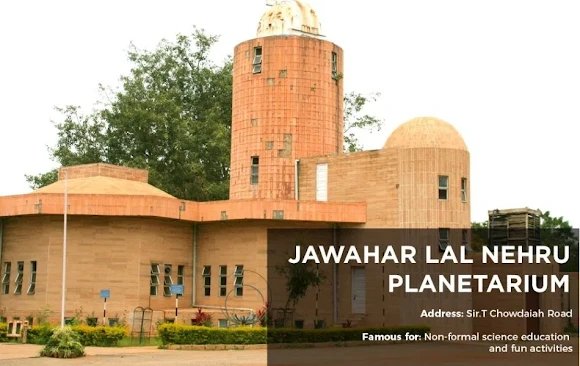 Jawahar Lal Nehru Planetarium
A science center for educational activities, The Jawaharlal Nehru Planetarium is a charming facility, administered by the Bangalore Association for Science Education (BASE). The planetarium works as a nucleus for offering non-formal science education at all levels. Moreover, one can enjoy activities like sky-theatre shows, science exhibitions and lectures.
Address: Sir.T Chowdaiah Road
Famous for: Non-formal science education and fun activities
Things to Know:
Nehru Planetarium Bangalore Entry Fee:

Entrance Fee for Adults: Rs.35
Entrance Fee for Children: Rs.20 (upto 16 years)

The entry is free for physically challenged individuals.
Children below three years are not allowed inside the sky-theatre
10. Bangalore Turf Club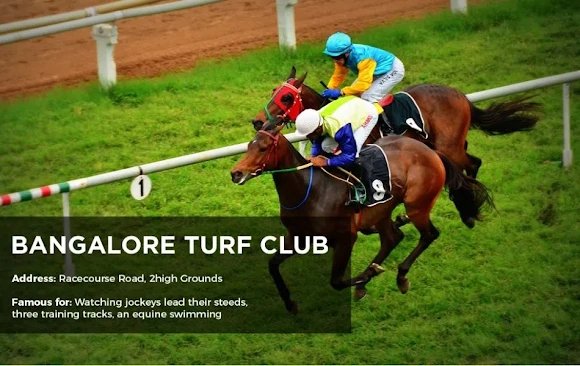 Bangalore Turf Club
Interested in watching horse racing? Bangalore Turf club is the right destination for you! Bangalore Race Course is considered as one of most challenging in the country and is the best place to test the skills of experienced horses as well as riders. It's really exciting to watch jockeys lead their steeds to victory on this course.
Address: Racecourse Road, 2high Grounds
Famous for: Watching jockeys lead their steeds, three training tracks, an equine swimming pool and training schools
Bangalore Turf Club Entry Fees: For Men have to pay Rs 20 while entry for women is free
Industrial and IT hub in India, Bengaluru city offers both premium and budget accommodation options to cater both corporate and leisure travellers.
Our serviced apartments in Bangalore are situated close prominent tourist place in the city centre. These fully-furnished apartments are designed to offer homely comforts along with luxuries of a hotel room. Book your Bangalore serviced apartments with thesqua.re and choose from one-bedroom, 2-bedroom, 3-bedroom and studio apartment as per your accommodation needs.
---
---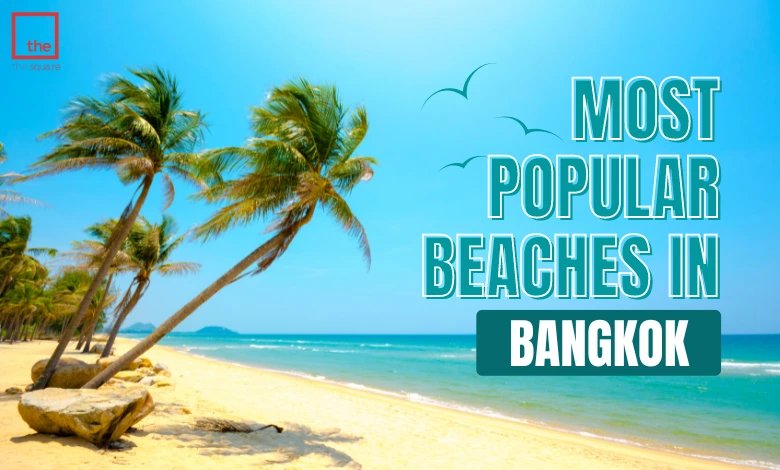 11 Popular Beaches in Bangkok for an Unforgettable Day Trip
The beaches close to Bangkok have a beautiful atmosphere for you to spend time with your family and friends thanks to the swaying palm trees and turquoise waters. They provide visitors with a once-in-a-lifetime opportunity to enjoy the sun in a strange atmosph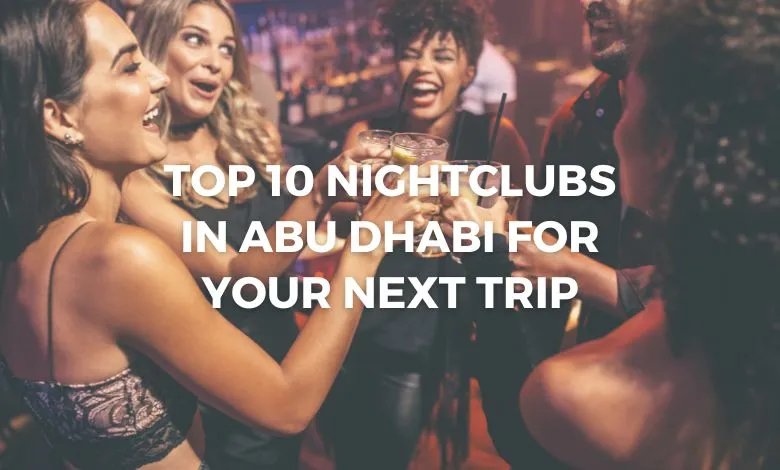 Top 10 Nightclubs in Abu Dhabi for your next trip
Abhishek Kapoor
14 Sep 2023
Are you ready to experience Abu Dhabi's vibrant nightclubs? The nightlife scene in the capital of the United Arab Emirates is nothing short of spectacular. Abu Dhabi has it all, from swanky lounges with international DJs to chic live music venues. We'll highl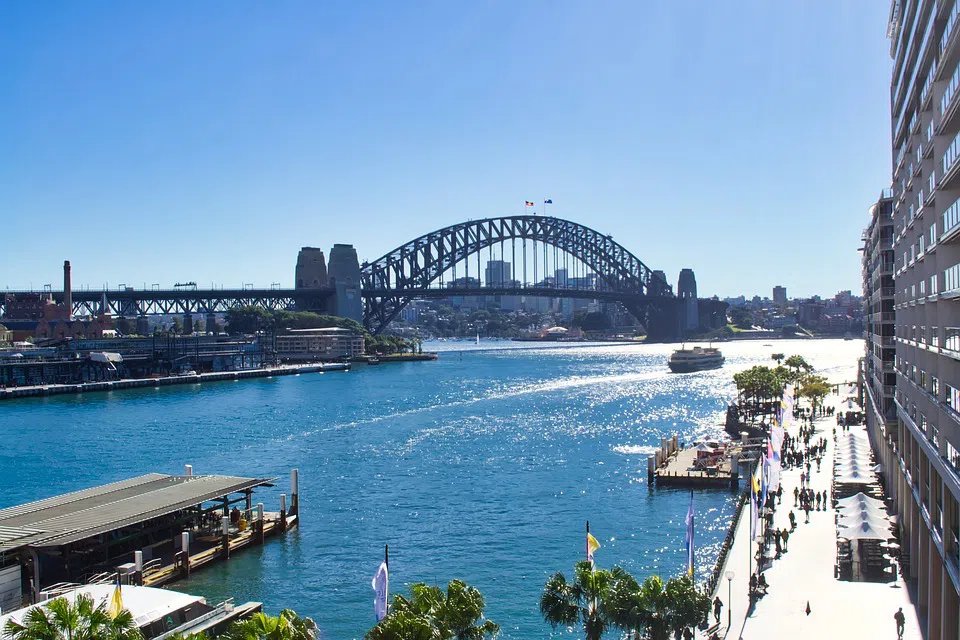 Perfect Itinerary for 3 Days in Sydney - 2023
Sydney is the oldest, biggest, and most beautiful of all Australian cities. The celebrated capital city of New South Wales, all travellers love Sydney because of its unmatched financial, tourist, and historical potential. Opera House (Sydney Itinerary for 3 D