Top 10 Places to Visit in Delhi NCR 2021
All of us remain befuddled to select from best places to visit in Delhi, as this dynamic city is known for giving vacationers to choose from a vast range of tourist attractions ranging from ancient historic sites to sprawling parks and iconic landmarks to religious places to shopping districts.
You'll likely find everything that suits your interest while you plan to take Delhi excursions and explore the destinations all over the city.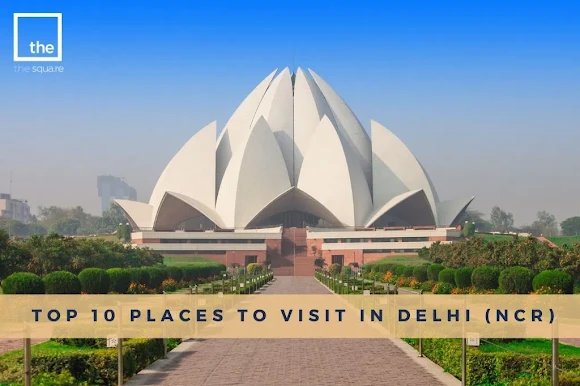 Best Places To Visit In Delhi NCR
List of Best Places to Visit in Delhi NCR that would give you all amazing experiences:
1. India Gate
India Gate is a national war memorial nestled in the heart of capital city, Delhi in close vicinity to the Rashtrapati Bhavan. The memorial is dedicated to honour the 82000 soldiers of the undivided Indian Army, who sacrificed their lives fighting for the British Empire during the First World War (between 1914-21).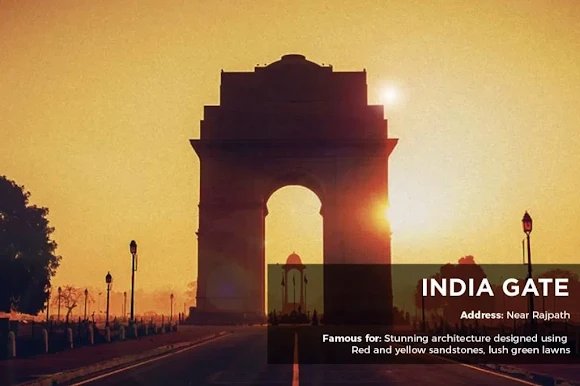 India Gate
This 42 m high Gate's foundation stone was laid by His Royal Highness, the Duke of Connaught in 1921 and the Amar Jawan Jyoti was added much later after India got its Independence in remembrance of soldiers, who laid down their lives in the Indo-Pakistan War of December 1971. A popular landmark, this memorial is surrounded by lush green lawns, making it a favourite picnic spot.
Address: Near Rajpath
Famous for- Stunning architecture designed using Red and yellow sandstones, lush green lawns
Things to know
Timings: Morning to Night
Entry: Free
Days Closed: None
Photography Charges: Nil
Also Read: Glimpse of India Republic Day Parade 2021 in New Delhi
2. Qutub Minar
This 73 metres high stunning monument is the world's tallest rubble masonry minaret and is a famous UNESCO World Heritage Site, designed so intricately that each floor has a distinct pattern.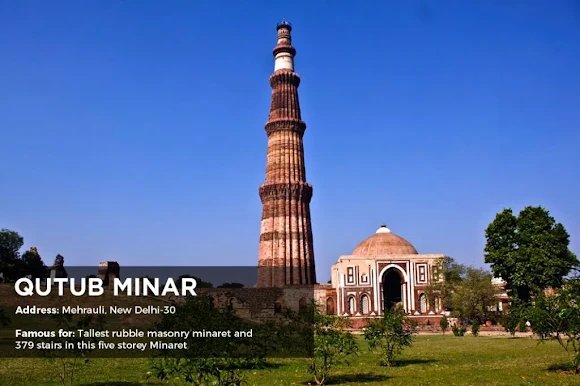 Qutub Minar
It was built by Qutub-ud-Din Aibak in 1193 and was completed by Iltutmish. This famous monument's different architectural styles are very impressive as the first three storeys are made of red sandstone and the last two with marble and sandstone, making it a stunning masterpiece of Indo-Muslim art.
Address: Mehrauli, New Delhi-30
Famous for: Tallest rubble masonry minaret and 379 stairs in this five storey Minaret,
Things to Know:
Opening Closing Time: Everyday-7AM–5PM
The Qutub Minar offers great opportunity to makes excellent photographs, especially when photographed from unique angles.
3. Red Fort
A historical fort and an important identity of the capital of India, Delhi, this was the residence of the Mughal dynasty for nearly 200 years. It was built as the palace fort of Shahjahanabad, the fifth Mughal Emperor of India.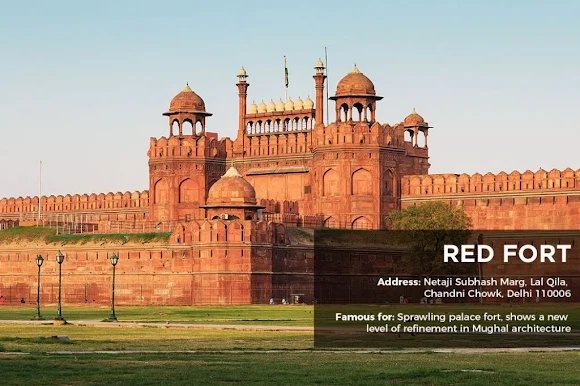 Red Fort
The fort represents the zenith of Mughal creativity and architectural elements that is typical of Mughal buildings. Constructed in 1639, this UNESCO World Heritage Site houses a number of museums, in addition to accommodating the residential apartments of emperors and their households. Furthermore, it was the ceremonial and political centre of the Mughal state.
Address: Netaji Subhash Marg, Lal Qila, Chandni Chowk, Delhi 110006
Famous for: Sprawling palace fort, shows a new level of refinement in Mughal architecture
4. Akshardham Temple
The world's largest Hindu temple and a spiritual-cultural campus dedicated to the avatars, devas and great sages of Hinduism, Bhagwan Swaminarayan.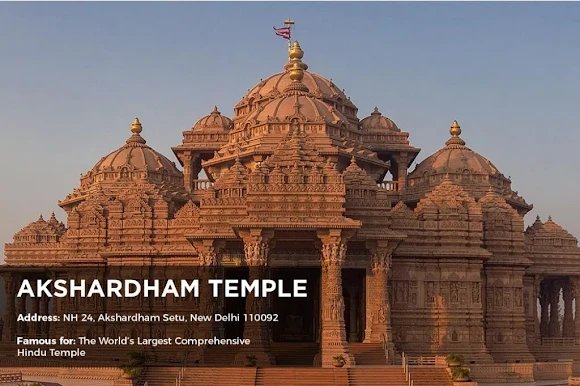 Akshardham Temple
The breath-taking grandeur and beauty of this temple that covers over 8,000 square meters is simply divine and is decorated with intricately designed domes, carved pillars and 20,000 statues, making it a must-visit attraction in the capital. Visit this temple to experience the essence of 10,000 years of Indian culture!
Address: NH 24, Akshardham Setu, New Delhi 110092
Famous for: The World's Largest Comprehensive Hindu Temple
Things to know:
Entry: Tuesday to Sunday- First Entry: 9:30am and Last Entry: 6:30pm
Closed: Every Monday
Exhibitions
Ticket Window: 10:00am to 6:00pm
Water Show: After Sunset
Entry Charges: Complex Entry is Free
Exhibition: Rs. 170 (Adults), Rs. 125 (Senior Citizens), Rs. 100 (Child from 4-11 years), Free (Child Below 4 years)
Musical Fountain: Rs. 80 (Adults), Rs. 80 (Senior Citizens), Rs. 50 (Child from 4-11 years), Free (Child Below 4 years)
Photography, Mobile Phones and other Electronics are not allowed inside the complex. You can deposit them at the Cloakroom.
5. Humayun's Tomb
The tomb of the Mughal Emperor, Humayun, was built in 1570 as the first garden-tomb on the Indian subcontinent. The Humayun's tomb is a UNESCO World Heritage Site, located in the eastern part of the Delhi.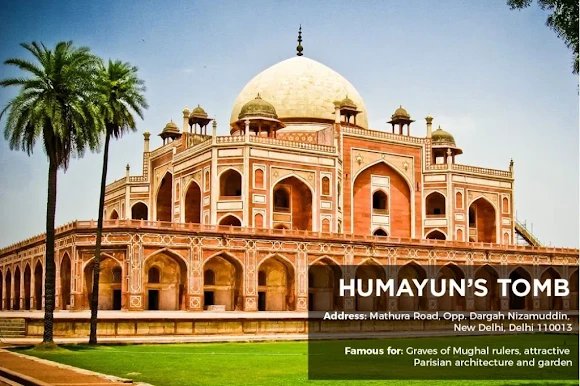 Humayun's Tomb
This spectacular tomb, encompasses the main tomb of the Emperor Humayun, the graves of Bega Begum herself, Hamida Begum, and also Dara Shikoh. Showcasing the highly impressive example of Parisian architecture, this mausoleum was commissioned in 1526 by his widow Hamida Banu Begum.
Some of the notable features of this magnificent masterpiece includes the garden squares (chaharbagh) with pathways water channels and proportional mausoleum topped by double dome.
Address: Mathura Road, Opp. Dargah Nizamuddin, New Delhi, Delhi 110013
Famous for: Graves of Mughal rulers, attractive Parisian architecture and garden
6. Gurudwara Bangla Sahib
This is one of the most significant Sikh gurdwaras (pilgrimage place), located in the heart of capital city of India, Delhi. This beautiful Sikh house of worship is dedicated to the eighth Sikh Guru, Guru Har Krishan and was built in 1783.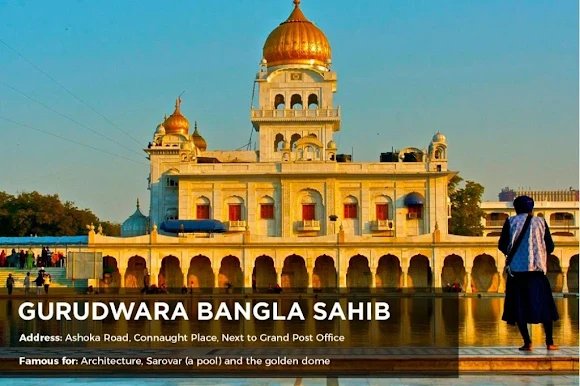 Gurudwara Bangla Sahib
This sacred place was initially a bungalow belonging to an Indian ruler, Raja Jai Singh. Currently, this holy place, includes the main prayer hall, the water tank in the middle, a library, a hospital, a museum, a school and an art gallery. This is a popular attraction amongst locals as well as tourists.
Address: Ashoka Road, Connaught Place, Next to Grand Post Office
Famous for: Architecture, Sarovar (a pool) and the golden dome
Things to know:
The gurudwara is open 24 hours, all days of the week
Entry is free
Keep your head covered inside the gurudwara premises
Also Read: Holi Festival – Celebrate Colour in Delhi
7. Lodi Garden
Lodi Gardens has a sprawling green spaces, adorned with some beautiful bonsai trees, rose & herb and a lake. This attractive historical landmark park is spread across an area of 90 acres, boasting elaborate architectural works of Sayyid and Lodi dynasties.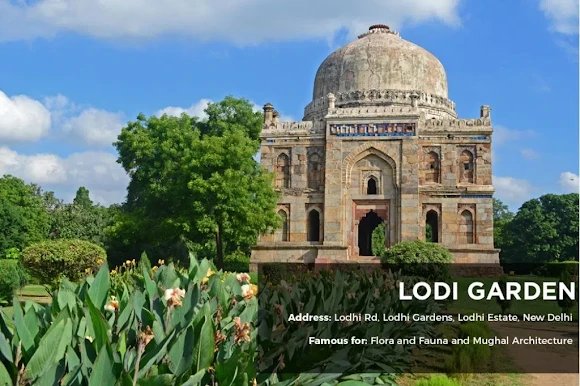 Lodi Garden
The Garden houses the tombs of Mohammed Shah and Sikander Lodi, Sheesh Gumbad and the Bara Gumbad. Visit this beautiful garden to escape the hustle and bustle of city life and you'll love the serene atmosphere and lush greens that the place has to offer!
Address: Lodhi Rd, Lodhi Gardens, Lodhi Estate, New Delhi
Famous for: Flora and Fauna and Mughal Architecture
Things to know
Entry is free
Visiting Hours - 6:00 AM - 7:30 PM
8. Jama Masjid
One of the largest mosques in India, Jama Masjid was built by Mughal emperor, Shah Jahan between 1644 and 1656. This magnificent mosque features three great gates, four towers and two 40 m high minarets.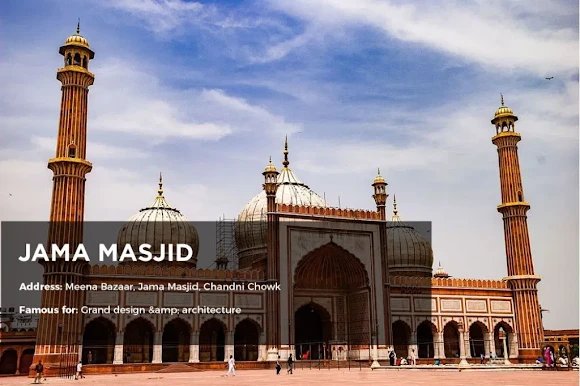 Jama Masjid
The entire structure is constructed using strips of red sandstone and white marble and can accommodate 25,000 devotees a time. This is a must visit attraction as the grandeur of this structure is sure to impress you at the first glimpse!
Address: Meena Bazaar, Jama Masjid, Chandni Chowk
Famous for: Grand design & architecture
Things to know
Visit Timing: 7 am to 12 pm, 1:30 pm to 6:30 pm, all days of the week
Entry Fee: Free entry
9. Raj Ghat
Raj Ghat is the ground, where the memorial of Mahatma Gandhi is situated. A square like a platform of black marble is designed at the spot where Mahatma Gandhi was cremated after his assassination in 1948.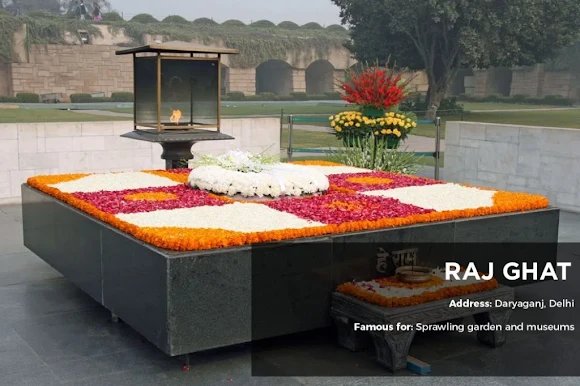 Raj Ghat
Today, the ground is also the final resting place for many greatest Indian personalities. To honour Gandhi's sacrifices, a flame constantly burns at one end of the platform.
The area is surrounded by a beautiful sprawling park and decorated with labelled trees planted by famous names including Queen Elizabeth II, USA President Eisenhower, among other prominent guests. Also, there are two museums, which are dedicated to Gandhiji, Rajiv Gandhi, Indira Gandhi and Jawaharlal Nehru.
Address: Daryaganj, Delhi
Famous for: Sprawling garden and museums
Things to know:
Timings: 6 am – 7 pm (All days)
Entry Fee: Free
Photography: Free
10. Jantar Mantar
Among most well-known spots to visit in Delhi is the unique Jantar Mantar, which is an old observatory constructed by Maharaja Jaisingh of Udaipur in 1794.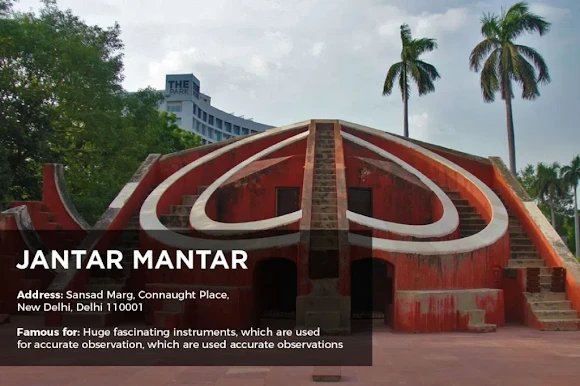 Jantar Mantar
The 13 architectural astronomy instruments at Jantar Mantar are without a doubt captivating for their resourcefulness. The structure incorporates multiple buildings of unique form, each striking combinations of geometric forms with specialized function, used for astronomical measurement.
Address: Sansad Marg, Connaught Place, New Delhi, Delhi 110001
Famous for: Huge fascinating instruments, which are used for accurate observation, which are used accurate observations
Things to know
Timings: Open from 6AM–6PM
Photography: Free
The capital city has no shortage of lavish to budget accommodation options, close to the popular attractions or in the city centre.
If you are looking for comfortable and fully-furnished serviced apartments in Delhi and NCR, book your accommodation with thesqua.re serviced apartment to avail some exciting deals and discounts.
All our apartments are located centrally and are appointed with modern amenities to make your stay easy and relaxing.
---
---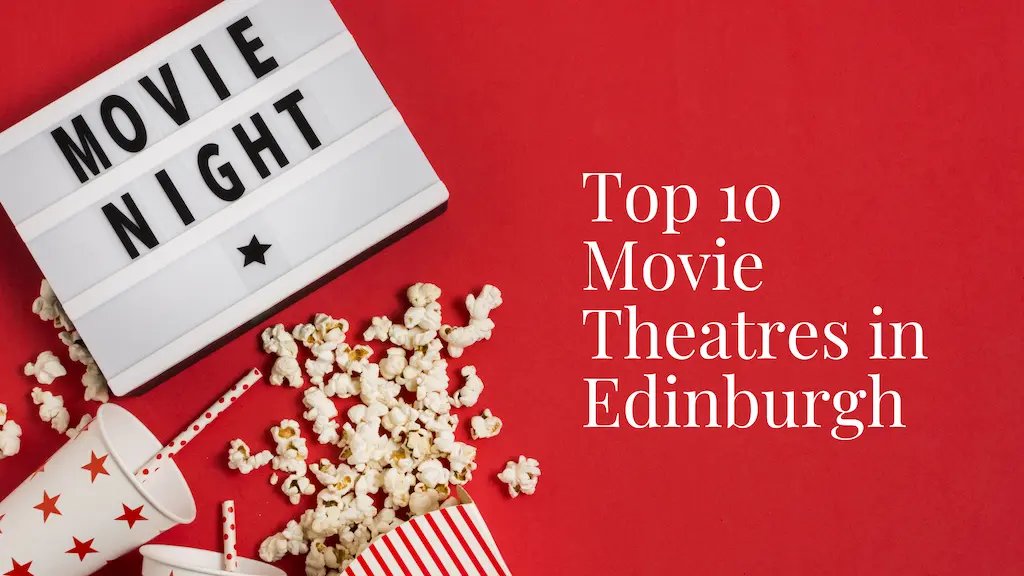 Top 10 Movie Theatres in Edinburgh for Amazing Movie Experience
Edinburgh, the capital city of Scotland, called the second most populous city, is rich in scenic beauty and gives you satisfaction regarding the Edinburgh movie scene, which recalls your memories in the outstanding movie theatres of Edinburgh. Having a cup of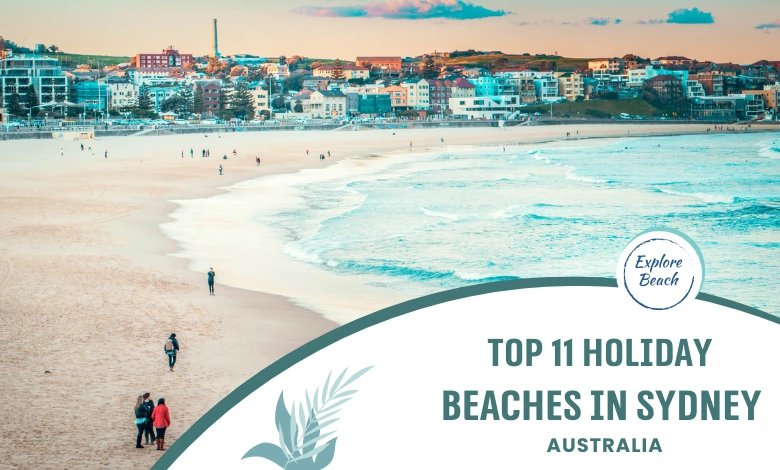 11 Most Famous Beaches in Sydney for Tourists
Are you looking for quiet beaches in Sydney? The city's beaches are popular with tourists because they provide the perfect fusion of everyday excellence. Along with athletic activities, and a relaxed atmosphere, Sydney's Beaches are a fantastic location for sw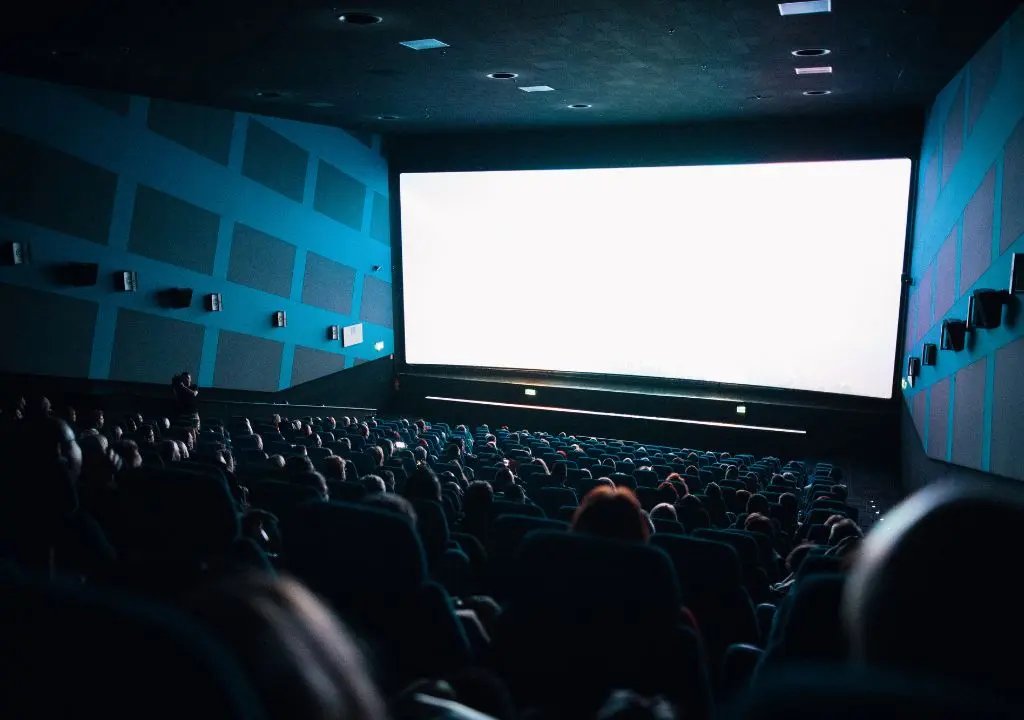 Top 10 Movie Theatres in Leeds for Amazing Movie Experience
The prettiest city in England, Leeds, located on the south bank of the River Aire, is the home to the amazing lineup of celebrities in the leading movie theatres. The giant screens with top-notch facilities and old-school movies with amazing characters are the
4 Comments
---
---
---