New York in March 2022 - A Travel Guide
---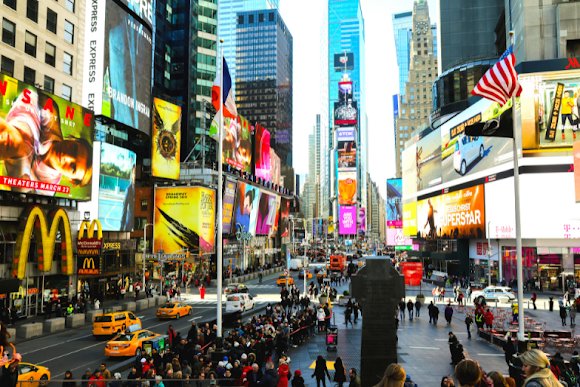 Times Square, New York
Even though New York City is a place to visit during any month of the year, New York in March, during the spring season, is the finest month to go around the city. The cold freezing wintery months, giving way to the more pleasant weather is yet to welcome the scorching hot days for New York summer.
Though NYC in March could witness spells of occasional cold days with rare chances of snowstorms as well, it is much better than the coldest months of December and January. Thus, while visiting New York in March take enough warm clothes. If the weather seems warm, wear shorts by all means, but at all times bring with you a pair of long trousers, a raincoat, warm jumpers, and most certainly an umbrella.
One of the greatest things about going to New York in March is that you'll not encounter many tourists flocking to the city. If you've been here earlier during other seasons, you would have perhaps seen the place swarming with visitors! But not in March, and the whole place just appears a little quieter.
It's not the usual vacation season in the US and most schools will be in session, even though you might find a few students from the university enjoying their Spring Break (though possibly just the quieter ones who have chosen NYC against a holiday on the beach). This means that places of attractions can be visited without queuing up and you'll get reservations at your favorite restaurants very easily. It also goes without saying that it will be easier to find accommodation in NYC in March. If you're looking for luxury apartments to rent or conveniently located furnished apartments in New York, you can expect to be lucky in this regard.
March is generally a laid-back month for events in NYC, with fewer events organized because of the inclement weather conditions. Having said that, it also needs to be mentioned that you can't contain the fun-loving people of this city; they are always teeming with excitement and are full of liveliness. Thus there are events planned in New York in March and they are certainly worth participating in or attending.
Also Read: 10 Unique Street Foods You Must Try While You are in New York
Some of the events planned in New York in March 2022 are worth including in your bucket list. Events such as the St. Patrick's Day Parade, the New York City Winter Wine & Food Festival, the Orchid Show at New Your Botanical Garden, NY Rangers Hockey at Madison Square Garden & March Madness Basketball, and the Macy's Flower Show are not to be missed. If you are a fan of some of the leading vocalists, musical concerts by them should be on your priority list.
March is the month to check on your calendar for witnessing these events in New York:
St. Patrick's Day Parade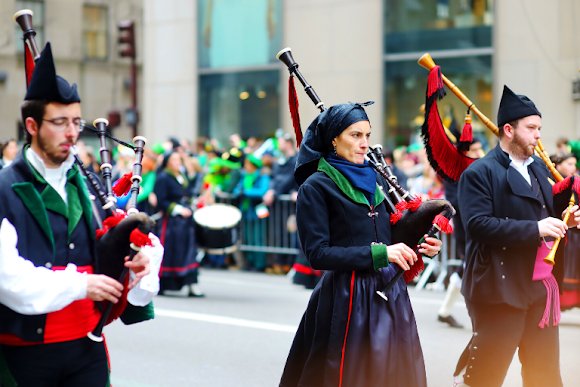 St. Patrick's Day Parade
Probably something you've previously heard of, even though you've never visited earlier, is the legendary St. Patrick's Day Parade in New York City, the much-awaited day for both locals as well as tourists to NYC in March. There are hordes of people in the city wearing green, participating in the event
If you consider that the celebrations in New York are bigger than those conducted on the Emerald Isle itself, you are probably correct. This perhaps has something to do with the information that the initial record of the official St Patrick's Day Parade in the city was traced back to the first event being organized on 17th March 1762. That pre-dates the Declaration of Independence. It even pre-dates records of any celebrations being held in Ireland itself.
Also Read: 12 Best Theatres in New York (NYC) for the Best Movie Experience
New York City enjoys a parade, for sure, but this event is a little different. There are no floats for a start, just the general public. There are usually a lot of people, around 150,000 of them, and if they are not watching, then they participate in the march while singing, dancing and playing all kinds of musical instruments.
The parade, like on all previous occasions, will begin at 11 am and wrap up between 03 PM - 04 pm on 17th March 2022.
Affordable Art Fair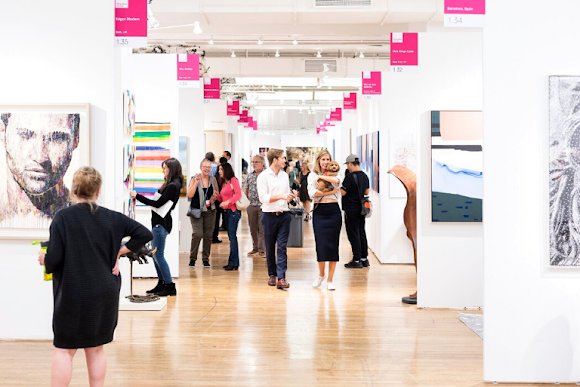 Affordable Art Fair (image courtesy: cottagesgardens.com)
Do you wish to indulge in the world of art but have no idea where to start? Or, does the thought of visiting an art fair and purchasing a piece fill you with dismay, due to the exorbitant prices? Then the Affordable Art Fair in New York City, organized at the end of March and September each year, is sure to change your perception of the art world. It is a family event at its core.
For a start, the atmosphere created by the welcoming people involved can only be labeled as peaceful and more than a little casual. Unlike the regular art fairs, visitors to the Affordable Art Fair are encouraged to get hands-on experiences with workshops and there are many activities for kids as well.
Also Read: The Best Ice Cream in New York
There are sculptures, paintings, and prints on display, ready to find a buyer. These pieces of art cater to all tastes and budgets for maximum comfort and convenience!
Concerts in New York in March 2022
Concerts in New York
For those of you who are ardent fans of western pop music, there are several concerts organized in NYC at this time.
Some of them are listed below with dates and venues of the event (tentatively announced till now):
Elton John - March 1-2, 2022 at Barclays Center; and March 5-6 at Nassau Veteran Memorial Coliseum
Ben Platt - March 6, 2022, at Madison Square Garden
Billy Joel - March 24, 2022, at Madison Square Garden
Pearl Jam - March 30, 2022, at Madison Square Garden
However, there is a piece of advice regarding following COVID-19 protocols on your tour to New York City this March. Check with the organizers of these concerts for any possible restrictions and norms to adhere to.
Also Read: 20 Things to Know About Moving to New York
Also, check the local weather portal for the temperature and overall forecast, while accounting for possibilities of rainfall or snowstorms. Make sure you are well prepared with suitable outfits and other essentials to brave inclement weather conditions.
---
---
Leave a Reply
Your email address will not be published. Required fields are marked *