Best Tokyo Neighborhoods and Districts for Tourist
---
Tokyo is a wonderful city, full of things to marvel at, especially for visitors who are new to Asian culture.
It can be confusing too. There's so much to see so how do you priorities? If you are looking for serviced apartments in Tokyo then in which districts should you be looking?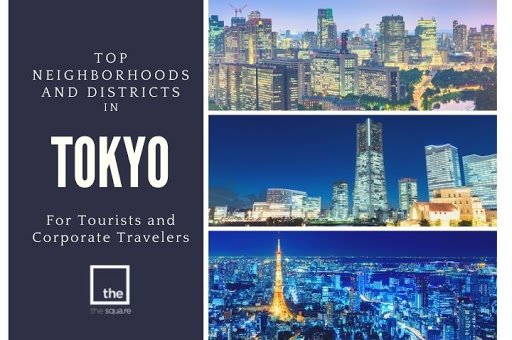 Top Tokyo Neighborhoods and Districts
There are some of the best districts and neighborhoods in Tokyo which are popular in terms of things to see as well as a good base for your corporate or business hub..
Best 5 Tokyo Neighborhoods & Districts You'll Like to Visit!
This particular district is well worth a visit as it is the political headquarters of not only Tokyo but Japan itself. This is where the prime minister lives as well as where the Tokyo Imperial Palace can be found. If it's good enough for political leaders and royalty then it's probably a good location to stay in!
As well as a political centre, Chiyoda is also a base for many of Tokyo's businesses. This is why the people travelling through this district are so varied. The leisure travelers come for the history and for the reverence that Japanese people hold this place in.
It's also where you can find Tokyo Disneyland, for those days when you need a break from the serious sightseeing.
Also Read: Unique Travel Guide to Tokyo for First Time Visitors
The business travelers, come to meet with the many major companies that base themselves here.
This is the place to stay if you want accommodation in a slightly quieter area of the city. Located within the Greater Tokyo area, Kanagawa is a place where many of the people who work in Tokyo city centre live. It is peaceful but still very close and easily commutable to where the action is.
It is here where you'll see a different side of Tokyo. It's not the flashy, neon-lit metropolis in any way. Instead, you'll find peace, quiet and people going about their daily lives.
It's not a boring place to live by any means. There's still plenty to see and do here.
Hakone Gora Park, for example, is a European style garden with various botanicals and a memorable fountain. A great place to relax. On the other hand, you can visit what is thought to be the largest Chinatown in the world, in Yokohama.
This is the district where more than a few business travelers will find themselves either travelling into or staying in, as it is home to some of the biggest companies in Japan.
Household Japanese company names such as Mitsubishi, Honda, Sony, Fujitsu and Toshiba can all be found here. As can the regional headquarters of international companies such as Apple and Google.
If you're travelling on political business then Minato may also be familiar to you as it is the home of many countries' embassies.
Travelling for study purposes? You may also find this an ideal place to base yourself. Minato is the location of many of Tokyo's finest colleges and universities.
Another commercial hub in Tokyo, Shibuya has plenty going for it for business and leisure travellers alike. There are more big companies here as well as numerous things to see for the casual and the more informed of tourists.
It is a fantastic place to be based if you want to travel around Tokyo or even further afield into Japan. It is home to one of the two busiest railway stations in the entire world, also called Shibuya.
If a native refers to Shibuya they might be referring to the famous shopping district which surrounds the station of the same name. These upmarket shops are what gives this area its reputation as one of the most fashionable areas in Tokyo.
Also Read: Top 15 Places to Stay in Tokyo for Tourist
Being fashionable, the place attracts a lot of young people, plenty of whom take the opportunity to visit Shibuya's many bars and other nightlife.
Just in case you were wondering what the name of the other railway station which is in the top two busiest in the world, it's called Shinjuku station and sees more than 3.64 million people go through it every single day.
Shinjuku, like neighbouring Shibuya, is a commercial area of Tokyo. As well as being the obvious home to a number of the city's tallest skyscrapers (through which a great Mount Fuji photo op is available), it is the government administrative centre for Tokyo's local government and is home to the Tokyo Metropolitan Government building.
In terms of big name companies based here, the well known camera firm, Olympus, as well as the McDonald's Japan each have offices in the district.
---
---
Leave a Reply
Your email address will not be published. Required fields are marked *