Where to Stay in Singapore – A Travel Guide to the Top Neighbourhoods
Singapore is an economic powerhouse on the world's financial markets, this seems hard to believe if you look at the tiny island country on a map. However, the prosperity of this city-state is obvious when you first lay eyes on it in its glass and steel flesh.
Modern, state of the art buildings and infrastructure, well run transportation systems, leisure pursuits galore and above all a twenty-first century business environment. If you're looking to move to Singapore to work you're going to need to know the answers to a few questions, according to your circumstances.
What are the best neighbourhoods in Singapore to stay as a professional?
Where is the best area to Stay in Singapore with family?
Where to stay in Singapore on a budget?
Here is some information on some of Singapore's most popular residential areas.
Marina Bay
If you want to make your commute as short as possible then Marina Bay should certainly be a consideration. The area benefits from have two stations on the MRT (Mass Rapid Transport system).
Marina Bay is a concentrated version of the modern side of Singapore in itself. Not only is it where some of Singapore's biggest businesses have their largest offices but it is also one of the centres for Singapore's modern leisure offerings. This is why Marina Bay is one of the most popular places to visit in Singapore.
There's a picturesque waterfront lined with some of the best restaurants in the city as well as some of the top clubs and shops. Thesqua.re can also offer some of the top serviced apartments in Singapore here.
East Coast
If you want to mingle with other expats, then East Coast is one of the most popular places for overseas workers to live.
As with most of the modern areas of Singapore, it is full of restaurants, bars, shopping centres as well as countless other leisure activities. East Coast does have a healthy slice of traditional Singapore too which blends seamlessly with the new.
It isn't as central as other areas which means it offers much more value for money in terms of accommodation. It's ideally suited to people who want a slower pace to their home life in comparison to their work life. It's not only peaceful but beautiful too. Locals associate the area with miles of tree lined streets and sandy beaches.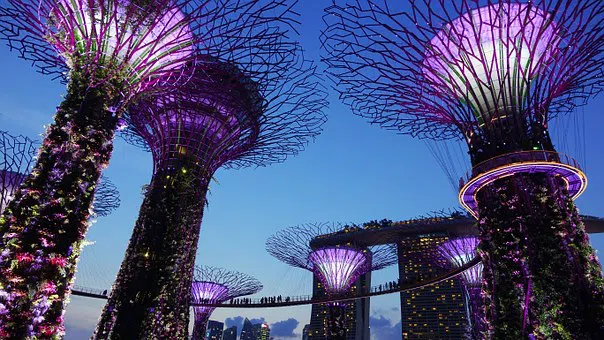 Hougang
If you're one of those people who likes to be in on a secret from the beginning, the type of person who likes to set a trend rather than follow one, then Hougang might just be the place for you.
Considered one of Singapore's most up and coming areas, this is a quiet, residential zone that is becoming more and more popular as each unique restaurant, boutique and street vendor pops up.
Always seen as a good place to live due to it's schools and other family amenities this is fast transforming from suburbsville into trendyville.
Outram Park
Heading back towards the Central Business District, Outran Park is the most central place where Singapore's culture clash is most evident. 'Clash' is probably too strong word for the blend that Outram Park enjoys.
It's where old Singapore meets the new, where East meets West and all the cultures in the cities melting pot mix together. You'll find streets that are lined with skyscrapers down one side and old wooden buildings on the other.
This mix offers a fantastic array of shops and restaurants from every culture in Singapore, local dishes served alongside European classics, catering for all tastes. Outram Park is the ideal location for the business traveller who wants to be close to the CBD as well as being able to sample the real Singapore in their leisure time.
Balestier
Another place to consider if you like the more traditional aspects of Singapore. Most streets are lined with traditional local eateries where you can sample some of the best cuisine that Singapore has always offered throughout the years.
However, this traditional feel masks the fact that Balestier is in a fantastic location near to both the business and leisure hubs of the city, with modern bars, restaurants and shopping centres within easy reach. This is an area which may appeal more to the younger traveller. There is a thriving ex-pat community and a fast pace to life which may not suit people who want to relax in the evenings, rather than head straight back into the city to party.
With that said, Balestier is still one of the best places to stay if you want to get a taste of all of the sub cultures that make up this vibrant city-state.