TheSqua.re Awarded ISAAP QCC Certification for 2021-22
---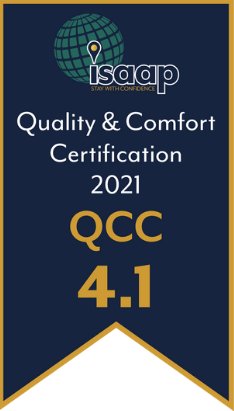 TheSqua.re Receives ISAAP QCC Certification for 2021-22
November 18, 2021, London: MySqua.re, TheSqua.re's managed portfolio of properties, has been awarded the ISAAP QCC certification for 2021-22. With this new achievement, MySqua.re customers can be assured about cleanliness, safety and quality of accommodation.
ISAAP Accreditation functions as a differentiator between accommodation providers like MySqua.re and conventional establishments. This certification guarantees quality, cleanliness, service, and safety. ISAAP is a globally acknowledged accreditation body for the serviced apartment industry. ISAAP Accreditation builds trust between serviced accommodation providers and end-consumers with its extensive assessment mechanism.
ISAAP Quality Assessment Consultants undertake personal stays and visits for awarding the final scores. Accommodation units are assessed on their hygiene and sanitation standards, adherence to safety protocols for consumers, and overall consumer experiences.
ISAAP has a presence in over 21 countries and 200+ cities, along with 100,000+ apartments. ISAAP Consultants measure quality standards at properties from the time of booking to final check-outs. 200+ considerations go into the creation of the final Quality Score for serviced accommodation providers. ISAAP Consultants experience sample accommodation types in each category, as available with the provider.
MySqua.re received the ISAAP QCC certification for 2021-22 due to its distinct focus on hygiene, safety and quality standards. MySqua.re maintains stringent quality standards while ensuring round-the-clock customer service, multiple add-ons and new-age amenities at competitive price points. ISAAP Accreditation is the latest achievement for the serviced accommodation provider. Unmatched customer offerings and well-equipped apartments create a distinct value proposition for guests at MySqua.re.
---
---
Leave a Reply
Your email address will not be published. Required fields are marked *