Your Event and Accommodation Guide for the French Open 2017!
---
One of the most prestigious tournaments in the game of Tennis, The French Open is here! 2017 brings in the 116th edition of the French Open, to be held at the Roland Garros Stadium in Paris. This Grand Slam tournament starts from the 28th of May to the 11th of June, bringing us the best in Tennis. The Tournament has several sub-events, like Singles, Doubles and Mixed Double, but not only this, the tournament also has had Junior and Wheelchair events. From last year, the famous players – Novak Djokovic and Garbine Muguruza have been the defending champions for men's and women's singles respectively; and fans are pumped up for this year's tournament!
If you an ardent Grand-slam fan, and you have bought those precious French-open tickets, just sit back and read this all-encompassing French Open event and accommodation guide. Here are your best accommodation options which are located in close vicinity to the Roland Garros Stadium, and relevant tips to make sure you make the best out of your first-time experience of the French Open.
Event & Ticket Guide: -
The French Open is generally held in the months of May and June every year at the Roland Garros Stadium in Paris. We would suggest that you book your tickets to Paris well in advance as the prices nearing to the date of the tournament soar high. Though the tickets for the tournament are available at the stadium and on the official Roland Garros website as well, where not only can you check out the accurate itinerary of the tournament, but also book tickets accordingly. Other amazing online sites to purchase the tickets for this tournament is - www.viagogo.com or tennisticketservice.com, which sometime offer amazing deals and flash discounts on tournament tickets. The best time to purchase your tickets is in the months of February and March, when the sales open, and one can choose seats and plan their trip to Paris accordingly. If you wish to be notified of the instant when the French Open tickets go on sale, we suggest you to register for a free account on the official website of the tournament.
The ticket prices for the tournament can range from €20 to €220, depending on where you wish to be seated in the courts. Once purchased, the ticket is sent to you in a separate email. Also, if your partner decides to ditch/opt out of the plan at the last moment, there's nothing to worry! You can easily sell your tickets on any of these websites, even at the last minute, and the money is transferred directly to your account!
The Matches commence by 10am in the morning and the tournament generally goes up till late evenings on most days, hence it is a full day's activity with breaks of course. So make sure to pack a few things before you head to the stadium. Carry bottles of water and enough food to get through the day. The food and beverages inside the stadium are quite expensive, and there isn't much of variety. Also, make sure you get a hat or a cap to save yourself from the scorching sun!
Accommodation in Paris (near to Roland Garros) :-
Commuting to the stadium is quite easy by use of metro and by other means of public transport, hence you can always choose hotels and service apartments in Paris which are located a few blocks away from the stadium or a small distance from it. If you choose an accommodation which is centrally located in the city, it would be the best for your entire itinerary. And of course, who doesn't want a view of the legendary Eiffel Tower from their window? So, let us suggest you some of the best Service apartments in Paris, which will not only give you the best value for your money, with great locations, professional service and the ease of being at home! We have listed two of them down below, and you can find more options here.
3 Bedroom French Duplex in Trocadero
This beautiful 3-Bedroom Service apartment in Paris, located in the neighborhood of Trocadero is bound to become an instant favorite. It is located on the second-floor of a building, and is minutes away from the Eiffel Tower and Seine River. What sets this short-stay apartment apart from all others is its deco and interiors, which is adorned with numerous antiques and one glance at this signature Parisian property will make you want to stay here on your every visit to Paris.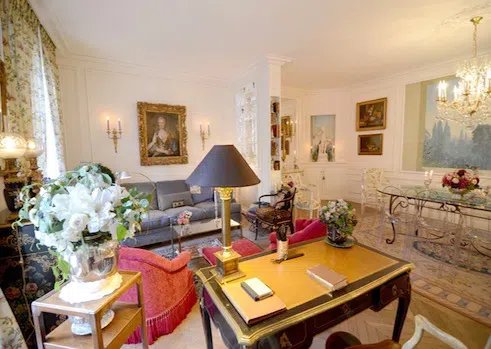 Amenities: -
3 Bedrooms, 1937 sq. ft. of Parisian Luxury, which can accommodate up to 6 people
4-star Luxury accommodation at competitive prices
Free Wi-Fi and flat-screens televisions.
Fully-functional kitchen and home appliances
Safe locality, secure entry.
Fresh linen and towels.
Prompt and spotless Cleaning Services
Luxury 2-Bedroom Parisian apartment in Trocadero
A splendid Parisian 2-Bedroom Service apartment, adorned with the most amazing view of the iconic Eiffel Tower from its balcony, this service apartment in Paris has been a constant favorite for many. Located on the sixth floor, with ample open-spaces and a host of amenities, this property is located just 10 minutes from the Roland Garros stadium. One can also view the Seine river from the balcony, and also walk down to numerous restaurants and cafes which dot the vicinity.
Amenities:-
Luxury 4-star accommodation, with 110 sq. ft. of space.
2 Bedrooms, a maximum of 4 people can stay
Coffee and Tea supplies
Linen and Towels- Fresh and readily replaced
Prompt, weekly intensive cleaning
High-speed Wi-Fi
Lift and wheelchair access
Full-functional kitchen with utensils and home appliances
Flat-screen televisions.
Now that your accommodation, tickets and itinerary is all set and planned, you just have to get those flights tickets done! We hope our event guide comes in handy and also look forward to extending the best of our hospitality when you choose to stay at any of these suave, luxurious service apartments.
Till then, à la prochaine!
LOOKING FOR MORE GREAT IDEAS AND TIPS LIKE THESE? REGISTER YOUR INTEREST AND GET THEM SENT STRAIGHT TO YOUR INBOX!
---
---
Leave a Reply
Your email address will not be published. Required fields are marked *